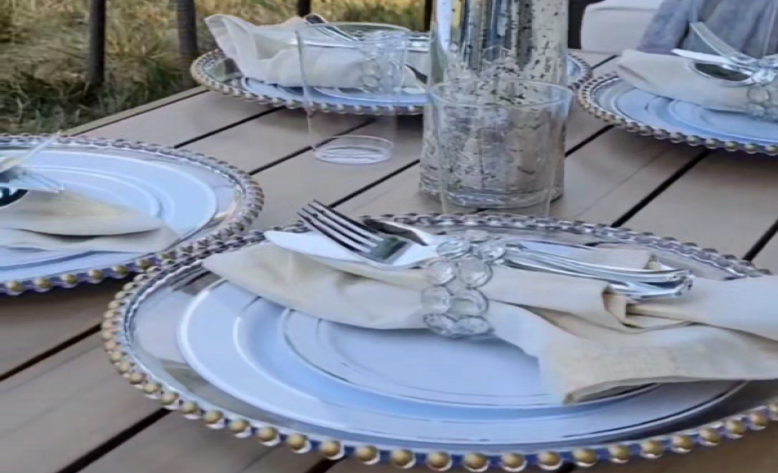 Tablescape Magic: Unleash the Wow Factor Indoors and Outdoors
Whether hosting an intimate dinner party or a grand outdoor celebration, the tablescape you create sets the stage for an unforgettable gathering. The artful arrangement of elements transforms an ordinary table into a breathtaking focal point, captivating your guests from the moment they arrive. But achieving a tablescape that wows both indoors and outdoors can be a challenge. That's where we come in!
How to Style an Elegant Party Tablescape?
This blog post guides you through a stunning tablescape idea that seamlessly transitions from indoor elegance to outdoor charm. Whether planning an elegant dinner inside your home or a delightful garden party in your backyard, our tablescape ideas will help you create a mesmerizing atmosphere that leaves your guests in awe. So, get ready to transform your table into a work of art that impresses both indoors and outdoors.
Creating a Versatile Tablescape
Choosing the Right Color Scheme and Theme
One of the first steps in creating a stunning tablescape is choosing a suitable color scheme and theme. Whether you prefer a classic, sophisticated look or a vibrant, whimsical ambiance, the color scheme will set the tone for your entire tablescape. Consider the occasion, the season, and the overall mood you want to create.
For indoor gatherings, you can opt for rich jewel tones like deep burgundy or emerald green for a luxurious feel. Soft pastels or neutral shades work well for a more serene and elegant ambiance. Outdoors, you should embrace brighter hues such as vibrant blues, sunny yellows, or cheerful greens to complement the natural surroundings.
Selecting Elegant Plastic Charger Plates
The foundation of any tablescape is the charger plates. These large, decorative plates create an elegant base for the rest of your table setting. Elegant plastic charger plates are the way to go regarding versatility and convenience. They offer the look of fine china without worrying about breakage or the hassle of washing delicate dishes.
Choose charger plates that complement your chosen color scheme and theme. Opt for designs that feature intricate patterns or textured surfaces to add visual interest to the table. With a wide range of colors and styles, you can easily find plastic charger plates that suit your taste and elevate your tablescape.
Incorporating Fancy Plastic Dinnerware Sets
To complete your tablescape, it's essential to choose fancy plastic dinnerware sets that exude sophistication and style. Look for sets that resemble real China, with intricate details and elegant shapes. These high-quality plastic dinnerware sets are visually appealing, durable, and convenient for indoor and outdoor use. Coordinate the colors and designs of the dinnerware with your chosen color scheme and theme to create a cohesive and harmonious tablescape.
Using Disposable Shiny Cutlery Sets
No tablescape is complete without the proper cutlery. Disposable shiny cutlery sets offer a practical solution that doesn't compromise style. These sets often come in silver or gold finishes, giving them a polished and glamorous look. The best part? After the event, you can simply dispose of them, saving you time and effort on cleanup.
Ensure the cutlery sets include forks, knives, and spoons to accommodate different courses. The disposable shiny cutlery sets add a touch of elegance to your tablescape and make serving and cleanup a breeze.
Adding Crystal-Like Plastic Tumblers
To complete the beverage service, crystal-like plastic tumblers are a must-have. These tumblers resemble real glassware, with a clear and sparkling appearance that adds a touch of luxury to your tablescape. They are both visually appealing and practical, as they are shatterproof and lightweight, making them suitable for indoor and outdoor settings.
Choose tumblers that have a faceted or textured design, mimicking the look of crystal glassware. These elegant plastic tumblers can be used to serve water, cocktails, or any other refreshing beverages. Their versatility and beauty will impress your guests, ensuring a memorable dining experience.
The Versatility of This Tablescape for Both Indoor and Outdoor Events
One of the remarkable aspects of this tablescape idea is its versatility. The disposable party tableware seamlessly transition from indoor to outdoor events. 
This tablescape can suit your needs, whether hosting a formal indoor dinner party or a relaxed outdoor barbecue. The pieces can withstand outdoor elements without sacrificing their elegance, allowing you to create a cohesive and visually stunning tablescape that wows your guests in any environment.
Styling Tips for Indoor Gatherings
Setting the Mood with Lighting and Decorations
Create an inviting atmosphere for indoor gatherings with thoughtful lighting and decorations. Choose lighting fixtures that match your desired mood. Soft lighting like candles or string lights creates a cozy setting, while brighter lights add energy. Use table lamps or decorative lanterns for focused lighting. Complement with decorations like floral arrangements and decorative objects, but be mindful of placement to avoid obstructing guests' view or conversation.
Arranging Centerpiece Options
Choose a centerpiece that matches your theme and style. For elegance, use a floral arrangement with greenery. Choose a bold statement piece like a candle arrangement or sculpture for a contemporary look. Experiment with heights, textures, and colors for a visually appealing centerpiece.
Choosing Appropriate Linens and Napkins
Select linens and napkins that match your event's theme and color scheme. Choose velvet or linen-like tablecloths with solid colors or subtle patterns for formal events. Coordinating napkins add sophistication. Use natural-toned plastic or cotton tablecloths with mixed and matched napkin colors or patterns for a relaxed feel. Add texture and warmth to your tablescape.
Incorporating Personal Touches and Accents
Add personal touches to your indoor tablescape that reflect your style and personality. This can include personalized place cards, heirlooms, or decorative items with sentimental value. Incorporate thematic or seasonal accents for a charming touch that ties everything together. These details create a warm and welcoming atmosphere and serve as conversation starters with your guests.
Styling Tips for Outdoor Gatherings
Incorporating Natural Elements into the Tablescape
Add natural elements like fresh flowers, foliage, or potted plants for a beautiful outdoor tablescape. Use a combination of flowers and greenery for a centerpiece that complements the outdoor setting. Incorporate wooden or woven accents like chargers or placemats to add warmth and texture. These elements enhance the aesthetic and create a harmonious connection with the surroundings.
Utilizing Weather-Resistant Table Decorations
Select sturdy and weather-resistant materials for your outdoor tablescapes, such as melamine or plastic. Look for natural-looking designs and consider weather-resistant decorative accents like lanterns or vases. You can add a coastal touch with seashells or driftwood.
Enhancing the Ambiance with Outdoor Lighting
Outdoor lighting is essential for creating a captivating ambiance. Popular options include string lights, mason jar lights, lanterns, and candles. String lights provide a warm glow and can be hung above the table or wrapped around trees. Mason jar lights and lanterns emit a soft and intimate glow, while candles add a romantic touch. Protect candles from wind gusts to prevent them from extinguishing.
Considering the Functionality of the Tablescape for Outdoor Use
When setting up an outdoor table, choose weather-resistant seating and provide comfortable cushions. Leave enough room for guests to move around. Consider wind direction and use tablecloth weights or clips. Opt for stackable plates and glasses. Provide shade options for guest comfort.
Frequently Asked Questions (FAQs)
1. Where can I buy the best high-quality disposable plastic party supplies? 
For the best high-quality disposable plastic party supplies, head to Smarty Had A Party online store. Smarty offers many stylish and durable party supplies, including charger plates, disposable dinnerware sets, shiny cutlery sets, and plastic drinkware. Explore Smarty's collection to elevate your tablescape and impress your guests indoors and outdoors.
2. What are some alternative options for centerpieces?
Consider alternative options for centerpieces to add a unique touch. Use fruits, vegetables, candles, succulents, air plants, or seasonal decorations. These alternative centerpieces can bring color, warmth, and a contemporary vibe to your tablescape.
3. Are there any tips for arranging the table decor for a specific theme?
When arranging table decor for a specific theme, gather inspiration, focus on key elements, coordinate colors and patterns, and use thematic accents. These tips will help you create a cohesive and visually pleasing tablescape that reflects your chosen theme.
Can I mix and match different elements from the tablescape for a personalized look?
Absolutely! Mix and match elements from the tablescape to create a personalized and eclectic look. Experiment with colors, textures, patterns, and layering to add depth and dimension. Incorporate personal touches, such as heirlooms or handmade decorations, to add a meaningful and unique touch to your tablescape.
Let your creativity soar, embrace the versatility of elegant plastic party supplies, and let your tablescape become a work of art that wows your guests both indoors and outdoors. Get ready to create unforgettable memories around a table that speaks volumes about your style and hospitality. Cheers to unforgettable gatherings and stunning tablescape ideas!