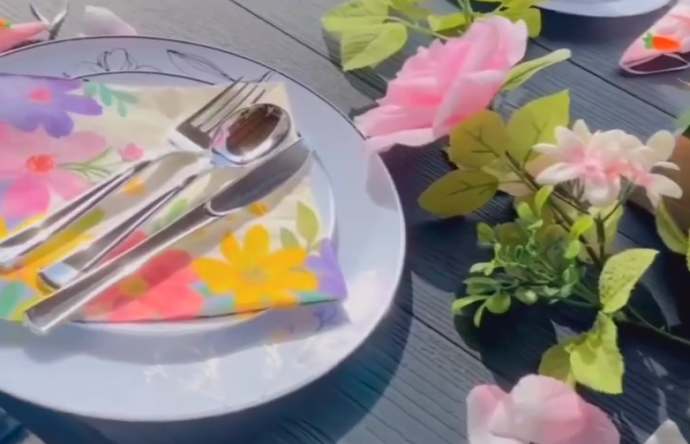 The Art of Outdoor Entertaining: Mastering the Perfect Party Table
Amidst rustling trees and the sun's warm embrace, outdoor gatherings hold a captivating magic. Laughter intertwines with the breeze, etching memories that linger. From picnics to starlit dinners, outdoor events turn ordinary into extraordinary.
Central to the success of any outdoor gathering is the perfect party table setup. It's not just about arranging plates and glasses; it's about weaving together design, functionality, and atmosphere elements to curate a space that embodies the essence of your celebration.
Outdoor Entertaining Made Easy: Beautiful Table Settings with Disposable Dinnerware
In this guide, we'll delve into the intricacies of mastering the art of outdoor entertaining by creating the perfect party table setup. So, join us to uncover outdoor essentials, embrace disposable dinnerware's elegance, and unveil the secrets of a stunning table arrangement. Let's craft timeless moments together, transcending time with each gathering.
The Essentials of a Perfect Party Table Setup
When it comes to outdoor entertaining, the setting is the stage upon which your event unfolds. Selecting the right location can set the tone for the entire experience, so it's essential to choose wisely. Whether you have a quaint patio, a lush garden, a charming rooftop, or even a picturesque beachfront, each location has a unique ambiance and considerations.
Choosing the Right Location
Consider the nature of your gathering and the number of guests you invite. A patio might be perfect for an intimate dinner party, while a garden provides a whimsical backdrop for a celebratory brunch. A rooftop setting can offer breathtaking urban views for a cocktail soirée, while a beach locale provides a relaxed, casual atmosphere for a sunset picnic. Choose a location that resonates with your event's theme and vibe, ensuring a harmonious blend between nature and celebration.
Selecting Appropriate Furniture
Once you've chosen the location, the next step is to select the right furniture. Tables, chairs, and lounges are the foundation of your party setup. Opt for pieces that are not only comfortable but also align with the aesthetics of your event. Wooden furniture might be ideal if you're aiming for a rustic feel. For a more modern touch, sleek and minimalistic designs could work wonders. Ensure that there's ample seating for your guests, allowing them to relax and enjoy the festivities.
Considering the Weather and Having Backup Plans
While the allure of outdoor entertaining is undeniable, the weather can be unpredictable. Always have a backup plan in case the elements decide not to cooperate. Tents, awnings, or even indoor spaces can provide shelter in case of rain or unexpected wind. Keep an eye on the weather forecast as the event approaches, and be prepared to make necessary adjustments to ensure the comfort of your guests.
Lighting Arrangements for Day and Night Events
The proper lighting can transform your outdoor space into a magical wonderland, whether your event takes place during the day or under the stars. For daytime gatherings, embrace natural light by positioning tables in well-lit areas. Consider using canopies or umbrellas to provide shade without sacrificing the brightness of the outdoors. Switch to ambient lighting options such as string lights, lanterns, or even candles as night falls. These elements add to the atmosphere and enhance the safety and functionality of your outdoor space after dark.
The Role of Tablescaping in Outdoor Entertaining
Amidst the rustling leaves and under the open sky, a beautifully set table becomes more than just a place to dine – it transforms into an artistic expression of your event's theme and your personal style. This is where the art of tablescaping comes into play, merging the realms of decoration and functionality to create an ambiance that captivates your guests.
Understanding Tablescaping: A Blend of Decoration and Functionality
Tablescaping is the art of crafting an inviting and visually appealing table setup. It goes beyond simply placing plates and utensils; it's about creating a harmonious composition that enhances the overall experience of your event. Each element on the table serves a decorative and functional purpose, from the centerpiece to the most minor details, like napkin rings.
Coordinating Themes with the Outdoor Setting
One of the joys of outdoor entertaining is the opportunity to draw inspiration from the natural world around you. Whether it's a garden full of blooming flowers or a beach with rhythmic waves, your outdoor setting provides a thematic backdrop for your tablescaping. Use colors, textures, and elements that resonate with the surroundings. For a beach gathering, consider shades of blue and sandy neutrals; for a garden event, incorporate fresh greens and vibrant flowers. This synergy between your table decor and the environment creates a cohesive and immersive experience for your guests.
Incorporating Natural Elements: Flowers, Leaves, Stones
Nature is the ultimate decorator, and incorporating natural elements into your tablescape is a delightful way to evoke the outdoors. Adorn your table with fresh flowers in rustic vases, scatter leaves, or petals for an organic touch, or place smooth stones as charming accents. These elements infuse your setup with a sense of authenticity and celebrate the beauty of the outdoors in its purest form.
Showcasing Your Personal Style through Table Decor
Your outdoor gathering is an extension of your personality, and your table decor is the perfect canvas to showcase your unique style. Whether you lean towards minimalist elegance, bohemian chic, or timeless sophistication, your table setup should reflect your tastes and preferences. Consider decorative elements that resonate with you – from vintage finds to modern pieces – and integrate them seamlessly into your arrangement.
Disposable Elegance: Beautiful Table Settings with Disposable Dinnerware
When hosting outdoor gatherings, striking the balance between elegance and practicality can sometimes feel like a delicate dance. However, the world of disposable dinnerware has transformed, offering a solution that marries convenience with aesthetics in a way that might surprise you.
Embracing Convenience Without Sacrificing Aesthetics
Gone are the days when disposable dinnerware equated to bland, flimsy options. Modern disposable dinnerware combines the convenience of single-use items with the style and elegance that rival traditional tableware. This evolution means you can now focus on creating a stunning table setup without worrying about the cleanup.
Introducing Smarty Had A Party Online Store
A pioneering name in the world of disposable party supplies, Smarty Had A Party offers an online store that's a treasure trove for hosts seeking to elevate their events. From chic plates to elegant glassware and trendy cutlery, Smarty's tableware selection demonstrates that disposable doesn't have to mean ordinary.
A Range of Stylish Disposable Dinnerware Options
Explore Smarty Had A Party's offerings and discover an array of stylish plastic dinnerware that spans various themes and styles. Whether you envision a rustic outdoor picnic or a glamorous evening affair, our collection caters to every taste. From intricate designs to minimalist classics, these pieces are designed to complement your tablescaping vision.
Benefits of Disposable Dinnerware for Outdoor Gatherings
The advantages of using disposable dinnerware for outdoor entertaining are undeniable. They free you from the worry of broken glassware, making them perfect for spaces where accidents can happen. Moreover, the convenience of not having to wash and store delicate tableware after the event lets you savor the joy of your gathering for longer. Plus, many elegant disposable options are eco-friendly, contributing to a sustainable approach to entertaining.
Steps to Create a Stunning Table Setup
Mastering the perfect party table setup is an art that requires attention to detail and a creative touch. Following a series of well-thought-out steps, you can curate a table arrangement that transforms your outdoor space into a haven of beauty and delight.
1. Selecting Tableware:
Choosing Appropriate Plates, Utensils, and Glassware: The foundation of your table setup lies in the choice of tableware. Select fancy plastic plates, utensils, and glassware that suit the style of your event. Consider the formality of the occasion, the type of food being served, and the overall aesthetic you're aiming for.
Exploring Different Designs, Colors, and Materials: Experiment with designs that resonate with your event's theme. Explore a spectrum of colors and materials that complement your outdoor setting, from classic white to bold patterns.
2. Laying the Foundation: Tablecloths and Runners:
Picking the Right Tablecloths and Runners for the Occasion: Tablecloths and runners act as a canvas for your table decor. Choose fabrics that align with your theme – a crisp linen for a sophisticated affair or a rustic burlap for a more relaxed gathering.
Mixing and Matching Patterns and Textures: Play with patterns and textures to create visual interest. Mix complementary patterns and layer textures to add depth to your table setup.
3. Centerpiece Creations:
Creating Eye-Catching Focal Points with Centerpieces: Centerpieces are the stars of your table. Craft eye-catching arrangements that capture the essence of your event. This could range from a cluster of wildflowers to an artful arrangement of fruits.
Incorporating Candles, Vases, and Thematic Elements: Enhance your centerpiece with elements that evoke the mood you're aiming for. Candles add a warm glow, vases bring height and elegance, and thematic elements tie the arrangement to the event's purpose.
Highlighting Seasonal and Local Elements: Embrace the season's beauty by incorporating seasonal blooms, foliage, or fruits. Additionally, showcase local elements that connect your gathering to its surroundings.
4. Place Settings and Seating Arrangements:
Arranging Place Settings with Disposable Dinnerware Elegantly: With elegant disposable dinnerware, set each place with care. Arrange plates, utensils, and glassware in an inviting and functional manner.
Personalizing Place Cards and Seating Arrangements: Add a personal touch by using place cards that guide guests to their seats. Thoughtful seating arrangements can encourage conversations and connections.
5. Napkin Folding and Utensil Presentation:
Exploring Creative Napkin Folding Techniques: Napkins aren't just functional – they're an opportunity for creativity. Experiment with various napkin folding techniques that add a touch of flair to each place setting.
Stylishly Presenting Utensils on Each Place Setting: Utensils can be presented differently to match the overall aesthetics. Consider placing them within folded napkins or neatly arranged on the plate.
Frequently Asked Questions (FAQs)
1. Is It Possible to Create an Elegant Outdoor Table Setup Without Spending a Fortune? 
Absolutely. Combining creativity with strategic shopping allows you to achieve a stunning table setup on any budget. Consider DIY decor, repurposing items you already have, and exploring affordable yet stylish event supply stores like Smarty Had A Party.
2. How Can I Ensure My Outdoor Party Is Adequately Lit for Both Daytime and Nighttime Affairs? 
For daytime events, leverage natural light by positioning your tables strategically. As the sun sets, transition to ambient lighting like string lights, lanterns, and candles. Solar-powered lights can be a sustainable and convenient option for illuminating pathways.
3. Are There Any Specific Themes That Work Best for Outdoor Gatherings? 
Outdoor settings provide a canvas for a wide range of themes. Garden parties, bohemian picnics, tropical luau, rustic barn-inspired – the options are limitless. Choose a theme that resonates with your style and the natural surroundings.
4. How Can I Make Sure My Guests Are Comfortable During the Event, Especially If It Lasts for Several Hours? 
Comfort is vital to a memorable outdoor event. Provide ample seating with cushions or pillows for added comfort. Consider renting shaded areas, providing fans or portable heaters depending on the weather, and having a variety of refreshments to keep everyone hydrated and satisfied.
Embrace the outdoors as your canvas, disposable dinnerware as your tool, and your creative spirit as your guide. As you orchestrate the perfect party table setup, you become the curator of an experience that transcends the ordinary, inviting your guests into a world where elegance and nature dance in harmonious celebration.