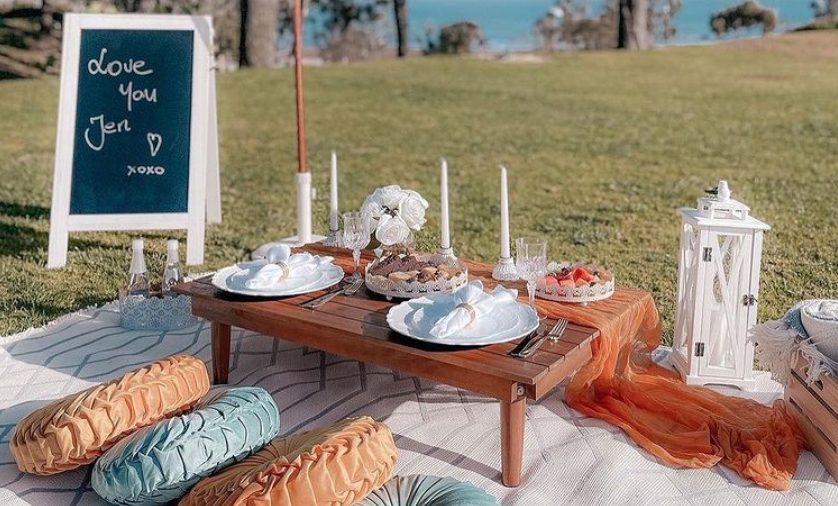 The All-Time Best Backyard Party Ideas
The idea of a backyard party brings along so much joy and enthusiasm one can only imagine. Bring this joy into practicality by throwing the best backyard party with some unique ideas in mind. We help you become the best host in town with the most sustainable compostable and biodegradable dinnerware sets. Smarty Had A Party is here with some backyard party ideas that look extravagant, but no one will ever know it's budget-friendly.
Decorate the Whole Scene Uniquely
Make a checklist of everything you need in your backyard, so you don't have to go into the house in the middle of the party. Take out the comfiest blankets and cushions and arrange them well to make a cozy environment in your backyard. Use string lights or fabric lamps on strings to make the overall scenario feel breath-taking.
Experience Camping from the Comfort of Your Homes
Another great idea for a backyard party is camping for the night. That is an exciting way to involve everyone in setting up the tents and making food on the spot. For backyard camping, you can throw a BBQ bash and have a good talk with the guests to elevate the mood of your backyard camping party. You can also host a movie night where everyone can enjoy their favorite movie while eating delicious food served in our beautiful palm leaf dinnerware.
Bringing Traditional Picnic Style to Your Backyard
Bring the true essence of an outdoor party into your backyard party by arranging seatings either close to the grounds or on the ground. This will make everyone feel like they are on a picnic while being comfortable and cozy. Then, serve them delicious meals in our eco-friendly dinnerware sets. The rustic design of our disposable plate set, biodegradable, eco-friendly trays, compostable eco bowls, disposable eco plates, and fancy compostable flatware will make food serving prettier.
Make Them Feel at Home
You don't want to make the guests leave your party bored and sleepy. Instead, keep them entertained with good music, fun-filled activities, and games. For a more party-like feeling, host a dance-off where the guests can show some moves to their favorite songs. Also, ensure you involve everyone in games and fun activities and keep the party going.
Level Up Your Hosting Game with Our Eco-Friendly Dinnerware Sets
A backyard party demands good food served in the best way. Do that with our eco-friendly dinnerware sets, palm leaf dinnerware, and compostable and biodegradable partyware. Our range of palm leaf dinnerware is all-natural and includes the finest collection of compostable eco bowls, fancy compostable flatware, and biodegradable, eco-friendly trays. The essential advantage of using our compostable and biodegradable dinnerware is that they get degraded in the environment quickly, making cleanup an easy task for you. In addition, our disposable plate set, disposable eco plates, fancy compostable flatware, and compostable eco bowls are perfect for serving any party food. 
Make your backyard party sustainable and exciting with Smarty Had A Party!
Tent
You are sorely mistaken if you think that tents are intended "for camping only" outdoors. No, we are not talking about classic tents that withstand all weather conditions. We are talking about cute, colorful tents that you can make on your terrace or in the middle of the living room.
Bands connected in the shape of a house or a compartment can serve as a basis, but if you are not used to typing and don't worry about crafts, we have a much simpler solution. Stretch a tight rope that you will attach to household items, handles, table lamps, legs, and drawers. Transfer a fluttering beach pareo, scarves you have, colorful tablecloths, blankets, or sheets over a tight rope and use them to make a boho tent. One-color decorative candles can be used as lighting.
Play your favorite music and imagine listening to your favorite tunes in your tent, which the sound system transmits from the main stage of a summer festival. Bring the festival spirit into your own home! 
Additional Ideas and Tips for Outdoor Entertainment 
The type and size of space you have available is not what matters - but the key factor is the time and effort you put into creating an outdoor gathering that will make this event a success.
1. Set the Scene
Choosing the perfect location can be the first and most crucial step in organizing an outdoor party. If you live in a house, you may be one of the lucky ones with a luxurious and mowed yard with flowers as a perfect decoration and trees that protect guests from the wind and (un) weather. If not, check to see if your neighborhood has a nearby park or if your building has access to a rooftop for your outdoor party. In that case, surround the space with beautiful flower pots to create a real green oasis and a relaxing atmosphere.
If you are hosting a party in a public space, place your guests on folding chairs. They are easy to stack and tidy up later. You can achieve the same with the help of several bistro tables for snacks and drinks and let your guests walk and socialize.
2. Get Prepared
Even if your party falls on the hottest day of the year, consider protecting your guests from the weather. And rain, wind, and too much heat can create bad vibrations. Get protection that protects you and your guests in all three scenarios. Your guests will probably appreciate it if you give them a blanket if it gets cold in the evening. Or you can even light a fire ...
3. Lights are the Foundation of Every Atmosphere
Candles are beautiful if you want to create an intimate, ambient atmosphere. Your party will last long into the night with lamps and lanterns on umbrellas, trees, and tables.
4. Select the Playlist
Once you've solved the basics, don't forget what determines the mood, and that is music. We repeat: do not ignore this task and do not postpone it until the last minute. Choosing the list of songs for your party is just another way to show in which direction you are planning this party. Is it an informal gathering from the lounge, ambient music, or do you want more rhythm, which invites your guests to the dance floor (or lawn)? Don't forget to warn your neighbors - leave them a phone number to call if you are too loud.
5. Garden Party Games
There's no better icebreaker than a fun garden game. Choose games that you can play together as a team.
All left is to provide your guests with delicious snacks and cold drinks! We wish you great fun with happy company!