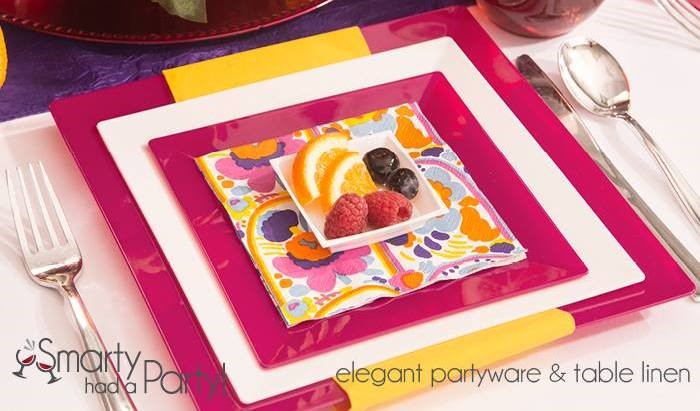 Spring Awakening: Inspiring Ideas for a Stunning Table Setting
Spring is a time of renewal and new beginnings, and what better way to celebrate this season than by hosting a beautiful gathering with loved ones? A stunning table setting can elevate any meal, and with the right inspiration, you can create a truly unforgettable experience. In this blog post, we will explore some inspiring ideas for creating a gorgeous table setting that perfectly captures the essence of spring. From incorporating fresh flowers to incorporating colorful linens, we will cover everything you need to know to make your next spring gathering an absolute success. So, get ready to be inspired, and let's awaken your creativity with these stunning ideas for a spring table setting.
Color Scheme and Centerpiece
Regarding spring, few things capture the season's essence more than a bright and cheerful color scheme. One great combination for your table setting is pink, purple, and yellow. These colors will surely bring your guests a smile and help create a welcoming and festive atmosphere.
To incorporate this color scheme into your table setting, consider using a flower centerpiece with blooms in pink, purple, and yellow shades. This could include flowers like tulips, daffodils, hyacinths, and pansies. These flowers add color and vibrancy to your table and bring a natural beauty touch that perfectly embodies spring's spirit.
When arranging your flowers, it's essential to consider the height and size of your vase. For a low-profile centerpiece, opt for a wide and shallow vase that will allow the flowers to spread out and fill the space. Alternatively, choose a tall and narrow vase for a taller arrangement, which will help your flowers stand up straight and give your centerpiece a more dramatic look.
Also, mix and match different types of flowers within your centerpiece. You can use a variety of shapes, sizes, and textures to create a truly unique and eye-catching display. And for an extra special touch, consider adding some fresh greenery or foliage to add depth and dimension to your arrangement.
By incorporating a colorful flower centerpiece into your table setting, you can create a stunning visual centerpiece that captures the essence of spring and sets the tone for a truly unforgettable gathering.
How to Set a Fabulous Spring Tablescape?
Setting a fabulous spring tablescape is about creating a beautiful, welcoming atmosphere that complements the season. But when it comes to outdoor gatherings, practicality and convenience are also important factors. That's where disposable dinnerware and accessories come in, offering a stylish and easy-to-clean option for your springtime celebration.
1. Plastic Pink Dinnerware Set
Using plastic dinnerware has many benefits for outdoor gatherings. It is lightweight, durable, and won't break or shatter like traditional glassware. Plus, disposable dinnerware eliminates the need for washing and makes cleanup a breeze. For a spring-themed tablescape, consider using a pink dinnerware set to complement the season's colors. Not only does it add a playful touch, but it also adds an element of elegance that is perfect for a special occasion.
2. Disposable Stemless Wine Glasses
Stemless wine glasses are an excellent choice for outdoor gatherings because they are easy to transport and less likely to break during transportation or use. And since they're disposable, they offer your guests a convenient and hassle-free option. Consider using disposable stemless wine glasses to add a touch of sophistication to your spring tablescape without sacrificing practicality.
3. Disposable Silverware
Like plastic dinnerware, disposable silverware offers many benefits for outdoor gatherings. It is easy to transport, affordable, and eliminates the need for washing. For an added touch of elegance, choose disposable silverware with a fancy design that complements the rest of your table setting. It will elevate the look of your tablescape and create a more formal atmosphere.
4. Fancy Plastic Mini Bowls
Mini bowls are perfect for serving snacks, dips, or desserts at your springtime gathering. And when they're made of fancy plastic, they add a touch of sophistication to your table setting without adding extra work or cleanup. Plus, they're disposable, making them a convenient option that will save you time and effort.
Using disposable plastic party supplies, you can create a fabulous spring tablescape that is both beautiful and practical. These convenient and affordable options will allow you to focus on enjoying your celebration with loved ones while still creating a memorable and visually stunning atmosphere.
Colorful Paper Napkins
Using colorful paper napkins is an excellent way to add a playful and festive touch to your springtime table setting. Not only do they come in a wide variety of colors and designs, but they are also affordable and convenient. Here are some benefits of using colorful paper napkins for your springtime gathering:
Easy Cleanup:

 

Paper napkins

 are disposable, which means that after your gathering is over, you can simply toss them away. This makes cleanup a breeze and ensures you don't have to spend hours doing dishes.

Affordable: 

Compared to cloth napkins, 

disposable napkins

 are much more affordable. This means you can purchase various colors and designs to mix and match without breaking the bank.

Variety of Designs:

 Regarding paper napkins, the options are endless. From bold and bright patterns to subtle pastels, you can find a design that perfectly complements your springtime color scheme. Consider using 

napkins

 

with floral or nature-inspired designs, or choose a solid color that matches your tableware.

Versatility:

 Paper napkins are versatile and can be used for more than just wiping your mouth. Consider folding them into unique shapes or using them as a decorative element on your table. You can also use them to hold utensils or create unique place settings.
When choosing colorful paper napkins for your springtime table setting, consider patterns and designs that complement your pink, purple, and yellow color scheme. For example, you could choose napkins with floral patterns incorporating these colors or a solid color matching your dinnerware. The key is to have fun and experiment with different designs and colors to create a playful and festive atmosphere.
Additional Decorations
While a beautiful centerpiece and matching tableware can undoubtedly set the tone for a stunning springtime tablescape, you can incorporate many additional decorations to take your setting to the next level. Here are some ideas to inspire you:
1. Linens and Tablecloths
When choosing linens and tablecloths, think light and airy. Pastel shades and floral patterns are perfect for spring. Consider layering different fabrics and textures, such as plastic, lace, or linen, for added interest. Feel free to mix and match patterns for a playful and eclectic look.
2. Place Cards
Adding place cards to your table setting helps guests find their seats and adds a personal and thoughtful touch. Consider incorporating spring-themed elements into your place cards, such as floral motifs or pastel hues.
3. Candles and Lighting
Candles and lighting can set the mood and create a cozy atmosphere for your gathering. Consider using pastel-colored candles or floral-inspired votives for a touch of elegance. And string lights or lanterns can add a magical and festive touch to an outdoor gathering.
4. Natural Elements
Bringing natural elements to your tablescape is a great way to complement the season and add texture and interest. Consider incorporating fresh flowers or greenery, such as a garland of eucalyptus or a vase of freshly cut tulips. You can also include natural elements such as wood or stone for depth and visual appeal.
5. Personalized Details
Adding personalized details to your table setting can make your gathering feel even more special. For example, consider creating customized napkin rings or adding a small gift or party favor at each place setting. You can even create custom menus or place cards that reflect the springtime theme.
Creating a beautiful table setting is a fantastic way to elevate any gathering or celebration, and spring provides the perfect opportunity to get creative and playful with your design. So go ahead and let your imagination run wild – with a bit of inspiration and effort, your spring table can truly be a work of art.