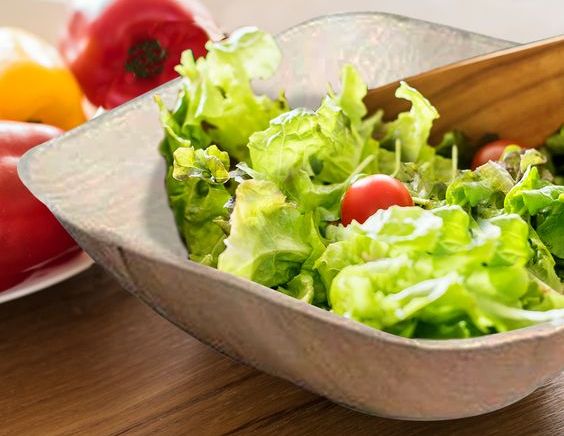 Cesar Salad for Entertaining: Impress Your Guests with This Classic Dish
When hosting a dinner party, the pressure to impress your guests can be overwhelming. So naturally, the food you serve plays a major role in creating a memorable experience. However, finding the perfect balance between delicious, elegant, and easy-to-prepare can be challenging. That's why Caesar salad, a classic dish that has stood the test of time, is a perfect choice for entertaining. With its simple yet sophisticated flavors and presentation, Caesar salad will impress your guests without breaking the bank or requiring hours of preparation. In this blog post, we'll explore the history and ingredients of this beloved salad, as well as tips for presenting it in the best way possible to impress your guests. So get ready to elevate your dinner party game with this timeless dish - Caesar salad.
Ingredients and Preparation
List of ingredients:
To make a classic Caesar salad, you'll need the following ingredients:
Romaine lettuce (or any other type of crisp lettuce)

Croutons

Parmesan cheese

Anchovy fillets

Garlic cloves

Egg yolks

Olive oil

Lemon juice

Dijon mustard

Worcestershire sauce

Salt and pepper
Step-by-step instructions for making Caesar salad:
Begin by making the dressing. In a small bowl, whisk together 2 garlic cloves (minced), 2 egg yolks, 1 tablespoon Dijon mustard, 1 tablespoon Worcestershire sauce, 1/4 cup lemon juice, and 1/2 cup olive oil until smooth and creamy.

Prepare the lettuce by washing and drying it thoroughly. Tear the leaves into bite-sized pieces and place them in a large salad bowl.

Add the croutons to the bowl.

Use a vegetable peeler to shave thin slices of Parmesan cheese into the salad bowl.

Drain the anchovy fillets and chop them finely. Add them to the salad bowl.

Pour the dressing over the salad and toss gently to coat.

Season the salad with salt and pepper to taste.
Tips for preparing the salad ahead of time:
If you want to prepare the salad ahead of time, you can wash and dry the lettuce and prepare the dressing up to a day in advance. Then, keep the lettuce and dressing separate and refrigerated until you're ready to assemble the salad. When you're ready to serve, toss the lettuce with the dressing, croutons, cheese, and anchovies just before serving to ensure the salad stays crisp and fresh.
The Best Way to Serve Salad at a Party
When it comes to entertaining, presentation is key. You want your guests to be wowed by the food you serve, including how you present it. Even a simple dish like Caesar salad can be elevated with the proper presentation.
Options for Serving 
There are several options for serving Caesar salad at a party, depending on your budget and the formality of the occasion. Here are some popular options:
Eco-friendly bowls: 

If you're hosting a casual party,

 

eco-friendly palm leaf bowls

 

can be a convenient and cost-effective option. Look for bowls that are sturdy enough to hold the weight of the salad and won't collapse or leak.

Plastic bowls:

 

Plastic bowls

 can be a step up from disposable bowls for a more formal occasion. Look for clear or white plastic bowls that mimic the look of glass or porcelain.

Plastic plates:

 If you want to go all out, consider serving your Caesar salad on 

fancy plastic plates

. Many options are available, including plates with decorative patterns or metallic finishes.
Suggestions for Garnishes and Toppings 
To add some extra pizzazz to your Caesar salad, add some garnishes and toppings. Here are some popular options:
Croutons: 

Homemade croutons are a great addition to Caesar salad, but if you don't have the time or energy to make them from scratch, you can always buy pre-made croutons from the store.

Parmesan cheese: 

Shaved Parmesan cheese is a classic topping for Caesar salad. Use a vegetable peeler to create thin, delicate shavings that will melt in your mouth.

Anchovies: 

For a truly authentic Caesar salad experience, include anchovies. Chop them finely so that they're distributed evenly throughout the salad. If you're not a fan of anchovies, you can omit them or substitute them with capers or olives.
Serving Caesar Salad with Main Course
Best Main Courses to Serve with Caesar Salad 
Caesar salad is a versatile dish that can be served alongside various main courses. Here are some suggestions:
Grilled chicken: 

Grilled chicken is a classic pairing with Caesar salad. The flavors of the salad and the chicken complement each other perfectly.

Steak:

 A juicy, well-seasoned steak is another great option to serve with Caesar salad. The richness of the steak is balanced by the tangy, creamy flavors of the salad.

Fish:

 Fish is a good option if you're looking for a lighter main course. Grilled or baked fish pairs well with Caesar salad, especially if you add lemon juice to the salad dressing for extra zing.
Suggestions for Wine Pairings 
When pairing wine with Caesar salad, you'll want to choose a light, crisp wine that won't overwhelm the flavors of the salad. Here are some popular options:
Sauvignon Blanc:

 This light, refreshing wine has bright citrus flavors that complement the tangy dressing of the salad.

Pinot Grigio: 

This popular white wine has a delicate flavor and a clean finish that pairs well with the light flavors of Caesar salad.

Rosé: 

A dry rosé is a good option if you prefer a pink wine. Its subtle fruit flavors won't overpower the salad.
Dessert Options to Complement the Meal 
To round out your meal, consider serving a light, refreshing dessert that won't be too heavy after the main course and salad. Here are some ideas:
Fresh fruit: 

A platter of sliced fruit, such as strawberries, kiwis, and mangoes, is a colorful and healthy dessert option.

Sorbet: 

A scoop of sorbet, such as lemon or raspberry, is a light and refreshing way to end the meal.

Cheesecake: 

A slice of creamy cheesecake is a good option if you want to serve something a little more decadent. Look for a recipe with fresh fruit to keep it light and refreshing.
Caesar salad is a classic dish that has been enjoyed for decades and is still just as popular today. So whether you're hosting a dinner party or just want to make a delicious and healthy meal for your family, Caesar salad is a great choice. By following our recipe and presentation tips, you can impress your guests and elevate this classic dish to new heights. So why not give it a try at your next gathering and see how it goes? With its simple yet flavorful ingredients and easy preparation, Caesar salad will surely be a crowd-pleaser.