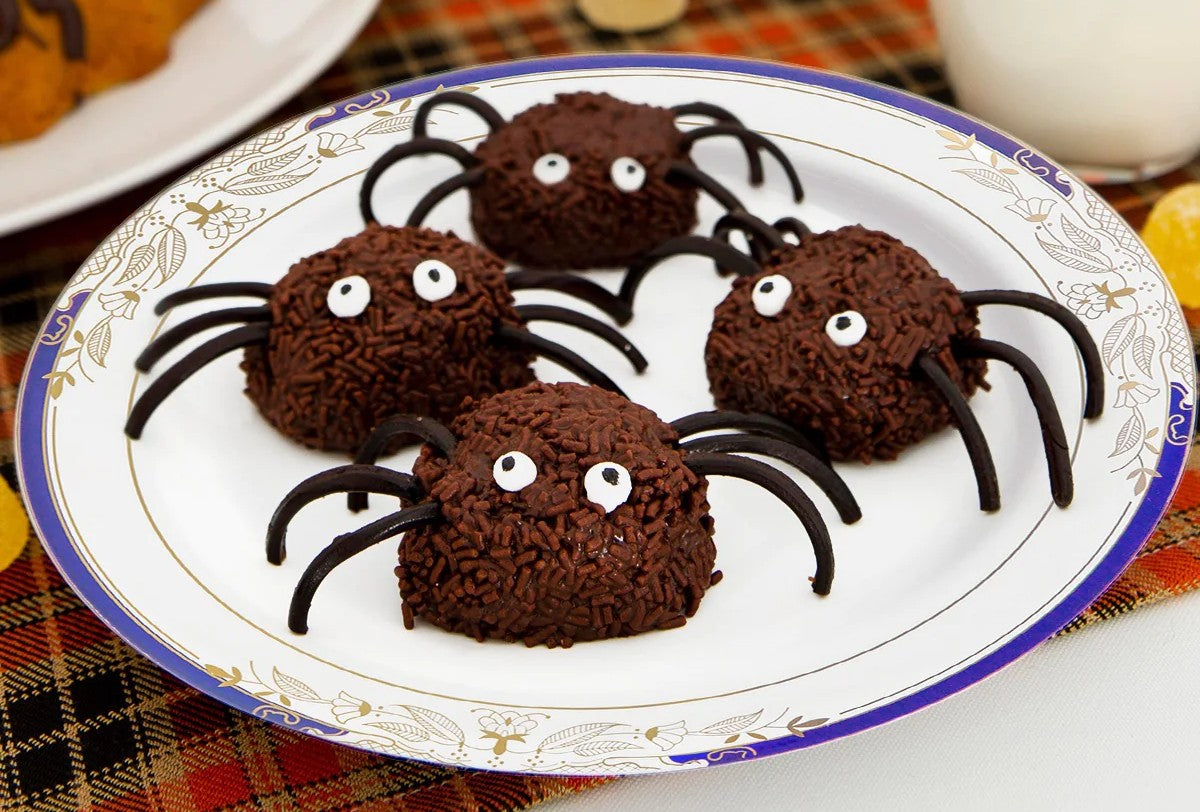 Spooky Delights: Halloween Food Ideas to Haunt Your Taste Buds
👻🎃 Welcome to the spine-chilling realm of "Spooky Delights: Halloween Food Ideas to Haunt Your Taste Buds"! As the leaves fall and the nights grow longer, it's that magical time of the year when the air is infused with an enchanting eeriness. Halloween, a celebration of all things ghostly and ghoulish, calls for a feast beyond the ordinary. We've conjured up a cauldron of wickedly delightful recipes to cast a spell on your taste buds and turn your Halloween gathering into a culinary haunted house.
Ghoulish Gourmet: Creepy and Delicious Halloween Food Creations
In this macabre menu, we'll delve into the art of creating creepy and delicious Halloween food creations that not only look the part but will leave your guests howling for more. So, grab your cauldron, don your witch's hat, and join us on this culinary journey into the heart of Halloween. Let's conjure some "Spooky Delights" that will leave your guests spellbound and your taste buds hauntingly satisfied! 🕷️🕸️
Ghoulish Gourmet: Creepy and Delicious Halloween Food Creations
Witch's Brew Soup
👻 Brew up some enchantment with our spellbinding Witch's Brew Soup. This concoction blends the finest seasonal ingredients to create a cauldron of savory delight. To summon this bewitching potion, gather your ingredients:
Ingredients:
Pumpkin puree

Black beans

Vegetable broth

Ghostly garlic cloves

Witch's hat-shaped pasta
Recipe:
In your cauldron (or large pot), combine pumpkin puree, black beans, and vegetable broth over medium heat.

Add ghostly garlic cloves for an extra kick of flavor and a touch of the supernatural.

Stir the brew until it simmers, add the witch's hat-shaped pasta, and cook until al dente.
Presentation Tips:
Serve the Witch's Brew Soup in cauldron-shaped bowls for added ambiance.

Garnish each serving with a swirl of spiderweb-shaped sour cream.
Spider Cookies
🕷️ Transform ordinary cookies into creepy, crawly delights with our Spider Cookies. Perfect for a sweet and spooky treat, these eight-legged wonders will elicit screams and smiles. Here's how to weave the magic:
Ingredients:
Chocolate chip cookie dough

Pretzel sticks

Candy eyes

Licorice strings
Creative Preparation:
Shape chocolate chip cookie dough into small balls and place them on a baking sheet.

Insert pretzel sticks into each cookie to create spider legs before baking.

Once baked and cooled, attach candy eyes with a dab of frosting.

Use licorice strings to make the spider's web around each cookie.
Presentation Tips:
Arrange the Spider Cookies on a dark platter to enhance their spookiness.

Scatter a few edible spiders around the display for an extra surprise.
Haunted Graveyard Cake
🎂 Dive into the depths of delicious fright with our Haunted Graveyard Cake. This show-stopping dessert satisfies the sweet tooth and serves as a centerpiece for your Halloween feast. Follow these steps to bring this eerie masterpiece to life:
Ingredients:
Chocolate cake mix

Chocolate frosting

Gummy tombstones

Milano cookies (for tombstone bases)

Edible moss (shredded coconut tinted with green food coloring)
Step-by-Step Guide:
Bake the chocolate cake according to the package instructions and let it cool.

Frost the cake generously with chocolate frosting, creating uneven peaks and valleys to resemble a graveyard landscape.

Insert gummy tombstones into the cake, placing them at different angles for a realistic look.

Use Milano cookies as tombstone bases and write spooky epitaphs with edible markers.

Sprinkle edible moss around the tombstones for an overgrown, haunted effect.
Presentation Tips:
Dim the lights and illuminate the Haunted Graveyard Cake with flickering LED candles for an eerie glow.

Display the cake on a black cake stand or a bed of faux spiderwebs for added drama.
Decoration Techniques for a Spine-Chilling Atmosphere
Sinister Table Settings
👻 Elevate your Halloween feast with Sinister Table Settings that will send shivers down your guests' spines. Setting the stage for a hauntingly good time involves more than just the food; it's about creating an immersive atmosphere that makes every bite feel like a journey into the unknown. Here are some tips on arranging Halloween-themed table settings:
Gothic Elegance:
Opt for a color scheme of deep blacks, purples, and blood-reds to create a gothic and sophisticated ambiance.

Use dark tablecloths or runners as a base, setting the stage for a mysterious and dramatic look.
Spooky Serveware:
Choose Halloween-themed dinnerware, or go for classic black plates and bowls to add a touch of spookiness.

Incorporate skull-shaped serving dishes or spiderweb-patterned platters for a ghoulishly stylish presentation.
Ghostly Accents:
Scatter faux spiderwebs, miniature pumpkins, or creepy-crawly insects around the table for added eeriness.

Place ghost-shaped napkin holders or place cards to give each setting a personal touch.
Candlelight and Shadows:
Illuminate the table with an array of candles or LED tea lights to create a mysterious, flickering glow.

Consider using candle holders or lanterns with spooky designs like skulls or bats.
Themed Flatware:
Choose flatware with Halloween-inspired handles, such as skeleton hands or witch-hat designs.

Tie black or orange ribbon around napkins for a simple yet effective touch.
Eerie Centerpieces
🕸️ No Halloween table is complete without an Eerie Centerpiece that captivates and spooks. Transform your dining space into a haunted wonderland with these DIY centerpiece ideas:
Pumpkin Patch Display:
Arrange a variety of pumpkins, gourds, and squashes of different sizes as a captivating and seasonally appropriate centerpiece.

Intersperse with faux spiders or bats to add a touch of the macabre.
Witch's Cauldron Bouquet:
Place a black cauldron in the center of the table filled with a bouquet of dark flowers like black roses, deep purple dahlias, or blood-red carnations.

Add witch hat picks or miniature broomsticks for a magical touch.
Haunted Terrarium:
Create a small terrarium using a glass bowl or cloche.

Fill it with moss, tiny pumpkins, and miniature tombstones for a spooky miniature graveyard.
Candelabra of Shadows:
Arrange a candelabra in the center of the table with black or red candles.

Drape faux cobwebs over the candelabra arms for an extra touch of creepiness.
Glowing Jack-o'-Lanterns:
Carve a few pumpkins and place LED tea lights inside for a classic yet effective Halloween centerpiece.

Arrange them at varying heights for added visual interest.
Serving with Style: Disposable Dinnerware and Servingware
Convenience in the Crypt: Why Use Disposable Dinnerware
🍽️ In the realm of Halloween hosting, simplicity is a spellbinding virtue. Unleash the convenience of the crypt by opting for disposable dinnerware that brings ease to your festivities. Here's why embracing disposable plates and serving ware is a bewitching choice:
Effortless Cleanup: Bid farewell to the haunting chore of post-party dishwashing. Disposable dinnerware ensures a swift and effortless cleanup, allowing you to enjoy the spooktacular night without dreading a mountain of dishes.
More Time for Frights: By choosing disposable dinnerware, you reclaim precious time that can be invested in perfecting your costume, crafting spooky decorations, or conjuring up more Halloween-themed treats for your guests.
Less Stress, More Fun: Hosting a Halloween gathering can involve coordinating costumes, decorations, and entertainment. Disposable dinnerware reduces stress and lets you focus on the joy of the occasion.
Worry-Free Atmosphere: Accidents happen, especially in the eerie glow of Halloween festivities. With disposable dinnerware, there's no need to worry about broken dishes or spills. It's a worry-free way to ensure guests have a hauntingly good time.
Disposable Plates with a Spooky Twist
🎃 Elevate your Halloween table setting with fashionable plastic plates that offer the convenience of disposable design and boast a spooky twist. Dive into the showcase of Halloween-themed plastic plates that are sure to enchant your guests:
Sinister Silhouettes: Discover plates adorned with sinister silhouettes of bats, witches, and haunted houses, adding a macabre touch to each dining experience.
Ghoulish Grins: Plates featuring mischievous grins of jack-o'-lanterns or skulls bring a playful yet spooky vibe to the table, making every meal a delight for the eyes.
Elegant Ephemera: Explore black plastic plates with elegant patterns for a more refined touch, combining sophistication with the season's spirit.
Frighteningly Functional: Plastic Servingware Ideas
🍴 When serving up your Halloween delights, embrace the frightfully functional world of plastic servingware. Here are some suggestions to add a spooky and convenient flair to your presentation:
Witch's Cauldron Bowls: Serve soups, stews, or candy in witch's cauldron-shaped plastic bowls for a whimsical touch.
Skeleton Hand Tongs: Opt for plastic serving tongs with skeleton hand handles, adding a macabre touch to your buffet spread.
Spiderweb Platters: Present your delectable treats on plastic platters adorned with intricate spiderweb designs, adding a sense of mystery to your serving table.
Haunted Drinkware: Choose plastic cups with Halloween motifs like ghosts, pumpkins, or bats for serving beverages. They are not only functional but also contribute to the overall spooky theme.
Frequently Asked Questions (FAQ)
1. Where can I find modern disposable party supplies?
For a dash of style in your spooky soirée, look no further than Smarty Had A Party's online store. Smarty's extensive collection boasts fashionable disposable party supplies that will elevate your Halloween gathering to new heights of elegance and spookiness.
2. Can I use plastic plates for hot food?
Absolutely! Modern plastic plates are designed to withstand hot foods. To ensure your plates can handle the heat, look for options labeled as heat-resistant. This way, you can serve up steaming delights without any fear of the plates losing their cool.
3. How can I make my Halloween table look more authentic?
Incorporate themed decorations, eerie lighting, and creative centerpieces for an authentic touch.
4. What are the easy ways to clean up after a Halloween party?
Using disposable dinnerware and plastic serving ware makes cleanup quick and easy. Simply gather and dispose!
👻🎃 We hope to have ignited your imagination and sparked the flames of culinary creativity for your upcoming Halloween festivities. May your cauldrons bubble with laughter, your tables be adorned with the eerie glow of candlelight, and your taste buds be haunted by the lingering flavors of a feast well-enjoyed. Here's to a Halloween celebration that is both spooky and splendid—an unforgettable gathering that will be whispered about in the shadows for years to come! 🕷️🍂🕯️