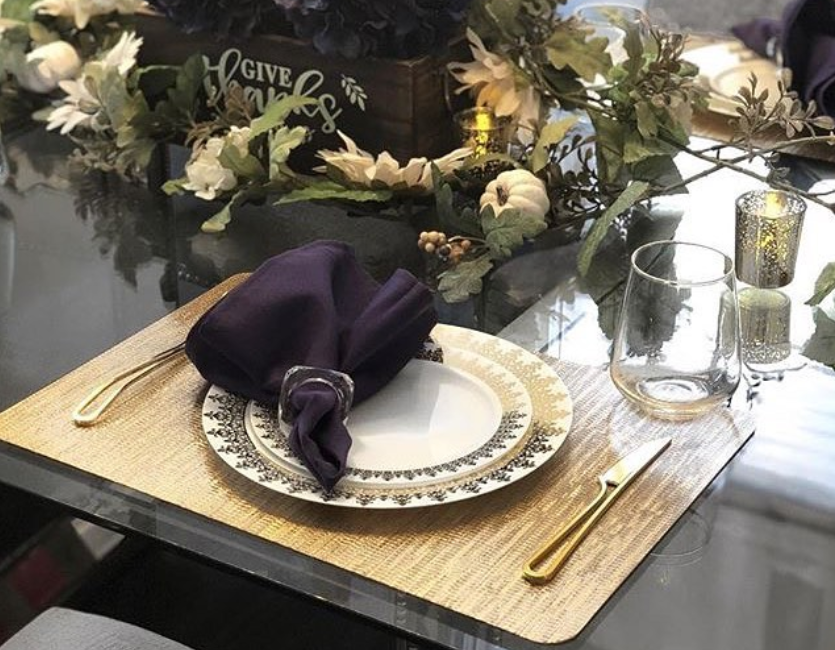 Show Off Your Table Decor Style
This winter, unleash your inner creativity and flaunt your table decor style to your guests. We believe that you should be titled the 'host of the season and that your table decor style should be the talk of the town.
It is essential to create looks that reflect your personality and have a touch of winter-touched decor, which is warm and calm. You can do a lot just with the table decor and make your party tables super lit.
Say Hello to the winter season - aka the party season, and get ready to show off your table decor style to everyone.
Kill the Look Subtly!
It's time for a subtle kill - don't worry, we are only talking about the table decor. Subtle colors feel warm, and they are a welcoming gesture to the winter season. Subtle colors are not just confined to the winter season but can also be pulled off in summers in a very creative way.
Muted colors and subtle textures give a killing look and are perfect for a fall-winter table setup. Use soft hues of orange, gold, mint, and a touch of lavender to slay the look altogether. Match the decor with our elegant disposable dinnerware sets to complete the look. They are available in all colors so that you can decide whatever color you want for a particular event.
Make the Bright Colors Work
Bright colors are not for everyone to try and be good at. They can be a little tricky to work with and require a bit of experimentation to be pulled off in a look perfectly. However, designers love the bright color palettes for winter decor this year, and we have some ideas for you to try and slay this winter.
First, all shades of blue are trendy these days, and when used correctly, they don't disappoint. Secondly, lime and green are also being used by so many people in so many different ways that they have become a thing for winter table decor.
It is also wise to mix and match different colors, i.e., subtle and bright, to create a visual balance to the whole event. For example, red is a beautiful color for table decor, but you cannot do the entire decor with just red. So instead, pair it with a subtle color like pink to have that balance to completely wow your guests with your creative skills.
Get our fancy plastic plates and recyclable disposable plates in bright colors to complement the decor even better. Our plastic plate set is the most lit thing your party table needs.
Choose a Statement Vase
The centerpiece is the heart of a party table, and if it is anything related to flowers, it instantly elevates the look of a table. The traditional touch of flowers to decorate a table never gets old and will always keep getting the attention of everyone sitting at the table.
Pastel Beauty
If you are planning to surprise your guests with a buffet, consider pastel colors instead of the traditional red, gold, or green color. Arrange the cakes in a bell with a foot, the drinks in the same glass bottles, and let the service be the same color. If you do not have enough of the same dishes, make a collection of those of different shapes but the same color or approximate size.
Have plates, vases, and bells in the same color on your festive table, so you can pair them. Hang on the wall a do-it-yourself screen made of glittering ribbons that should be hung, so it turns fluttering.
The Clock as the Main Star
Think about decorating the table with something that doesn't usually belong there - a watch. However, on New Year's Eve, decorate it and highlight it by giving it a special place on the table because it will be both decorative and useful. Be sure your guests will watch the clock before midnight, and you will avoid the company falling asleep looking for the clock when the countdown approaches midnight. Put some vintage models in the middle of the table, and don't forget to decorate the table with a few simple wildflowers.
Antique Dishes
Everyone still likes the classic, and this time spice it up. And you don't need to pull out your grandmother's special service "for special occasions." Instead, use disposable vintage dinnerware and set the table in bright colors, as narrow as possible. You can complete this simple and elegant decoration with table Christmas trees that you will make yourself. Cover them with a glass bell, and sprinkle rice under them, which will look like snow.
You can put a Christmas tree on a plate as a mini gift for each guest. Just make sure it is not made of pieces that fall off. If you don't have festive glasses, decorate the ordinary ones with a ribbon in the color that predominates in the arrangement, or paint them with a color that you will wash later.
Show Off Your Favorite Plants
You can also put houseplants on the table - but you have to ensure that they are perfectly arranged and that their leaves or flowers do not fall off because that is never a good solution when you need to put them on the table with food. Make sure that the plants are in the same pots, in the same color as the objects on the table, and if that is not the case, temporarily put them in some decorative ones.
If you do not have the same pots, resort to a one-time and cheap trick - wrap the pots in decorative paper and wrap them with tape, it will look nice. 
Another tip - try to repeat one motif in a one-color decoration - a gold ribbon or a pattern, for example. So you can draw or print your favorite motif on glasses, plates, and napkins with colors that can be taken off later. If you are not good at writing, a decorative ribbon or something similar can be used.