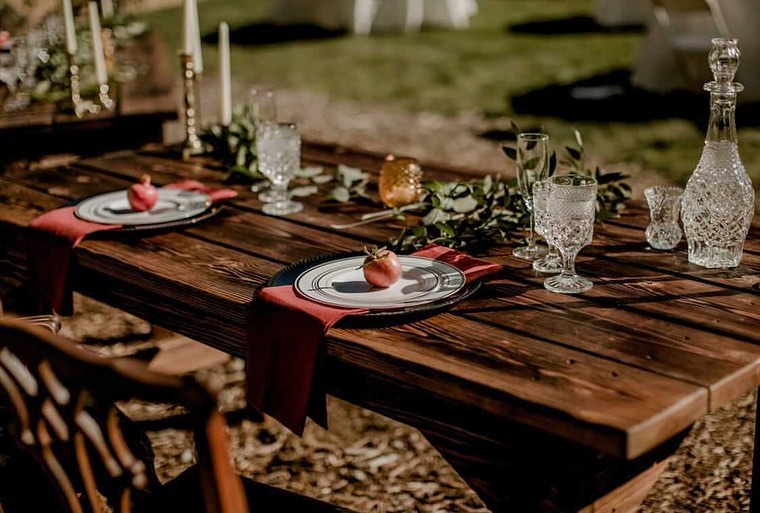 Rustic, Yet Refined, Outdoor Fall Tablescape
When I think of fall, I imagine cozy evenings drinking hot apple cider by a crackling fire under the stars. Yet, for all the beauty of this image, it can be hard to create a stylish dinner party atmosphere in your backyard. Luckily, it's easy to recreate this moody look on your table. Here are some tips for setting up an outdoor dinner party that feels rustic yet refined:
Make It Moody
Go for a dark color scheme to give your outdoor fall tablescape a moody feel. You can mix black, burgundy, wood, and gold for your dinnerware and napkins—our favorite combination of fall colors. For accessories, you can use fruit and wild fruits to add visual interest and keep things from feeling too monochromatic.
A candlelit setting can be romantic or rustic, depending on your style, so this is another place where you can get creative with material combos. For example: combine an acacia wood base with fluted glass panels; pair an oak pedestal base with an iron stand; or use crystal-cut plastic tumblers instead of clear ones.
Simplify the Color Scheme
A single color will keep the look simple and elegant.

A neutral color will blend with your décor, creating a warm, inviting atmosphere.

A mix of colors can provide an attractive focal point and add dimension to your space.

Don't use tablecloths for a more vivid and exciting look!
Bring Rustic Style with a Wooden Table and Wooden Chairs
Bringing a natural element to your table is the easiest way to add rustic style. Use wooden tables and chairs for this look, or even make your own! Wood is durable and can help create an elegant atmosphere that perfectly complements the fall season. If you want to add more rustic touches, consider having stumps or logs serve as additional dining tables. You can stain them in any color scheme you like, so they'll match your home decor while giving off that simple yet elegant vibe that screams autumnal spirit.
Skip Tablecloths
While tablecloths can be a lovely addition to your party, they're not necessary. They are expensive and difficult to clean. Additionally, they can get dirty and get in the way of your food. Additionally, they are a fire hazard!
Let's talk about this instead: If you have a beautiful table that you want to use for an occasion, then why cover it up? You don't need anything extra on top of this piece of furniture that is already so chic!
Use Wildflowers as a Table Runner
Wildflowers are beautiful, accessible, and easy to find. They can be arranged in so many ways that you will never get bored with them. Wildflowers are also great for use as table runners or centerpieces.
Set the Table with Chic Disposable Dinnerware
If you're looking to make your own table setting but still want to keep things simple and stylish, consider using chic disposable dinnerware. The beauty of this option is that it allows you to avoid the hassle of washing dishes after the party—and there's no need for anything fancy when it comes time to clean up!
We suggest choosing a simple pattern to keep your tabletop looking chic without breaking the bank on expensive china. We recommend sticking white or textured designs, like vintage floral patterns, in one color. For fall parties, you could also use an autumnal palette of muted reds and oranges.
The best part about disposable dinnerware is that so many affordable options are available online at Smarty Had A Party! To help narrow down your search, here's a list of our favorite items:
Lay Seasonal but Unexpected Fruit
It's no secret that fruit makes for a great centerpiece, but there are so many different options for choosing which fruits to use. If you want something unexpected, I suggest using pomegranates, grapes, or kiwis. They add a bit of color and texture to the table without being too bold or eye-catching. Another option is apples or pears; these also make great side dishes!
Add Elegance with Fancy Crystal-Cut Disposable Drinkware
Want to add a touch of elegance to your table? Crystal-cut glassware is a great way to do it. Crystal-cut disposable drinkware is also available for those who want the look without worrying about breakage or washing glasses after the party.
Here are our favorite items:
Lighten It Up with Candles
When it comes to fall, there's nothing quite as lovely as the flickering glow of a candle. Candles bring warmth and romance to even the most casual gathering, making them an essential part of any outdoor fall tablescape. With their warm glow and soft flicker, candles set the perfect mood for an evening with friends or family at home. Another way that candles can enhance your space is by adding elegance and sophistication without being too formal. The right ones can make a big difference in how your guests see your table!
Candles are also great for lighting up dark corners of your backyard or patio—and they're not just for use during dinner parties! You can also use them in other areas of your outdoor space, like around seating areas where people might want a little extra light while reading or playing games outside (or even just sitting down).
Incorporate Fall Scents
You can't have a fall table without the smells. A candle or incense will create the mood. If you have a favorite scent, that's great! Some suggestions include pumpkin pie, apple cider, cinnamon sticks, and pumpkin spice. For a more all-encompassing scent to fill your space, try a diffuser or just one of these candles: Add this little touch of autumn to your table setting with one of these scented candles. The vanilla-raspberry one has excellent reviews.
Tips & Tricks
The first step to creating a beautiful fall tablescape is gathering natural inspiration. Use seasonal flowers and fruits to create a rustic yet refined look that will bring your guests back to their childhoods and make them feel like they're hanging out with friends in the field.

Make it personal. No one wants an impersonal party or event—make sure you put yourself into every detail of your table design! Whether you choose a color scheme based on your favorite colors or style elements based on what inspires you, this element will help you get excited about planning events throughout the rest of the year.

Get creative with vignettes that incorporate nature and other elements like antique silverware, wine bottles topped with candles (for ambiance), wooden bowls filled with nuts, and other snacks for guests who want something portable during dinner.

Consider adding additional lighting near trees for easy access when walking around outside after dark.
I hope you have enjoyed our tips for creating a rustic but refined outdoor Fall tablescape. It's time to get out there and start planning your own fall festivities!