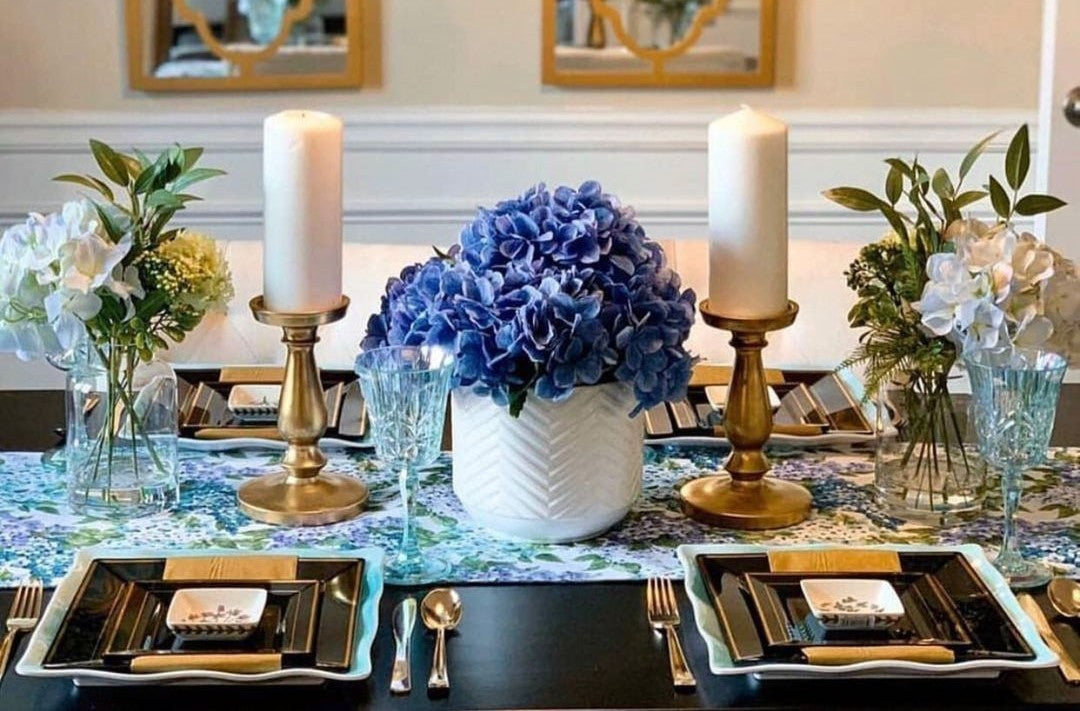 Refresh Your Tablescape with Lovely Spring Decor Ideas!
The Spring season is all about a new and fresh start. Sun starts to show up after long wintry days, daffodils and many other flowers push their way through the ground. And, finally, you get to see fresh fruits and drinks to enjoy your time at family gatherings.
So why not depict the true colors of spring in your tablescape? It will set the mood of your party and provide an opportunity to click some photographs for your Instagram stories. 
Here, you are going to know some lovely refreshing spring decor ideas for your tablescape. 
Furnish your Table with Daffodils
With spring comes flowers, and daffodils are the kings of the flowers. Flowers can set the mood for you and your guests at the table. Without the flowers and greenery, it wouldn't be spring. 
Consider picking up some daffodils from your backyard (if you have one) or nearby park (if your state allows) and spread them on top of the table runner. You can make a bouquet of daffodils and use them as an elegant centerpiece for your table.
If you have glass vases, then utilize them to hold daffodils for you on the table. Glass vases will elevate your table decor by providing a robust look. You can also use other flowers if daffodils don't cooperate with your tablescape's decor.
No matter what flowers you prefer to uplift your table's decor, bringing greenery and flowers of your choice is the ultimate way to add a spring touch to your tablescape.
Add a Table Runner & Tablecloth
Spring is all about lighting up things and using a warmer tone to welcome the upcoming warmer season ahead. Consider using the table runner or a tablecloth of light colors to make your place breath full. 
Lighten your tablescape and place it around it by using a table runner of a lighter tone, such as ivory tablecloth and burgundy, as the table runner will look epic.
Brainstorm a bit and create a combination of light and dark colors to elevate the tablescape for spring parties. Else, you can surf a bit on the internet to have ideas about creating a perfect combination for your table runner and tablecloth.
Incorporate Fresh Seasonal Fruits
As mentioned above, spring tablescape is all about brightening up the table. Fruits can be the perfect choice to add some refreshing vibes and colors to your tablescape. 
Consider shopping for fruits such as strawberries, bright lemons, and cherries. Use stylish plastic serving ware to present them in a stylish yet elegant way. They will add a finishing touch to your table, and also your guests can eat them with the dessert.
Apart from fresh seasonal fruits, you can bring in any natural and organic element to your table that you think grows in your area, and it's easily available. 
Replace your Servingware 
Your serving ware holds a statement of your table decor. Replace your serving ware with something trendy like Smarty's elegant disposable serving tableware.
Complete your tablescape with our spectacular and stylish serving ware utensils and upgrade your table space for the spring parties. Look around and get the disposable serving party supplies at a fraction of the cost and have hassle-free parties and meals this spring.