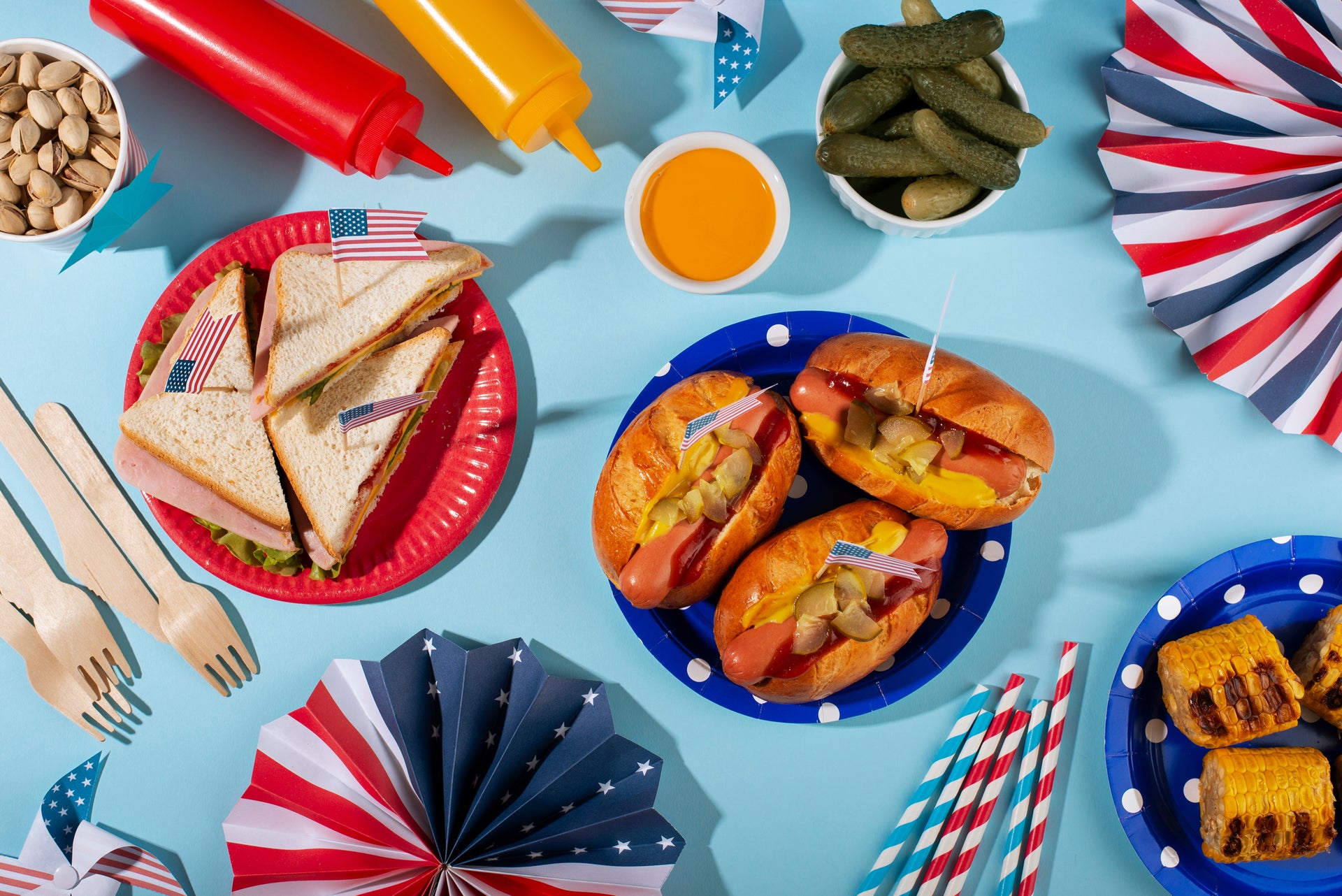 Patriotic Party Perfection: Tips and Tricks for a Stellar 4th of July Celebration
The 4th of July is a time-honored tradition in the United States, where friends and families come together to celebrate the nation's independence. It's a day filled with patriotism, fireworks, and, of course, a mouthwatering feast. As the host, you want to ensure that your 4th of July celebration stands out and leaves lasting memories for your guests. That's why we've put together this ultimate guide to help you achieve patriotic party perfection and create a stellar 4th of July feast.
A Guide to Hosting an Unforgettable 4th of July Celebration
This blog post provides tips and tricks to make your 4th of July celebration unforgettable. Whether you're hosting a backyard BBQ, a picnic in the park, or a festive gathering by the beach, this guide has got you covered. Prepare to impress your guests with your culinary prowess and create a memorable 4th of July celebration that embodies the spirit of patriotism. Let's dive in and make this year's 4th of July feast a true sensation!
Planning the Menu
Emphasizing Traditional American Favorites
When planning a 4th of July feast, remember classic American dishes like hamburgers, hot dogs, and barbecue chicken. Experiment with high-quality meats and gourmet sausages to enhance their flavors. Offer a range of condiments and toppings for guests to customize their meals.
Incorporating Red, White, and Blue-themed Dishes
Make your 4th of July feast festive with red, white, and blue-themed dishes. Add visual appeal and patriotic touch to your spread. For the "red," serve watermelon skewers, tomato and mozzarella skewers, or a mixed berry salad. For the "white," offer coleslaw, roasted potatoes, or a yogurt-based dip. For the "blue," include a fruit salad with blueberries or serve blueberry-infused beverages.
Catering to Dietary Restrictions and Preferences
Consider dietary restrictions to accommodate all guests at your 4th of July feast. Offer vegetarian and vegan options like vegetable skewers, grilled tofu, and portobello mushroom caps. Include various salads with gluten-free grains or greens. Consider allergies by providing clear labels or menu cards. Ensure everyone can enjoy the feast with peace of mind.
Sides that Shine
Easy and Flavorful Salad Recipes
Mixed Berry Spinach Salad:

 Make a tasty salad using baby spinach, mixed berries, feta cheese, candied pecans, and balsamic vinaigrette.

Caprese Pasta Salad: 

Upgrade your Caprese salad by adding cooked bowtie pasta, cherry tomatoes, mozzarella pearls, and basil with Italian dressing for a satisfying pasta twist.

Grilled Corn and Avocado Salad:

 Grill fresh corn and mix it with avocado, tomatoes, onion, cilantro, and lime vinaigrette for a delicious summer salad.
Elevating Classic Sides with a Twist
Loaded Baked Potato Salad: 

Make a tasty potato salad with cooked and cubed potatoes, sour cream, mayo, cheddar cheese, bacon bits, and green onions. Perfect for a picnic with loaded baked potato flavors.

Asian Slaw with Peanut Dressing: 

Make an Asian coleslaw with shredded cabbage, carrots, bell peppers, scallions, and peanut dressing made with peanut butter, soy sauce, rice vinegar, honey, and sesame oil. Add chopped peanuts for crunch.
Spectacular Sweet Treats
Delicious Desserts with a Patriotic Flair
Flag-Inspired Fruit Pizza:

 Create a sugar cookie crust and spread sweetened cream cheese or vanilla yogurt on top. Arrange blueberries in a square shape in the top left corner and alternate rows of sliced strawberries and mini marshmallows for stripes. 

Firework-Inspired Cupcakes: 

Make patriotic cupcakes with red, white, and blue frosting and add edible glitter or sprinkles for fireworks-inspired designs. Top each cupcake with a mini American flag toothpick.
Utilizing Fresh Berries and Festive Decorations
Red, White, and Blue Parfait:

 Layer fresh berries and whipped cream/yogurt in clear glasses/jars for a beautiful striped effect. Top with granola/crushed graham crackers for added texture.

Berry-filled Pie or Tart: 

Make a butter crust pie or tart and fill it with fresh mixed berries. Serve with whipped cream or vanilla ice cream for a delicious summer dessert.
Captivating Cocktails and Refreshments
Signature Patriotic Cocktails and Mocktails
Elevate your 4th of July celebration with patriotic beverages. Try a "Red, White, and Blue Sangria" with fresh berries, white wine, sparkling water, and citrus. Make a "Sparkling Berry Lemonade" with lemon juice, berry syrup, sparkling water, and a sweetener for a non-alcoholic option. Garnish with mint leaves and berries.
Creating a Refreshing Beverage Station with Disposable Drinkware
Create a self-serve beverage station using disposable drinkware for an easy setup and cleanup. Customize clear plastic tumblers or cups with patriotic decorations like flag-inspired stirrers or red, white, and blue straws. Offer a variety of drinks like cocktails, mocktails, iced teas, and flavored water with fruits and herbs. Provide ice, sliced fruits, and garnishes. Label each beverage with decorative signs for guidance and elegance.
Serving with Style—Disposable Partyware
Benefits of Using Disposable Plates and Serving Wares
Disposable partyware can be a game-changer when hosting a stellar 4th of July celebration. Here are some benefits to consider:
Easy Cleanup: 

With disposable partyware, cleanup becomes a breeze. Simply gather the used plates, utensils, and serving ware and dispose of them in designated recycling bins. This saves you precious time and makes post-party cleanup less daunting.

Less Risk of Breakage:

 Hosting outdoor parties or large gatherings can increase the risk of accidents and breakage. Using disposable plates and serving ware minimizes the chances of damaging valuable or delicate dishes.
Mini Plastic Bowls for Individual Servings
For certain dishes that require individual servings or portion control, mini-plastic bowls can be a great option. These bowls come in various sizes and are perfect for serving snacks, dips, or desserts. They not only enhance the presentation of your food but also make it easier for guests to enjoy bite-sized treats without needing separate plates.
Consider filling disposable bowls with red and blue berries, yogurt parfaits, or individual servings of pasta salad. The individual portions add a touch of elegance to your spread while ensuring each guest gets their fair share.
The Versatility of Birch Wood Flatware
Birchwood flatware is biodegradable and stylish, making it an excellent choice for a 4th of July celebration. Birchwood flatware is sturdy and adds a rustic and natural touch to your table setting.
Pair your birch wood flatware with red and blue paper napkins, or tie them together with twine for a charming and cohesive look. After the event, the flatware can be disposed of or composted, leaving minimal dishes to wash.
Setting the Ambiance
Decorating the Outdoor Space with Patriotic Themes
Flag Bunting: 

Hang patriotic flag bunting along fences, railings, or across the front of your house to instantly create a festive atmosphere. The red, white, and blue fabric swaying in the breeze will capture the essence of the holiday.

Balloon Displays: 

Create balloon bouquets using red, white, and blue balloons. Place them strategically throughout the party area or anchor them to tables or chairs.

DIY Mason Jar Luminaries:

 Decorate mason jars with red, white, and blue ribbons or paint. Place battery-operated candles or fairy lights inside the jars, and scatter them around the outdoor space for a warm and patriotic glow.
Incorporating Festive Lighting and Tablecloths
String Lights: 

Hang string lights in the backyard or patio area to create a magical atmosphere as the sun sets. Opt for red, white, and blue lights to add a patriotic flair.

Patriotic Tablecloths and Runners:

 Dress up your tables with 

plastic tablecloths

 or runners in patriotic colors and patterns. Choose designs featuring stars, stripes, or flags to create a cohesive and festive look.

Candle Centerpieces:

 Place red, white, and blue candles in clear glass holders or lanterns to serve as centerpieces. Light them once the sun goes down to create an inviting and cozy atmosphere.
Creating a Cozy and Inviting Atmosphere
Outdoor Seating: 

Arrange ample seating options such as picnic blankets, lawn chairs, or outdoor sofas to provide comfortable areas for your guests to relax and socialize.

Outdoor Rugs and Pillows:

 Add outdoor rugs and throw pillows to create cozy lounging areas. Choose designs incorporating patriotic colors or patterns to tie in with the theme.

Music and Entertainment: 

Set up a speaker system or create a curated playlist of upbeat and patriotic tunes to keep the celebration lively. Consider including some classic American anthems to ignite the patriotic spirit.
Frequently Asked Questions (FAQs)
1. Why should I consider using disposable partyware for my 4th of July feast? 
Using disposable partyware offers several advantages. It saves time and effort and eliminates the risk of broken glassware. It's also convenient for outdoor gatherings.
2. Can disposable partyware still be stylish and presentable?
Absolutely! Choose from a variety of disposable partyware in different colors and designs. Find patriotic-themed or elegant metallic or clear options to complement your aesthetic.
3. Can mini plastic bowls be used for serving appetizers and desserts? 
Mini plastic bowls are perfect for serving individual portions of appetizers and desserts. They're easy to hold and add a visually appealing touch to your presentation. Use them for dips, salads, fruit cups, or desserts like parfaits or ice cream sundaes.
Can I find disposable partyware in bulk quantities for larger gatherings?
Yes, Smarty Had A Party offers disposable partyware in bulk quantities, specifically catering to larger gatherings. Buying in bulk not only ensures that you have enough partyware for all your guests but often offers cost savings as well. 
Image by
Freepik