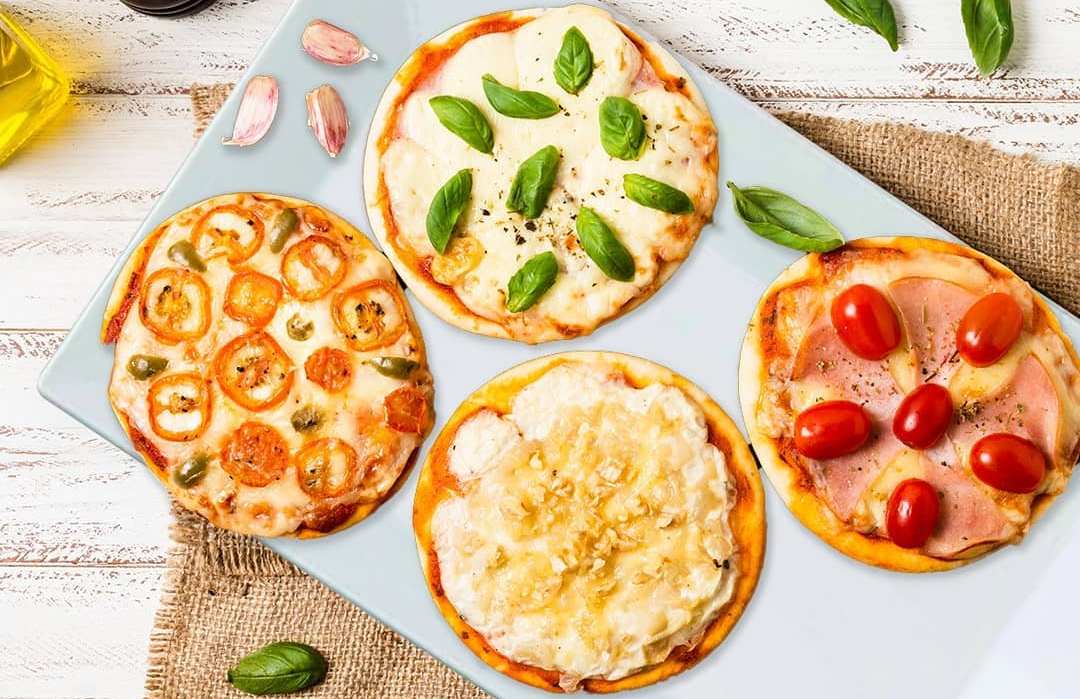 Party-Perfect Mini Pizzas: Bite-Sized Deliciousness!
Are you looking for a crowd-pleasing appetizer for your next party? Look no further than mini pizzas! These bite-sized versions of everyone's favorite comfort food are easy to make and always a hit. Plus, with endless topping options, you can cater to any taste preference. In this blog post, we'll share our favorite recipe for mini pizzas, creative topping ideas, and tips for serving them at your next gathering. So get ready to impress your guests with party-perfect mini pizzas that will leave them wanting more!
Recipe for Mini Pizzas
Mini pizzas are not only delicious but also incredibly easy to make. Here's our go-to recipe:
Ingredients:
Pre-made mini pizza crusts (or make your own using pizza dough)

Pizza sauce

Shredded mozzarella cheese

Toppings of your choice (pepperoni, sausage, mushrooms, peppers, onions, etc.)

Optional: herbs like oregano or basil
Preparation:
Preheat your oven to 375°F (190°C).

Place the mini pizza crusts on a baking sheet.

Spread a thin layer of pizza sauce on each crust.

Sprinkle shredded mozzarella cheese over the sauce.

Add your toppings of choice to each mini pizza.

Optional: sprinkle herbs like oregano or basil over the toppings for extra flavor.

Bake in the preheated oven for 10-12 minutes or until the cheese is melted and bubbly.

Remove from the oven and let cool for a few minutes before serving.
Tips for making mini pizzas:
Pre-bake the crusts for a few minutes before adding toppings to ensure they are crispy and won't become soggy.

Use a tablespoon or two of sauce per mini pizza to prevent the crust from becoming too wet.

Keep the toppings small and bite-sized to ensure they fit on the mini pizzas and don't overpower the flavor.

Be mindful of portion control, as it's easy to overindulge with mini pizzas!
Creative Toppings for Mini Pizzas
While classic toppings like pepperoni and mushrooms are always crowd-pleasers, why not mix things up and get creative with your mini pizza toppings? Here are some ideas to inspire your next mini-pizza creation:
Hawaiian: 

Top your mini pizza with sliced ham, pineapple, and shredded mozzarella cheese for a sweet and salty flavor combination.

BBQ Chicken: 

Spread BBQ sauce on the mini pizza crust, then top with shredded chicken, red onion, and cheddar cheese for a smoky, tangy twist.

Veggie: 

For a healthier option, try topping your mini pizza with roasted vegetables like zucchini, bell peppers, eggplant, and a sprinkle of feta cheese.

Mediterranean: 

Spread hummus on the mini pizza crust, then top with sliced cherry tomatoes, kalamata olives, and crumbled feta cheese for a Mediterranean-inspired mini pizza.

Breakfast: 

Top your mini pizza with scrambled eggs, bacon, and cheddar cheese for a breakfast-inspired treat.

Margherita: 

For a simple but delicious option, top your mini pizza with sliced tomatoes, fresh mozzarella cheese, and basil leaves.
Feel free to experiment with different flavor combinations and ingredients to create your signature mini pizzas. And if you're hosting a themed party, consider incorporating themed toppings to tie it all together!
Attractive Ways to Serve Mini Pizzas at Parties
When it comes to hosting a party, presentation is vital. So not only do mini pizzas need to taste delicious, but they also need to be served in an attractive way that elevates the overall party experience. Here are some suggestions for serving mini pizzas at your next party:
Mini disposable partyware:

 Opt for 

mini plastic party supplies

 such as 

plastic plates

 and 

disposable mini flatware

, which look sleek and make clean-up a breeze. Choose coordinating 

cocktail napkins

 to tie everything together.

Customized pizza boxes:

 Take your mini pizza serving game up a notch with mini pizza boxes that can be customized with your party's theme or color scheme. Mini plastic pizza cutters are also a fun addition that guests can use to slice their own mini pizzas.

Presentation: 

Arrange mini pizzas on a 

large serving platter

 or 

plastic cake stand

 for a visually striking display. Alternatively, serve them in individual shot glasses or mini skillets for a unique twist.
Remember, the goal is to make your guests feel special and catered to. By putting thought into how you serve mini pizzas, you'll impress your guests and create a memorable party experience.
Tips for Hosting a Mini Pizza Party
If you're looking to host a mini pizza party, here are some tips to ensure it's a success:
Plan ahead: 

Determine the number of guests you'll be hosting and ensure you have enough mini pizza crusts and toppings. Consider setting up a self-serve toppings station with various options so guests can customize their mini pizzas to their liking.

Drink pairings: 

Don't forget about drinks! Beer and wine pair well with most mini pizza toppings, but consider offering non-alcoholic options as well. Consider pairing mini pizzas with cocktails or mocktails for a fun twist.

Incorporating mini pizzas into other party themes: 

Mini pizzas are versatile party food that can be incorporated into various party themes. For example, for a game night party, set up a mini pizza bar alongside board games and snacks. For a backyard BBQ, serve mini pizzas alongside grilled meats and veggies.

Keep it simple: 

While getting creative with toppings and presentations is fun, remember that the most important thing is that your guests are enjoying themselves. Don't stress too much about making everything perfect - the joy of mini pizzas is that they're simple and fun!
By following these tips, you'll be well on your way to hosting a memorable mini-pizza party that your guests will love.
Mini pizzas are a perfect party food that combines deliciousness and fun into one bite-sized package. They're customizable to any palate or party theme, with endless topping options. Plus, they can be elevated to the next level with the proper presentation and party supplies.
Whether you're hosting a game night, backyard BBQ, or any other gathering, mini pizzas will surely be a crowd-pleaser. By following the tips and suggestions in this post, you'll be well on your way to throwing a party your guests will never forget.
So, gather your favorite toppings, prep your mini pizza crusts, and let the party begin!