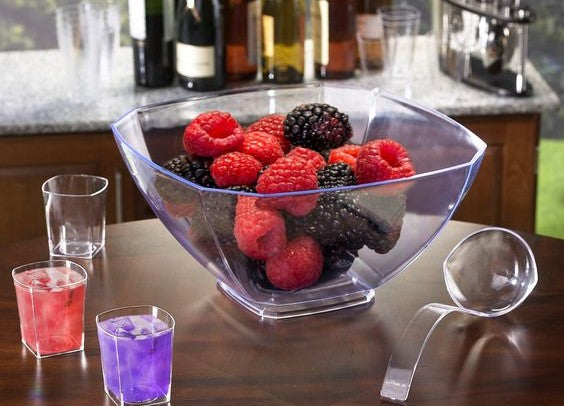 Must-Have Party Supplies for Entertaining
Party supplies are the essentials for any party. Without them, you will be running in your home for appropriate serving ware to serve your guests while they have a meal. Whether you throw parties very often or once in a blue moon, you need to have must-have party supplies that are universal and can go with every party and setting. 
However, finding must-have party supplies might seem a daunting task as if you google it, you will find plenty of search results - presenting everything as a must-have party item. 
We did extensive research to find out some of the best party supplies that can go with any party setup and decor. Read on to find out the must-have party supplies that you have before you throw a party. 
Long White Table Cover/Cloth
For every party you throw, you will require to cover your table with some elegant and fancy table cloth that provides a clean and nice touch to your table. Opt for the long white table cover that can go with any party theme, decor, and settings. 
White is one of the most universal and versatile colors that can work best with every party setting. Having a long white table cover will save you some money as you won't have to buy a newer colorful tablecloth to cooperate with the different party themes. 
You can use the long white tablecloth for both: buffets and sit-down dinner settings. For instance, if you are arranging a sit-down dinner table party, then you can fold the long white tablecloth to make it a perfect fit for the smaller size tables. 
Cupcake Tower
No doubt, cupcake tower is excellent for serving cupcakes. However, you can also use it for many other items to serve and display at the party. It can be a great addition to your party supplies as it will provide more elegant touches to your table's decor, plus it has some practical advantages too. 
For instance, you won't need to serve everything by hand to your guests. Get a cupcake tower and put the items on display in a cupcake tower so your guests can help themselves. Get a cupcake tower and have peace of mind throughout the party. 
You can put desserts on it, such as cookies, pastries, muffins, bagels, donuts, and mini dessert cups. Make sure to get a glass-made cupcake tower so it can go with any party you throw in the future. 
Candles Holders
Candles have the power to completely transform the profile of your table - from casual to full of aesthetic and elegance. That's why they are seen as the table's top decor and party decor. 
Since lighting candles is a go-to thing for most party settings, getting candle holders will provide your table with a formal yet elegant look. If you use the candles as part of your party decor and table decor, then candle holders are the must-have you should have at home in shapes and sizes. 
Make sure you are going for the glossy ones as they tend to cooperate with any color of decor and party supplies present around them. 
Elegant Serving Trays
Having a fancy dinnerware plate set is essential, but having elegant serving trays is also as important as other party supplies. If your dinner plates are premium quality and complement the food, but your serving trays aren't that attractive, then you are missing a lot of details in your table decor. 
Get the disposable serving trays and serve your guests with style and honor. Smarty offers a great variety of serving trays for parties that come in different sizes, shapes, and designs. 
However, the rectangular ones with white colors are quite a trend and can stand out in any table settings. Get elegant serving trays and take your food photography to the next level, as they will improve the food presentation on the table. 
Glossy Vases
For the table decor, you need to find out the party supplies that can go with any party settings and decor. So, you don't have to invest frequently whenever you are throwing a party. Glossy vases can be a great addition to your party supplies collection, as they can go with any party setting and decor. 
They can be used to hold flowers, greenery, and even candles (if their opening is wide enough). Get the glossy vases and use them with every party set to bring a more festive yet vibrant touch to your party by placing flowers in them. 
Cake Stand
Whether it's a celebration party, wedding party, or even a summer bash party, cake cutting has become a must-have moment. Presenting the cake on plates doesn't provide a formal look to your table settings. Having a cake stand can make a big difference at your party. 
The cake stand is essential to party supplies you must own for cake cutting moments. Make sure to own at least one glossy cake stand for parties. As mentioned before, go for the glossy ones as they can go well with any party decor. 
Balloons
Balloons bring a sweet element to your party decor, and with a bunch of them, you can set the scene for your party. Having a pack of inflated balloons will take a little space in your storeroom. 
Also, they are one of the easiest party supplies to use that make your party stand out instantly. So, have a bag of inflated balloons and use them in any party decorations to set the mood and the scene. 
Confetti
For any celebration party, confetti is a party supply that needs to be the party of it. It's a great source of cheering up with your guests and celebrating the moments with them. In recent times, numerous colors and shapes of confetti are very popular. 
If you want an entertaining party with your guests, then confetti is a must-have party supply that you should include in your shopping list. Moreover, similar to the balloons, confetti takes less space. Make sure to have a bunch of them so you can also give some of them to your guests.