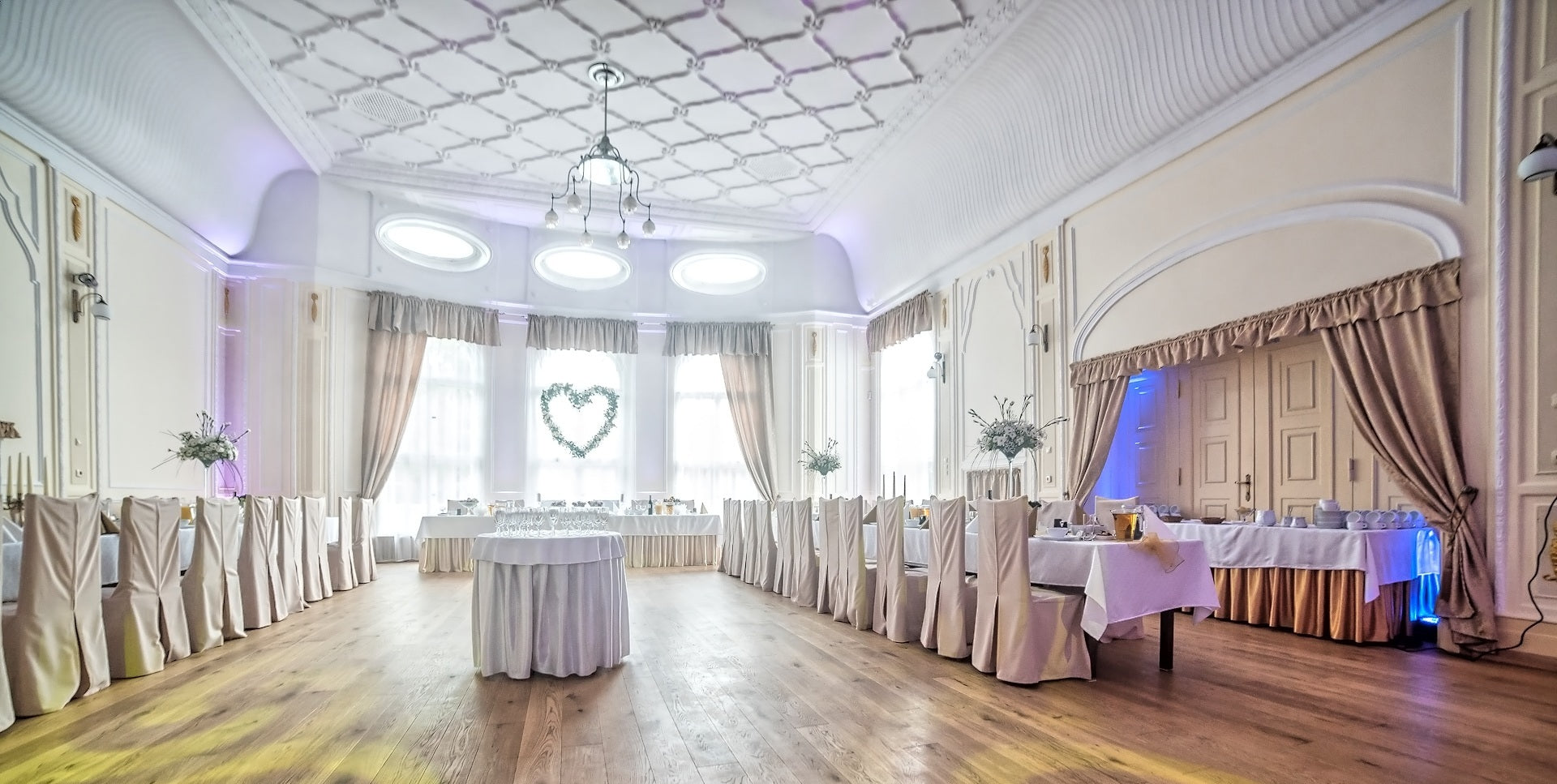 Bulk Disposable Dinnerware for Large Weddings
Maximizing Convenience and Minimizing Clean-Up
When planning a large wedding, one of the most daunting tasks is figuring out how to feed all of your guests. So many details must be considered, from selecting the menu to setting up the tables. However, one of the biggest challenges is finding a way to serve food to many people without creating a lot of extra work for yourself and your helpers. That's where bulk disposable dinnerware comes in. In this blog post, we'll explore the benefits of using disposable tableware for large weddings and provide tips on how to make it look stylish and elegant. Whether planning a backyard barbecue or a formal sit-down dinner, using bulk disposable partyware can help you maximize convenience and minimize clean-up, leaving you more time to enjoy your special day.
Benefits of Bulk Disposable Dinnerware 
Bulk disposable dinnerware offers several benefits when hosting a large wedding. Here are some of the key advantages:
Cost-effective:

 Traditional dinnerware rental can be expensive, especially when you factor in the cost of delivery and pickup. On the other hand, disposable dinnerware in bulk is much more affordable, allowing you to save money on your wedding budget.

Easy to transport and set up:

 Disposable tableware is lightweight and easy to transport, making it a convenient option for outdoor or offsite weddings. Plus, setting up is a breeze since you won't need to worry about sorting and washing dishes.

Wide variety of options: 

Disposable plates, cups, cutlery sets

, etc., comes in a range of styles, colors, and materials, so you can find options that suit your wedding theme and style. Whether you're going for a rustic, bohemian look or a sleek and modern vibe, there are plenty of choices.

Reduces the need for washing and cleaning up:

 One of the biggest advantages of using plastic dinnerware is that it eliminates the need for washing and cleaning up after the wedding. This saves you a lot of time and effort, allowing you to focus on enjoying your day with your guests.
Tips for Choosing Bulk Disposable Dinnerware 
Choosing the right bulk disposable dinnerware can make all the difference when hosting a successful wedding. Here are some tips to keep in mind when selecting your dinnerware:
The first step in selecting bulk disposable dinnerware is to consider the number of guests you'll be hosting and the type of meal being served. For example, if you're serving a formal dinner, opt for heavier-weight plastic plates and silverware. On the other hand, if you're hosting a casual backyard barbecue, lighter-weight plastic options may be more appropriate.

No one wants to deal with leaks and spills during a wedding, so it's essential to choose disposable dinnerware that is durable and high-quality. Look for plates and cups made from sturdy materials like paper, plastic, or bamboo. Additionally, consider purchasing 

plastic lids

 for bowls and trays to prevent spills.

If sustainability is a priority for you, plenty of

 

eco-friendly disposable dinnerware

 options are available. For example, you can choose plates and cups made from biodegradable materials like bamboo, 

palm leaves

, or birchwood. Additionally, you can look for products that are compostable or recyclable.
How to Make Disposable Bulk Dinnerware Look Stylish 
Just because you're using bulk disposable dinnerware doesn't mean your wedding has to look cheap or tacky. On the contrary, you can make your disposable dinnerware look stylish and elegant with a bit of creativity and attention to detail. Here are some tips to help you achieve a fashionable look:
One way to elevate your disposable dinnerware is to use creative presentation and decoration techniques. For example, you can place silverware in 

decorative paper napkins

 and tie them with a ribbon or twine. You can also add garnishes to plates to make them look more appealing.

Another way to make your disposable dinnerware look stylish is to coordinate the colors and patterns with the wedding theme. If your wedding has a specific 

color scheme

, choose dinnerware that matches or complements those colors. You can also opt for dinnerware with patterns or designs that fit with the overall aesthetic of your wedding.

Lastly, consider combining different types of dinnerware to create a unique look. For example, you can mix and match plates, cups, and utensils in different colors and materials to create a more dynamic and exciting tablescape. You can also use different sizes and shapes of plates to create a layered look.
Cleaning Up After the Wedding
The post-wedding clean-up process can be daunting, especially when dealing with large amounts of dinnerware. However, using bulk disposable dinnerware can significantly reduce the time and effort required to clean up after the wedding.
One of the biggest advantages of bulk disposable dinnerware is that it eliminates the need to wash and store traditional dinnerware, which can be time-consuming and tedious. Instead, with disposable dinnerware, you simply collect and dispose of it, freeing up valuable time for other post-wedding tasks. This can be particularly helpful for large weddings, where cleaning up traditional dinnerware can take hours.
Additionally, bulk disposable dinnerware can help minimize the risk of damage and breakage during the clean-up process. Unlike traditional dinnerware, which can be fragile and prone to breakage during washing and storage, disposable dinnerware is designed to withstand the rigors of transportation and disposal. This means you can avoid the stress and cost of replacing damaged dishes, a common issue with traditional dinnerware.
Disposable dinnerware in bulk can be an excellent choice for large weddings. Not only is it cost-effective and easy to transport, but it also minimizes clean-up time and effort. Choosing durable and high-quality options and considering eco-friendly alternatives can ensure a successful and sustainable wedding celebration.
Additionally, with a bit of creativity and attention to detail, disposable dinnerware can be just as stylish and elegant as traditional dinnerware. By using creative presentation techniques, coordinating colors and patterns, and combining different types of dishes, you can create a memorable and visually appealing wedding experience.
Overall, bulk disposable dinnerware can be a practical and stylish option for couples looking to maximize convenience and minimize clean-up at their large weddings. With the proper selection of dinnerware, you can focus on enjoying your special day with your loved ones without worrying about cleaning up afterward.