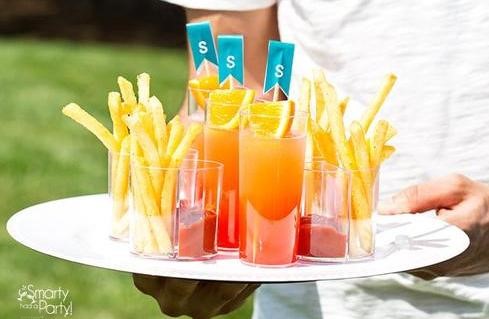 How to Host a Labor Day BBQ on a Budget?
Thinking of hosting a Labor Day BBQ on a budget? We've got you covered with our easy-on-pocket BBQ tips. Celebrating Labor Day with some epic BBQ arrangements would be a great idea, but you don't have to put many resources into it.
The benefits of barbecues and picnics are numerous. First is the informality of such meetings because everything is natural and spontaneous, and there are no complicated menus, hours of work, and fatigue from cooking. The smart ones use plastic plates, and the well-organized ones order their friends what to bring. It is then an absolute pleasure for everyone, especially the housewife.
We're here to provide you with fantastic tips on hosting a budget-friendly BBQ party on Labor Day.
Since this is your holiday too, you deserve to relax with your friends after a challenging year and enjoy the feast without much expense.
Go with Simple Meat
You don't have to worry about buying some special sirloin area meat, steaks, or salmon. You can work with one protein item only, and it will save you on different toppings. For example, it has been observed that people are always happy with hot dogs and cheesy burgers. All you have to do is prepare some meat for them to use in the buns.
Use Affordable Veggies
You can add more veggies to the BBQ to make your guests enjoy other items. This way, you can use less meat and save more. Your veggies should be marinated in Italian dressing to make them more delicious and blend well with the meat.
Here are 7 unexpected products that can be found on the grill with meat, reduce your budget, make your feast more luxurious, and at the same time, feed vegans if there are any among your guests:
Broccoli
Some people like broccoli. Others don't. But if you are grilling broccoli, you will surely like it. It is necessary to remove the stems and put them on the grill until they are slightly browned. 
Sweet potatoes 
Sweet potatoes are more of a winter plant. But, it goes well with summer vegetables - sweet potatoes should be prepared on a skewer, turning them constantly, with minimal addition of oil. 
Chickpeas 
To prepare grilled chickpeas, you need a pan. The shell is a little hard, but the product is soft and juicy inside.
Salad 
Yes, although it sounds strange, you can prepare a green salad on the grill - it can be pretty tasty if used, for example, Roman salad. In addition, it will stay fresh and crispy after baking. 
Tofu
Good news for vegetarians: tofu is one of the leading products that serve as a substitute for meat. Grilled tofu is perhaps even better and tastier than sausages and burgers.
Oysters 
It is considered that oysters are best eaten raw. But if you prepare grilled oysters, you will certainly not be disappointed.
Grilled Vegetables
Grilled vegetables are a great addition to meat; you can throw whatever your soul desires on the grill racks. The best are prepared: zucchini, eggplant, red peppers, and mushrooms. All you need to do is season the washed and thinly sliced fruit (put champignons and peppers whole or cut in half) with a bit of pepper, salt, or spices and throw it over low heat so that it doesn't burn. When the vegetables turn yellow, it's time to remove them from the heat. Before grilling, be sure to oil the grill, so the vegetables do not stick to it. Turn the vegetables occasionally; after five to seven minutes, you can remove them from the heat and honor your palate.
Ask Your Guests to Contribute
If you're hosting an informal party, you can ask your guests to bring some food items or drinks. Your guests can contribute to the side items, and you can focus on the main things.
Home-Made Seasoning
Seasoning items can be expensive, and you can make them at home. There are a lot of ways in which you can make your seasoning at home. You can also customize the seasoning depending upon the taste and save some bucks.
Don't Forget to Avail Membership
If you have a membership of some grocery stores, do avail of that and see what items are on sale. Your menu should be based on the items on sale, and now and then, stores put many things on sale. This is how you can plan for a budget-friendly BBQ party.
Affordable Dinnerware Set for Labor Day
Along with some budget tips, you need to make sure that you're also focusing on other aspects of the Labor Day party. To bring some patriotic vibes to the party, you must ensure that you've adequately maintained the party's theme. Some epic playlists and a great theme to work with will do the job well. The disposable Labor party dinnerware value sets will make your job much easier. 
The disposable patriotic silverware and patriotic plastic plates for Labor Day will make your party more hassle-free and leave you plenty of time to focus on preparing the barbeque. The BBQ party is incomplete without patriotic disposable serving ware.
We offer Labor Day serving party supplies to make your party more patriotic. Your guests would love the different colors of plastic partyware items. 
Use Simple Decorations
Since it's the end of summer, check your inventory before buying something new, you probably already have the paper goods and decorations you'll need. Make a simple decoration. There is no need to overdo it with expensive decorations. If you need a few things, go to the dollar store. Summer items could be further discounted as store owners try cleaning the shelves and preparing them for fall. The main idea of a barbecue for Labor Day is your relax with as little stress as possible and enjoy the company of your guests.