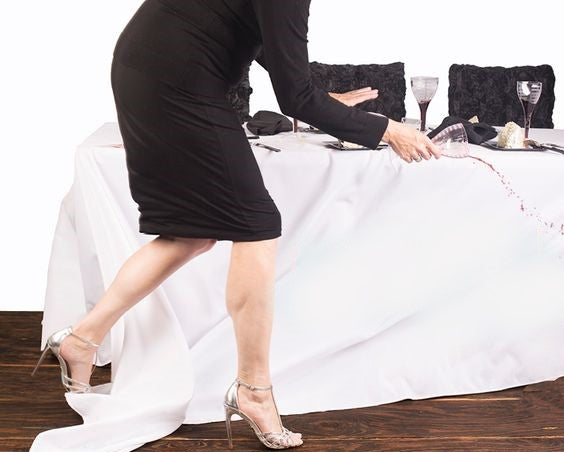 How to Determine the Right Size Tablecloth for Your Table?
How do you choose the right size of cloth for your table? It might seem a simple and easy question, but it's a little technical to figure out the right one when arranging a formal event at your house. The right tablecloth size will make your overall arrangements stand out in the scene. 
You've probably never thought about this topic. Instead, you just went to the nearest store with an assortment for the home and chose the tablecloth that first caught your eye. And that's okay. You can choose a tablecloth completely randomly, just because you like it, and sometimes even guess. But to choose the right, perfect tablecloth, you still need to distinguish a couple of basic concepts (otherwise, you could bring home a piece that is too short, or have you already?).
However, the design and decoration of the space, color matching, and other activities around the decoration, we all do it to feel as comfortable as possible in your home. And to make our everyday life more beautiful and our food tastier. Scientific studies have proven that a well-decorated table and a beautiful tablecloth improve food to taste!
But what are the most important things you need to pay attention to when buying a tablecloth?
Imagine the following scenario: you have found your ideal tablecloth on the internet or in a store, a beautiful pattern that will fit great in your dining room, and you can't wait to put it on the table. Buy, get home, unwrap the package, spread out the tablecloth, and what? It is too short. It does not cover the table completely—what a disappointment. When you bought it, you didn't even think about the dimension of the table, and now you have a tablecloth that fits you but doesn't fit your table. We can all agree on how much nicer it is when the right size is on the table.
Color and Design
The influence of colors on our emotions and moods has been known for a long time, and it is believed that the first pigments were created 40,000 years ago! Don't forget your instinct when choosing a color and what they evoke in you. If you don't like color and you still like a tablecloth, in the long run, you will hardly be satisfied with what you bought.
As for the fabric patterns, the choice is endless and easy to get lost in. Pay attention to the space the tablecloth goes into: if you already have a lot of patterns of different colors in the room, maybe one more would be too much? In that case, you can opt for a tablecloth with a pattern, but in a neutral color, you will certainly not go wrong with it.
If you want to play it safe, one-color and simple variants of the tablecloth are timeless and immune to changes in the interior.
Dimension
There are guidelines on calculating a dimension, but you should know the width and length of the table for which you are buying a tablecloth. So a meter in hand, so as not to end up with an unusable tablecloth.
The shape is another important thing, and it is helpful to know that a rectangular tablecloth fits well with all table shapes, but you will only be able to place around or oval tablecloth on a table of the same shape.
Perfect Table Dimensions 
Before choosing a tablecloth size, you must first know the dimensions of the table you will be covering. Then you need to decide how far you want the tablecloth to drop off the edges of your table.
You can choose a drop that's anywhere from the eight inches that are generally considered the shortest or a tablecloth that drops to the floor, called a fully draped look.
Tablecloth for Round Table
Let's start with the round table since the round is the most popular shape for fine events. The conventional round table's size can be 36 up to 84 inches. However, the most common and ideal size for a round table is 60 inches. 
However, a standard 60 inches round table will be 30 inches high. So most tablecloths are made with these dimensions in mind. Therefore, it's essential to measure the table size you want to cover when buying the tablecloth. 
Let's suppose that you have a standard wooden 60 inches round table, and you want to cover it halfway to the floor drop. You will need 90 inches of the tablecloth to cover up all the edges equally. 
Now you ask, how to do the accurate measurement for the right tablecloth? Firstly, measure the top of the table and then add half of 30 inches, which is 15 to 60 inches of the tabletop. 
Since there are two sides to the table, you need to double the 15-inch measurement so that the 60 inches across plus 15 inches of drop on the left side of the table and 15 inches on the right equals 90 inches. 
Hence, you will need 90 inches of the tablecloth to cover the 60 inches of the tabletop halfway to the floor. Don't get confused - check out the measurement chart for the correct sizing of the tablecloth. There are plenty of websites that can help you find out accurate and precise measurements for the tablecloth. 
Our TableCloth
When planning a big formal event with a long list of guests, you must cover every table with elegant and classy tablecloths. However, fancy tablecloths might feel heavy on the budget. 
Smarty Had A Party has a wide range of elegant paper tablecloths at a fraction of the cost. Disposable tablecloths are elegant in style and provide practical benefits when used at informal events. 
Moreover, you won't need to worry about the after-party mess as they are disposable, so you can quickly dispose of them. 
There's an endless variety of fancy plastic party tablecloths to cover all special events like weddings, birthdays, and formal dinner parties.