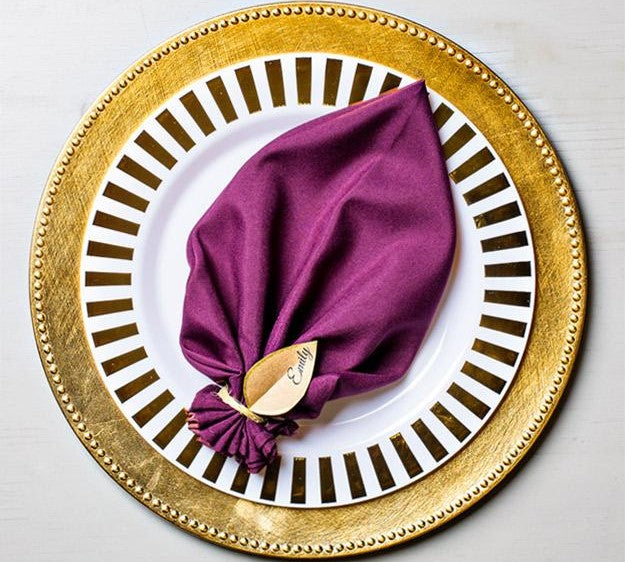 Beautiful Napkin Fold Ideas for Autumn Entertaining
Are you planning to throw a lovely autumn party for a family and friends gathering? We will show you how to do it in the most fabulous way possible! If you are throwing a party at your own house, you want your guests to feel comfortable and impressed. And what better way to do that than to have the prettiest decor they have ever seen. You will be the star of the day - and the best party host! And most importantly, your guests would be satisfied. What is better than that? 
So the question is: how do you make the most enchanted decor for your party AND stay on a budget simultaneously? We have a perfect solution. Your table decor will be the center of attention, and that's why you should be choosy about it. Napkins are ideal for that use. Beautiful napkin folding ideas can give you a jump in table decor. The napkin is a simple cotton cloth, but we will share ideas on how you can transform it into a fantastic art piece to elevate your table decor. You would not believe what can be made from just one ordinary napkin. So stick to the end to find out the best folding techniques for your next autumn party. They are quick and easy, and your guests will surely love them!
Best Fabric Choice for Napkins
When planning a formal event and inviting a long list of guests, you have to be good at having everything of the best quality, matching your lifestyle. As they say, we must first give others what we want for ourselves. Similarly, the best fabric choice for napkins is necessary, as your guest will use them, and they should feel special, like at home. The best fabric pick in the market is linen, as it looks stunning and is durable for long-term use. But with all these characteristics, linen fabric napkins are expensive, and if you invite a long list of guests to the party, you might have to pay a hefty amount for linen napkins. What if there was an alternative to the linen fabric napkins, offering the same features at a low price? Well, lucky you are! Disposable paper napkins are there for your next autumn party at a very affordable price. These are fancy paper napkins that can be a perfect addition to your tablescape, plus you can try any folding technique on them to get fabulous results. And that is on hosting parties like a boss. 
Here are some very creative ideas on how to turn it to the next level:
Leaf Napkin Fold
What best associates people with autumn than leaves?
Autumn is when the leaves change their colors and acquire stunning and vibrant looks. They show us how everything comes to an end, followed by a new and colorful beginning. A synonym for autumn is fall. Symbolized as falling leaves. A leaf napkin fold is a great way to add a festive touch to your tablescape. They are super easy and effortlessly made too! Plus, decorating your dining table with a leaf-shaped napkin reflects an accurate picture of autumn. Even if you are a beginner at folding napkins, you can quickly achieve the final results in a few minutes. Once you have got the leaf napkin, cut the leaf-shaped fancy paper to write your guest's name. Then attach it to the leaf napkin by making a hole in the label. I am sure your guests would be thrilled to see their names on it. It really adds a special touch. 
Pinecone Napkin Fold
Ever thought pinecones could be a part of your table decor? Make it now to spread the autumn vibes on the dining tables. In the beginning, it might seem complex for you, but when you start folding it and follow all the steps correctly, you will be able to do it in your sleep. Moreover, to make your tablescape look mesmerizing, try a new napkin folding technique for each guest. This way, you will keep the diversity and always be able to surprise your guests with new innovative creations - which you made just for them. 
Pumpkin Napkin fold
Pumpkin. One of the most popular autumn representatives. They are everywhere. We have pumpkin lattes, tarts, pies, and even ice cream. But what is about them that has made social media crazy about them? Maybe it is about that orange color, particularly for that part of the year. Perhaps it is that exciting shape that they have. Whatever it was, just imagine - pumpkin decor. Pumpkins have always been part of the autumn season, and if we make them a part of our party decorations, they look cute. Pumpkin napkin folding is a great way of elevating your table decor and, at the same time, showing your creativity to your guests. Try this folding technique to add festive touches to your decor and make the party extraordinary. Especially if you place it next to a real pumpkin.  
Napkin Fan with Flowers
Flowers are always fantastic and add up to your decor. The great thing about them is that they get along almost every occasion. With a couple of autumn flowers and a napkin, you can make a delightful bouquet-like fan and improve your napkin creations. You can use flowers such as sunflower, chrysanthemum, and Carthamus. Those kinds are perfect for autumn because of their orange color. As we know, the colors for autumn are yellow, orange, and brown. So you should follow that tones and have harmonious room decor perfect for your occasion.
Fleur De Lis Napkin Fold
A very well-known shape mainly used by french emperors, which in translation means flower and lily. It looks like some sort of a leaf that perfectly fits into this category, primarily since it represents a flower. It takes a little more effort, but in the end, the final result is a gorgeous napkin shape.