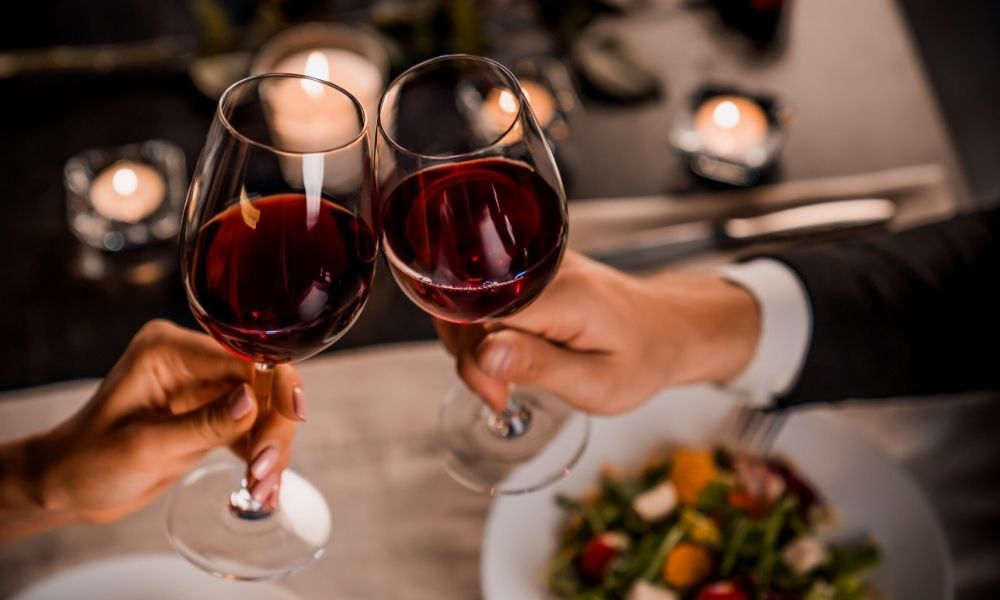 How To Create a Romantic Table for Two
Let's face it, as we get into January and early February, there's not a lot of magic in the air. After the holidays have passed and the lights and decorations have all come down, all that's left for most of us is grey skies, slush, and a touch of sadness. Christmas may have only been a few weeks ago, but it feels far from the most beautiful time of the year.
If Valentine's Day hadn't already been invented, we would have invented it just to jolt us out of these winter doldrums. Here, in the dead of winter, we can reignite our hearts when we need it most. With dine-in options still few and far between in 2021, preparing a dinner at home is the best way to go, but you can still make it a dinner, unlike any everyday weeknight, with unique settings, lighting, and an unforgettable meal. Here's how to create a romantic table for two this Valentine's Day.
Candles
"Romantic dinner by candlelight" may seem like a stereotype or tired trope, but such concepts only get to that point because they work. Whether trying to light the whole room or simply lighting a few well-placed centerpiece candles, the natural flames set this night apart from all the other nights you dine together. Avoid scented candles, though—as lovely as they can be around the house this time of year, you don't want the scents of the candles to clash with your meal.
This idea is even more straightforward but still very elegant and romantic. The table runner chair reminds of both styles - vintage and rustic, but, decorated with tea lights and placed in sweet jars, it brings a romantic and original touch. On the other hand, the candlesticks are decorated with white and red ribbons with heart patterns.
Rhapsody in Reds
Red is the color of romance, and your table for two should reflect that with tablecloths and dinnerware in various reds. For this, you won't want to rely too heavily on a bright, fire-engine red. Instead, consider a deep burgundy or maroon for your tablecloth. Meanwhile, your plates and napkins can embrace more brilliant hues against the darker background. Because this is a unique, one-night engagement, you won't want to use the same plates you'd use on a regular evening. Instead, consider disposable flatware and plates that will be unique and appropriate for Valentine's Day, such as our red square set complemented by gold-colored flatware.
Centerpiece
A unique centerpiece can be a big part of creating a romantic table for two—especially if it's of some personal and sentimental value. You can make your centerpiece from scratch or use a store-bought piece as a starting point and customize it to make it a special part of your Valentine's Day table. And unlike your disposable table settings, the centerpiece of your special meal can last well beyond the night.
Romantic Table Decoration
If you plan a romantic dinner for two and already know the special menu, you still have to set the festive table! For example, a table full of romance deserves elegant decorations in moderate red and cyclamen. Create a centerpiece with roses, peonies, and red berries. Go for cyclamen-colored napkins and maybe some arrangements of red berries to add an extra vibrant accent. A romantic and elegant idea that can be realized in a few minutes!
Pastel Pink for Romantics!
Do you want to surprise your spouse with a romantic and original table decoration? We recommend choosing a pale pink-light gray duo because it creates a romantic and elegant atmosphere. A centerpiece made of peonies or roses in light pink and a few cylinder candles in pink, beautifully placed on a light gray tablecloth, will melt your loved one's heart.
Floral and Romantic Decoration for the Table
To create the ideal romantic table decoration, you have to think originally! However, you need to show your feelings, and the right strategy is to express your romantic decorating idea, not copy it. Start by dressing the table with a nice, classic tablecloth and continue adding matching crockery and cutlery. We recommend betting on contrasting colored napkins to give the table a romantic and pleasant touch. A floral centerpiece will give the decor a well-finished and elegant look.
The Floral Centerpiece, Cylinder Candles, and Pastel Accents
Elegant bouquets in white, pink, and lilac colors, pastel pink faceted ice cream cups, and tiny knitted pastel blue hearts are responsible for the romantic and elegant ambiance on the festive table. Which, lit by the flame of cylindrical candles, make for an irresistibly romantic dinner!
Romantic Table with Vintage charm
As we have already mentioned, the creativity in decorating the tables makes them more memorable. This year you could bet on originality and set the party table in vintage style. You need a gray or taupe knitted tablecloth, classic white plates, knotted white napkins, and a few sprigs of lavender. A flowering branch will bring an additional touch of romanticism.
Pay Attention to Details
Yes, it's the little details that make a big difference! Don't underestimate napkins or decorative accessories! If the idea of ​​vintage table decoration is interesting, bet on knotted napkins, carefully placed on white plates and decorated with sprigs of lavender.
Shabby Chic Table Decoration for Lovers
Such a table decoration can be made in a few minutes and will delight your spouse! Set for a unique and romantic breakfast, it is decorated with flowers, sweets, and pastel-colored tableware.
If you prefer original decorations, you may find them interesting in vintage style. Here, the focus is on the centerpiece, which consists of delicate orchids in white and pastel pink. Tablecloths and linen napkins in an ashy pink atmosphere make the atmosphere romantic and mysterious.
Traditional Decoration in Red, White, and Pink
Red and pink are two colors that we always associate with the fun of lovers. So, if you are planning a romantic dinner for two, bet on this duo highlighted with a few touches of white. A red tablecloth, rose petals in red and white, and maybe some accents in pink, and your festive decor is ready!