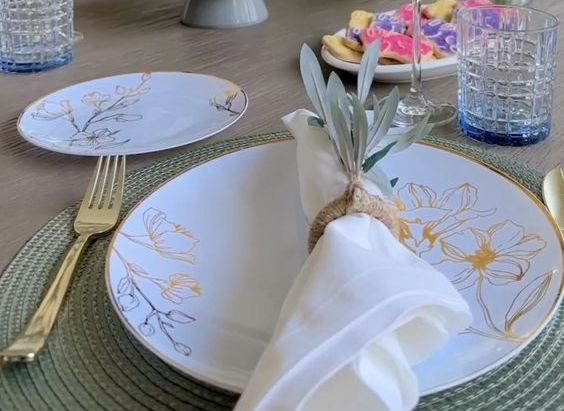 Fresh and Floral: Elevating Your Table with Spring Vibes
Spring is a season of renewal, when nature awakens from its slumber and paints the world in vibrant hues. It's the perfect time to infuse your surroundings with the same fresh and floral energy. Your table setting is one area where you can easily bring the essence of spring indoors. Whether hosting a brunch, a dinner party or simply enjoying a meal with your loved ones, elevating your table with spring vibes can create a delightful and inviting atmosphere. This blog post explores various elements that can transform your table into a blooming oasis. From the allure of tulips to the practical elegance of plastic dinnerware, we'll discover how to effortlessly bring the magic of spring to your dining experience. So, get ready to embrace the season, and let's dive into the world of fresh and floral tablescapes that will leave your guests in awe.
The Allure of Tulips
Regarding spring decor, few flowers capture the season's essence quite like tulips. With graceful stems and vibrant petals, tulips bring beauty and renewal to any table setting. But it's not just their visual appeal that makes tulips alluring; they also hold deep symbolic meaning.
Beauty and Symbolism 
Tulips are often associated with love, elegance, and abundance. Their varied colors, from soft pastels to bold and bright shades, allow you to create a table with personality and charm. Whether you choose a monochromatic display or a mix of hues, tulips effortlessly bring a touch of sophistication to your table.
Selecting and Arranging Tulips 
When selecting tulips for your table, opt for fresh and vibrant blooms. In addition, look for tight buds that are just beginning to open, as they will last longer and continue to unfurl their petals over time. Finally, to add texture and visual interest, consider mixing different varieties, such as parrot, fringed, or double tulips.
When arranging tulips as a centerpiece, simplicity is key. Trim the stems at an angle to ensure proper water absorption, and remove any leaves submerged in water. Then, place the tulips in a vase or a collection of small bud vases, allowing them to stand tall and proud.
Plastic Floral Dinnerware Sets: Practical Elegance
Regarding spring tablescapes, the right choice of dinnerware can make all the difference. While traditional porcelain or ceramic dinnerware exudes elegance, they may not be practical for outdoor gatherings or casual settings. That's where plastic dinnerware sets come into play, perfectly balancing practicality and beauty.
Benefits of Using Plastic Dinnerware 
Plastic dinnerware has come a long way in terms of quality and design. It offers several advantages, especially for outdoor events or family gatherings. Firstly, plastic dinnerware is durable and resistant to breakage, making it an ideal choice for picnics, barbecues, or any occasion where accidents are more likely to happen. Additionally, it is lightweight and easy to transport, allowing you to effortlessly set up your spring table wherever you please. Lastly, plastic dinnerware is disposable, offering convenience without compromising on style.
Showcasing Floral-Themed Plastic Dinnerware Sets 
One of the best ways to infuse spring vibes into your table setting is by choosing floral-themed plastic dinnerware sets. These sets feature delicate and vibrant floral patterns that evoke a sense of nature's beauty. From whimsical wildflowers to elegant roses, numerous options are available to suit your style and the overall theme of your table.
Consider opting for sets that include dinner plates, salad plates, and bowls, ensuring you have a cohesive and complete dinnerware ensemble. Also, look for sets that feature complementary colors and patterns or mix and match different floral designs for an eclectic look.
Coordinating Dinnerware with Other Table Elements 
To create a cohesive and harmonious table setting, it's essential to coordinate your plastic floral dinnerware with other elements on the table. Start by considering the colors and motifs in the dinnerware and find ways to incorporate them into other aspects of your table decor.
Choose placemats or table runners that complement the colors in the dinnerware. For instance, choose placemats or a table runner in a coordinating shade if your plastic floral dinnerware features soft pink flowers. This creates visual continuity and ties the entire table together.
Select linen-like napkins or napkin rings that match the dinnerware's colors or feature floral patterns that complement the design to enhance the overall aesthetic. Then, creatively fold the napkins or add a small fresh flower or sprig of greenery as a charming accent.
Fancy Disposable Flatware Sets: Celebrate in Style
Creating a beautiful table setting often involves paying attention to the details when hosting spring gatherings. While traditional metal flatware adds sophistication, it may not always be practical for certain occasions. That's where fancy disposable flatware sets come into play, allowing you to celebrate in style without compromising elegance or convenience.
Embracing the Idea of Disposable Flatware 
Disposable flatware has come a long way from its humble beginnings. Today, it's possible to find plastic flatware sets that perfectly mimic the look and feel of real silverware. This means you can elevate your table setting with elegant cutlery that offers the convenience of disposable design. So whether you're hosting an outdoor picnic, a garden party, or a casual brunch, using fancy disposable flatware allows you to effortlessly add a touch of sophistication to your table without worrying about cleaning up afterward.
The Availability of Plastic Flatware in Different Designs 
Gone are the days of plain plastic utensils that lack charm. Nowadays, you can find disposable flatware sets made from high-quality plastic in various designs and finishes. These sets often feature ornate patterns, stylish handles, and even metallic accents, providing an exquisite and luxurious appearance.
When selecting disposable flatware sets, consider the overall aesthetic you want to achieve. Opt for designs that complement your table decor and enhance the spring vibes. Whether you prefer classic silver-like utensils, colorful patterns, or sleek modern designs, an array of options are available at the Smarty Had A Party online store to suit your style.
Elegant Plastic Drinkware: Versatility and Sophistication
When hosting spring gatherings, selecting the right drinkware is essential for creating a table that exudes versatility and sophistication. While traditional glassware adds an elegant touch, it may not always suit outdoor or casual settings. That's where sleek plastic drinkware comes in, offering the perfect blend of practicality and style to elevate your table with spring vibes.
Advantages of Using Plastic Drinkware 
Using plastic drinkware for outdoor or casual gatherings brings numerous advantages. Firstly, plastic drinkware is durable and resistant to breakage, making it a safer and more convenient choice, especially for events with children or in outdoor environments where accidents can happen. Additionally, plastic drinkware is lightweight and easy to transport, allowing you to set up your table easily without worrying about fragile glassware. Finally, plastic drinkware is disposable, providing the practicality you need without compromising sophistication.
Options for Elegant Plastic Drinkware 
Gone are the days when plastic drinkware looked cheap and unappealing. Today, a wide range of elegant plastic drinkware is available that closely resembles the look and feel of real glassware. From wine glasses to tumblers, you can find stylish options that suit your aesthetic and elevate your table setting.
Consider opting for plastic wine glasses with a sleek silhouette and a crystal-clear appearance. These glasses look elegant and enhance the color and presentation of your favorite wines. Alternatively, choose plastic tumblers with intricate designs or a textured finish to add a touch of sophistication to your table. With various shapes, sizes, and patterns available, you can find plastic drinkware that suits your personal style and the overall theme of your spring table.
So, raise a glass and toast to the joys of spring, knowing that your elegant plastic drinkware has elevated your table with both style and ease.
Plastic Serving Ware: Functional and Fashionable
When it comes to hosting spring gatherings, one of the key considerations is the serving ware you choose. While traditional ceramic or glass serving dishes may be beautiful, they can also be heavy and prone to breakage. Enter plastic serving ware, which perfectly balances functionality and style. Let's explore the advantages of plastic serving ware and discover how it can elevate your table with fresh and floral spring vibes.
The Practicality of Using Plastic Serving Ware 
Using plastic serving ware for your spring table setting brings practicality and ease to the forefront. Plastic serving dishes and trays are lightweight and easy to handle, making transporting and serving food convenient. Furthermore, they resist breakage, ensuring a worry-free dining experience, especially in outdoor or casual settings. The best part? Cleanup becomes a breeze as plastic serving ware can be quickly rinsed or placed in the dishwasher, saving you valuable time and effort.