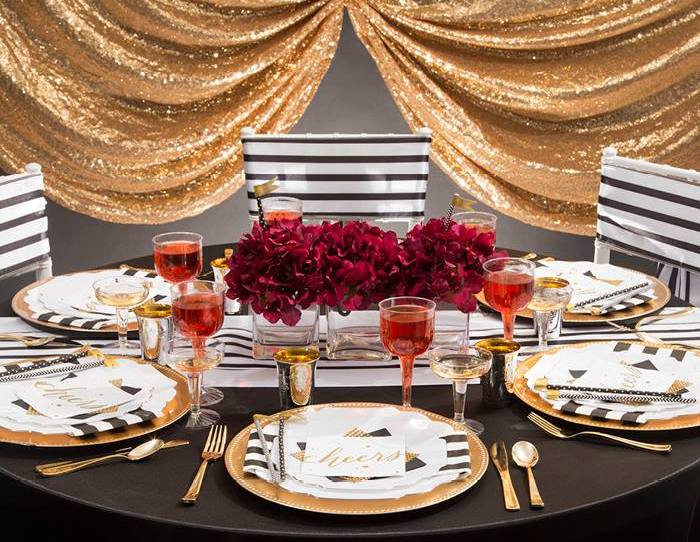 Chic Table Decor for the New Year's Eve Party
New Year's evening parties are most-awaited - hence they are well decorated with lots of decor elements and festive spirits. New Year's Eve is an excellent opportunity to plan a get-together with your relatives, friends, family, or people you haven't seen in a previous year because of the pandemic.
When you plan to host a New Year's Eve, you might not be aware of new trends or new party things. So we have composed a list for you to prepare for your New Year's Eve party that you and your guests would love sitting around.
Table Centerpiece Ideas
A New Year's Eve party is usually considered a formal event, so you have to do decor accordingly to communicate formally. However, you don't need to buy everything new for the new year's eve party. 
If you are too tired from the December holidays, then reuse the previous ones and arrange them uniquely, so everything corresponds. The same goes for the table centerpiece: grab the previous one from your store and reuse them.
However, if you are the person who can't bear the slight imperfection in the scene, then there are plenty of new table centerpiece ideas for you. Use the country map or world map as the centerpiece that depicts the world map nicely and corresponds with the other table decor.
Moreover, the mirror disco ball centerpiece is a perfect one for you to reflect the formal touch of the party. So grab it by your nearby dollar store and spread it on your table to elevate its beauty.
Elegant Table Cloth
The tablecloth is a basic necessity for the formal table decor, and it needs to cooperate with the tone of the theme. If you have chosen a theme for your party, which you should determine first, then try to spread the table cloth that matches your party theme.
Black tablecloths combined with gold dinnerware sets can be hit at your party. The black table cloth will add aesthetic touches to your table decor by highlighting everything presented on the table.
New Year's Eve Party Supplies
You will be looking for new party supplies for the party that will add final touches to your table decor. Elegant-looking party plates, champagne flutes with high-end quality rim finishing, and stunning flatware will compliment the food you will be serving.
Experts suggest: that getting a new dinnerware set for your formal party where you want everything to communicate formally shows your hosting skills. However, replacing your dinnerware sets & party supplies for every formal party might sound quite expensive for you. 
You can go with alternatives to throw parties with new dinnerware sets. Disposable plastic dinnerware for New Year's Eve is a perfect package for you. These dinnerware sets are made up of FDA-approved plastic that's lightweight plus durable enough to hold heavy meals.
We have a wide variety of colored plate sets of your own choice and various designs.
Look around to get the New Year Party Dinnerware at the possible price tag you would never want to miss. Then, serve with style and honor with the fantastic modern dinnerware sets.
A Little New Year's Party Guide
This is almost the only holiday you can afford to enrich the table setting with many decorations without looking overcrowded. Napkins, dishes, candles, tablecloths - let your imagination run wild and set the glamorous party tables.
Candles
In addition to setting the table game, candles will perfectly complete the atmosphere. But, of course, they don't have to be lit all day; they can only be lit during a meal or when it gets dark. But the main thing is not to stop with ordinary candles; instead, experiment with shapes and scents. 
Napkins
Napkins on the table are a mandatory attribute that can become an independent decoration. Extensive options for red or even themed colors are best suited. Also, before the feast, you can put one napkin on each plate and pre-twist them into an unusual figure or shape. 
Mandarins
Mandarins are already a separate symbol of the New Year, whose aroma and taste almost everyone associates with the main winter holidays ... They can stand out from all other fruits if stacked in a large pile in a particular container. Or they can become the main ingredient of a fruit plate made of apples, grapes, and nuts.
Cones
 Small spruce twigs and cones that spread the beautiful fresh scent of the forest can also be a significant element of decoration. Put them on a few small plates or napkins and place them on the table. Or make a larger composition, which will become the main decoration.
Christmas Decorations 
Snipes, rain, and Christmas balls can not only be shown on the tree but also fit perfectly into the festive decoration of the table. Fruit compositions, or just scatter on the table between plates with New Year's dishes. Also, shiny and colorful candy wrappers will delight the eye, and you can enjoy the sweets themselves between the main dishes.
Gifts
Guests and relatives will be pleasantly surprised if small personalized gifts appear on the table when everyone goes for a walk or watches TV in one of the breaks between meals. These can be candles, key chains, or toys - a purely symbolic sign of attention, and joy and surprise will be quite sincere.
Serving in the Shape of a Snowman
With the help of plates, cutlery, slices of carrot, olives, and colored napkins, you can make a sweet snowman in front of each guest. 
Spruce, fir, or juniper fir branches are laid in the middle of the table and decorated with elegant and aromatic candles. Otherwise, you can weave spruce branches with a glowing wreath for the Christmas tree as an alternative to candles.
Paper Snowflakes and Candles in the Snow
Another great idea - put paper snowflakes on the table, complementing them with candles and cones. Note: candles and cones are in jars of coarse salt, as in snow. By the way, you can go even further and make a tablecloth out of snowflakes, fastening them together with small pieces of tape. It's not very practical, but for one night, to create a snow-magical mood, that's it.
Personalized Glasses with Christmas Balls
If your guests come to dinner, it will be great to make festive personalized glasses for them - as a trifle. But, first, you need to cut out a colorful card of Christmas balls with a slot and write each guest's name.
Orange Decorations
Oranges and cloves will fill your home with a fresh and spicy scent, and this orange-brown combination smells and looks gorgeous. You can easily decorate the oranges with carnation stars that easily stick to the peel.
Happy New Year Smarties!