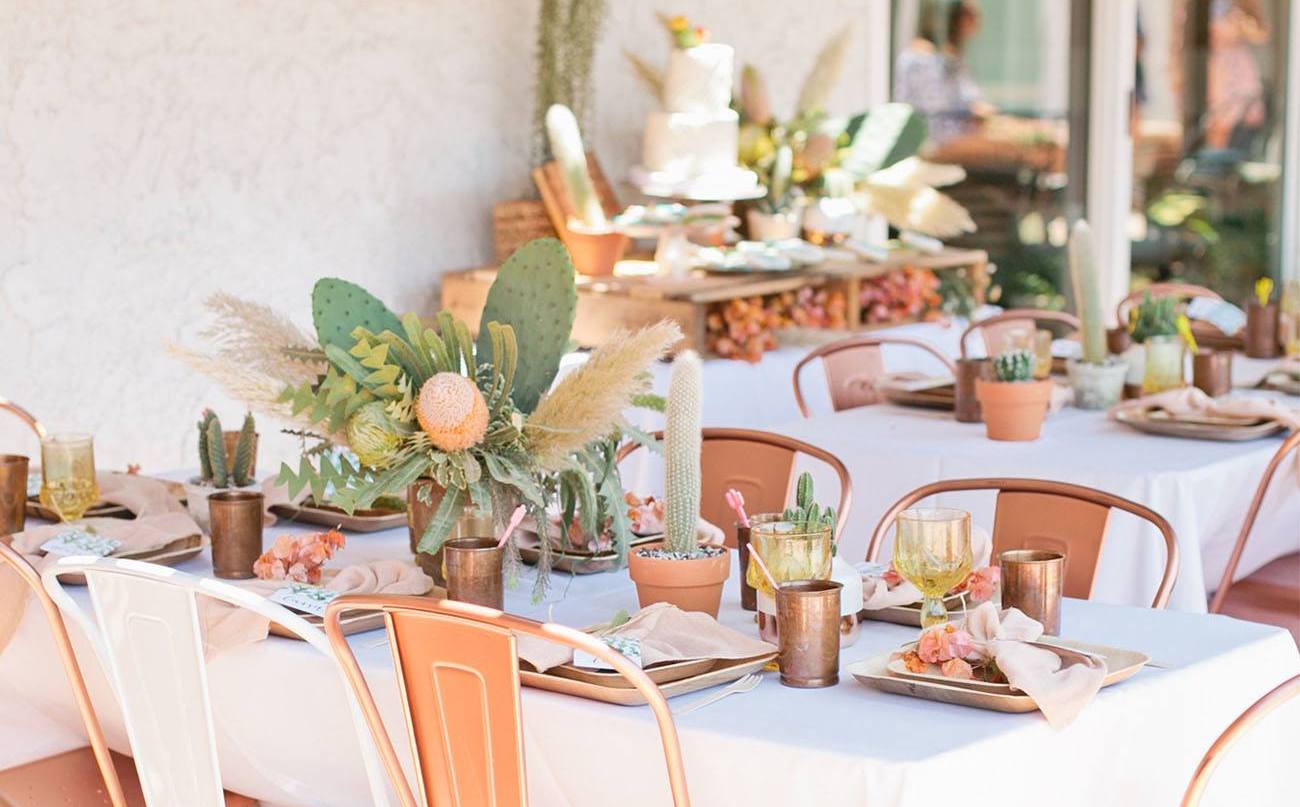 Boho Beauty: A Guide to Creating a Stunning Spring Tablescape
As the vibrant colors of spring burst forth and nature awakens, it's the perfect time to embrace the boho beauty and create a stunning tablescape that exudes a sense of whimsy and organic charm. Boho style, with its free-spirited and eclectic nature, is a beautiful aesthetic that captures the essence of the season and infuses your dining experience with a touch of elegance. 
In this guide, we'll take you through the elements of a gorgeous boho tablescape. So gather your creative spirit, and let's explore how to bring the boho vibe to your spring dining table. Get ready to be inspired because we're about to unveil the secrets to creating a truly breathtaking tablescape that celebrates the season's beauty.
Setting the Stage: Choosing the Perfect Elements
When creating a stunning boho tablescape, the choice of elements plays a crucial role in setting the stage for an unforgettable dining experience. So let's delve into the key factors that elevate your tablescape to boho beauty.
Fancy Palm Leaf Dinnerware for an Eco-Friendly Touch
One of the stars of a boho tablescape is the use of fancy palm leaf dinnerware. Made from fallen palm leaves, these plates and bowls offer a remarkable combination of elegance and sustainability. By opting for palm leaf dinnerware, you're adding a touch of natural beauty to your table and making an eco-conscious choice. In addition, these biodegradable and compostable dinnerware pieces are a fantastic alternative to traditional disposable plates, minimizing the environmental impact of your gathering.
The Elegance of Palm Leaf Plates as a Unique Addition to the Tablescape
Consider showcasing palm leaf square plates to infuse your boho tablescape with uniqueness and charm. These unconventional eco-friendly plates bring a modern twist to the bohemian aesthetic while maintaining the organic feel. The geometric shape of the square plates adds visual interest and creates a stylish juxtaposition against the natural elements on the table. From appetizers to main courses, these plates are the perfect canvas for presenting your culinary creations in an artistic and captivating way.
Birchwood Flatware - Natural and Rustic Complement to the Boho Theme
Birchwood flatware is a natural and rustic complement to your boho tablescape. Crafted from sustainable birchwood, this flatware embodies the bohemian spirit with its earthy tones and textured appearance. The lightweight yet durable design of birchwood flatware makes it aesthetically pleasing and practical for outdoor gatherings and picnics. In addition, its natural charm adds a touch of warmth to the table, enhancing the overall boho atmosphere.
Colors and Textures: Embracing the Bohemian Vibe
The Color Palette Options for a Boho-Inspired Tablescape
Boho style thrives on a rich and diverse color palette that reflects the beauty of nature. When selecting colors for your tablescape, consider earthy tones as a base. Think warm browns, sandy beiges, and natural greens. These hues create a grounding effect and establish a harmonious connection with the outdoors. Next, introduce accent colors like deep oranges, rich blues, or vibrant yellows to add vibrancy and liveliness. These splashes of color will energize the overall ambiance and evoke a sense of joyful boho spirit.
The Incorporation of Natural Textures 
Textures are integral to the bohemian aesthetic, and incorporating natural elements into your tablescape is vital to creating an authentic boho vibe. Consider using materials like rattan, jute, and linen to add depth and visual interest to the table. Rattan placemats or charger plates create a woven texture that instantly brings a rustic and earthy feel to the setting. Layering with jute or burlap table runners adds a touch of raw elegance. Opting for linen-like tablecloths or napkins adds a soft and breezy element that complements the boho aesthetic perfectly.
Floral Delights: Adding Organic Beauty
Floral arrangements are not merely decorative elements; they are essential in capturing the essence of boho beauty. The bohemian aesthetic celebrates the connection with nature, and flowers embody this spirit perfectly. They bring life, color, and a touch of wild elegance to your tablescape. Floral arrangements are the focal point, creating a sense of natural abundance and inviting guests into a world of beauty and tranquility.
Opt for seasonal blooms and wildflowers to create a truly authentic and fresh boho tablescape. Choose flowers that reflect the vibrant colors of spring, such as daisies, tulips, daffodils, or peonies. These blooms add a burst of color and evoke a sense of the season's renewal and vitality. Incorporate wildflowers like baby's breath, lavender, or Queen Anne's lace for a whimsical and natural touch. Remember, the boho style embraces the untamed beauty of nature, so let these flowers shine in their unstructured and organic arrangements.
Also, consider incorporating lush eucalyptus branches, ferns, or ivy to create cascading greenery along the center of the table. These foliage accents beautifully complement the floral arrangements and add a sense of movement and abundance. You can also intertwine vines or tendrils around candle holders or weave them into the place settings for an organic and whimsical touch. 
Table Decor: Accessories and Accents
The right accessories and accents can elevate the ambiance when creating a stunning boho tablescape. These carefully chosen elements add charm, personality, and a touch of bohemian flair. 
Macrame Table Runners or Placemats for a Boho Touch
Macrame, with its intricate knotting and bohemian vibe, is a perfect choice to add a touch of texture and artistry to your table. Consider using a macrame table runner or placemats as the foundation for your tablescape. The intricate patterns and fringed edges create a captivating visual display. In addition, the soft, woven fibers of macrame instantly infuse the table with a sense of boho elegance, providing a stunning backdrop for the rest of your decor.
Vintage-Inspired Candle Holders or Lanterns for a Cozy Atmosphere
Candlelight adds a warm and inviting atmosphere to any tablescape, and incorporating vintage-inspired candle holders or lanterns takes it to another level of boho charm. Look for candle holders with ornate designs, metallic finishes, or distressed patinas to capture that vintage essence. Lanterns with intricate cutouts or glass panels create an enchanting play of light and shadows. These elements provide ambient lighting and evoke a cozy and intimate feel, perfect for evening gatherings or outdoor dinners under the stars.
Adding Bohemian-Inspired Trinkets or Natural Elements
Consider incorporating bohemian-inspired trinkets and natural elements to add a personal and bohemian touch to your tablescape. Whether displayed in small vases or delicately scattered across the table, Feathers bring a sense of lightness and whimsy. Seashells, collected during beach walks, can be arranged as decorative accents or used as place card holders. Wooden beads, dreamcatchers, or small bohemian-inspired statues can be placed strategically on the table to enhance the overall boho vibe. 
Lighting and Ambiance: Creating the Perfect Mood
Creating the perfect mood is essential for a stunning boho tablescape. The right lighting can transform your dining experience, adding a touch of magic and enchantment. 
Add String Lights, Fairy Lights, or Lanterns to Add a Magical Touch
String or fairy lights are a fantastic choice to infuse your boho tablescape with a whimsical and magical ambiance. Whether draped overhead, intertwined through the foliage, or wrapped around the table legs, these delicate lights create a warm and enchanting glow. Opt for soft white or warm yellow lights to maintain a cozy and inviting atmosphere. Lanterns are another charming lighting option that adds an element of intrigue and nostalgia. Choose lanterns with intricate cutouts or colored glass to cast captivating patterns and hues. These lighting options instantly transport your guests into a dreamy boho wonderland.
Create a Romantic Ambiance with Candlelight 
Candlelight has a magical ability to create a romantic and intimate atmosphere. Incorporate candles of varying heights and sizes, such as pillar candles, votives, or tea lights, to add depth and dimension to your tablescape. Place them strategically along the center of the table, in candle holders or lanterns, or nestled among floral arrangements. The flickering glow of candlelight adds warmth and enhances the boho theme's natural and earthy ambiance. In addition, the soft play of light and shadows sets the stage for a relaxing and memorable dining experience.
Personal Touches: Customizing Your Tablescape
One of the most rewarding ways to personalize your tablescape is through do-it-yourself (DIY) elements or handmade crafts. Tap into your creative side and consider crafting your centerpieces, such as a floral arrangement or a terrarium.
Personalize your tablescape further by incorporating unique and thoughtful elements. Instead of traditional place cards, consider using unconventional materials like seashells, small wooden blocks, or vintage keys with guests' names attached. Handwritten notes or quotes at each setting can be heartwarming gestures and conversation starters. Personalized napkin rings adorned with charms, beads, or natural elements, add a touch of whimsy and individuality.
These small details create a sense of intimacy and make your guests feel special.