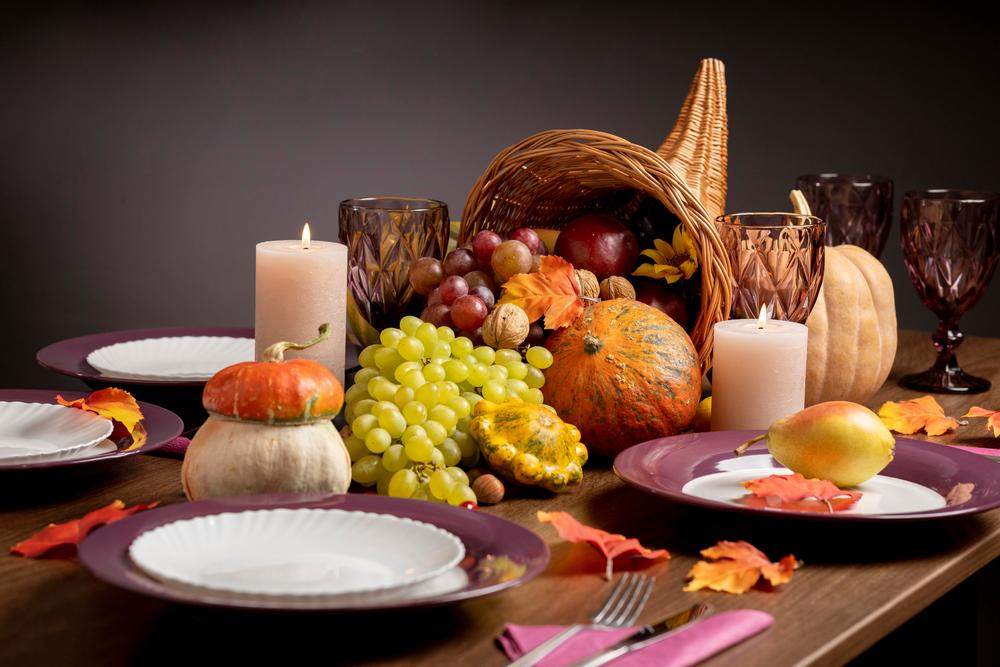 Autumnal Allure: Captivating Fall Tablescape Designs
Welcome to a season of warmth, color, and captivating charm! As autumn's crisp breeze sweeps through, it invites us to transform our homes into cozy sanctuaries of beauty. In this blog post, we dive into the art of creating a mesmerizing Fall tablescape—a symphony of colors, textures, and elements that embody the season's essence.
Fall's Finest: Elevate Your Dining Experience with a Gorgeous Tablescape
Transform your dining space with the spirit of fall. Join us on a journey to create an enchanting fall tablescape. Our post guides you in creating a table setting that captures the magic of fall. Let's embark on this creative adventure together and design a centerpiece that becomes the focal point of cherished moments.
Embracing Fall Colors
The Rich and Warm Color Palette of Fall
As summer ends, autumn brings warm and rich hues. Incorporate quintessential fall shades into your tablescape to create a visual feast that resonates with the season's essence. Imagine the warm orange color of a pumpkin, the earthy tones of fallen leaves, and the deep burgundy of ripe grapes coming together to set the stage for a captivating dining experience.
Tips for Incorporating Autumn Hues into the Tablescape
Layering Textures:

 Mix textures in your autumn color table linens for a visual and tactile experience. Combine burlap, cotton, and linen in deep reds, burnt oranges, and muted greens.

Focal Points with Bold Colors:

 Choose specific items on the table to display bold fall colors. Use bright napkins, charger plates, or colored glassware to create focal points in the setting.

Natural Elements as Accents:

 Integrate the beauty of nature into your color scheme by incorporating small pumpkins, gourds, or acorns as charming accents on each place setting.

Cohesive Tableware:

 Opt for autumnal shades or neutral tones that complement the overall color palette.

Balancing Light and Dark:

 Achieve a harmonious look by balancing light and dark shades. If you choose a deep tablecloth, consider lighter-colored plates, and vice versa.
Natural Elements for a Rustic Touch
The Beauty of Natural Elements
As the air crisps and leaves crunch beneath our feet, there's an inherent beauty in the natural elements that define fall. Embracing the rustic charm of the season, bring the outdoors inside with a carefully curated selection of leaves, branches, and pinecones.
Leaves: Explore the variety of shapes and colors in fallen leaves to create a stunning foundation for your tablescape. Consider scattering them across the table or incorporating them into place settings for an organic touch.
Branches: Twigs and branches, whether bare or adorned with a hint of foliage, add height and drama to your centerpiece. Arrange them in vases or intertwine them with candles for an effortlessly rustic ambiance.
Pinecones: Symbolic of autumn and the approaching winter, pinecones are versatile and can be used in myriad ways. Place them in decorative bowls, attach them to napkin rings, or even string them together to create rustic garlands.
DIY Ideas for Incorporating Rustic Elements into the Design
Twig and Burlap Place Cards:

 Combine twigs' simplicity with burlap's texture to craft charming place cards. Attach name tags to small twigs and place them on burlap napkin rings for a personalized, rustic touch.

Leaf-Printed Table Runners:

 Create a bespoke table runner using fallen leaves as stencils. Choose a neutral fabric and paint over the leaves to leave behind their intricate shapes. 

Pinecone Candle Holders:

 Turn simple candles into rustic masterpieces by securing pinecones around the base. Use a hot glue gun to affix the pinecones, creating an enchanting and nature-inspired candle display.

Branch Centerpieces:

 Arrange bare branches in a vase and hang miniature autumn-themed ornaments or tea lights. This DIY centerpiece adds height and a touch of woodland elegance to your table.

Wheat Bundle Decor:

 Bundle together stalks of wheat or dried grasses to create a rustic and textured decor. Tie the bundle with twine and place it as a centerpiece, or scatter smaller bundles across the table for a cohesive look.
Centerpieces That Wow
Stunning Fall Centerpiece Ideas
Basket Filled with Autumn Fruits: 

Consider a horn-shaped wicker basket filled with abundant autumn fruits for a charming and rustic centerpiece celebrating the fall harvest. The natural and earthy tones of the fruits, combined with the lovely basket, create an iconic fall centerpiece that truly wows and brings your guests a sense of warmth and hospitality. 

Gilded Pumpkin Arrangement:

 Spray paint pumpkins in metallic hues like gold or copper for an opulent yet autumnal centerpiece. Arrange them in a decorative bowl or tiered stand for added elegance.

Candlelit Lantern Display:

 Create a warm and intimate atmosphere by arranging various lanterns at varying heights. Fill them with pillar candles and surround them with fall foliage or small decorative elements for a cozy glow.

Seasonal Flower Cornucopia:

 Embrace the symbolism of abundance with a cornucopia overflowing with fall blooms. Mix in seasonal flowers like dahlias, sunflowers, and chrysanthemums for a vibrant burst of color.

Rustic Wooden Box with Greenery:

 Repurpose a wooden crate or box as a base for a rustic centerpiece. Fill it with an assortment of greenery, such as eucalyptus branches and pine sprigs, for a simple yet striking display.
Mixing and Matching Elements for a Visually Appealing Focal Point
Height Variation:

 Play with the heights of different elements in your centerpiece. For a dynamic look, smaller items like candlesticks or branches can be balanced with lower elements like pumpkins or floral arrangements.

Texture Contrast:

 Introduce a variety of textures to add visual interest. Combine smooth surfaces like candles with rough textures like pinecones or burlap to create a tactile and appealing centerpiece.

Color Harmony:

 Ensure that the colors in your centerpiece complement the overall color scheme of your tablescape. Harmonious color combinations enhance the visual appeal and cohesiveness of the entire setting.
Tableware and Dinnerware Selection
Choosing Fall-Themed or Neutral Tableware
Fall-Themed Patterns:

 For a true fall-themed table setting, use tableware with autumn-inspired patterns like leaves, acorns, or harvest scenes. These patterns add a whimsical touch and tie everything together.

Neutral Tones for Elegance:

 Choose neutral-toned tableware for an elegant and timeless look. Whites, creams, or muted grays create a versatile canvas for your tablescape to shine while providing a sophisticated backdrop that complements the rich colors of fall.
Elegant Plastic Dinnerware from Smarty Had A Party
High-Quality Plastic Plates for a Sophisticated Touch
Hosting a stylish gathering? Choose Smarty Had A Party's elegant disposable plastic plates. Available in various shapes and sizes, these plates look sophisticated yet are practical and easy to clean. With designs that mimic fine china or modern styles, you can elevate your tablescape and focus on enjoying the occasion instead of worrying about cleanup.
Stylish Disposable Silverware and Plastic Wine Glasses
Pairing elegantly plastic plates are modern disposable silverware. The silverware's polished finish and intricate detailing elevate the dining experience. Crafted from durable materials, these utensils maintain their elegance while offering the convenience of disposable use.
Complementing the refined setting, plastic wine glasses add a touch of sophistication to your table. These glasses are shatterproof and exude a crystal-clear brilliance, ensuring that your guests savor every sip in style.
Enhancing the Table with Disposable Charger Plates and Dinner Napkins
Consider incorporating disposable charger plates and dinner napkins into your fall tablescape to complete the ensemble. Charger plates add a layer of opulence and serve as a decorative base for your dinnerware. Smarty Had A Party offers a selection of charger plates that combine durability with exquisite design, adding an extra dimension to your table setting.
Disposable dinner napkins in various colors and textures provide the finishing touch. Whether folded artfully or placed creatively, these disposable napkins contribute to the overall aesthetic, enhancing the dining experience with style and practicality.
Personal Touch: DIY Decor Ideas
Creative DIY Projects for Adding a Personal Touch to the Tablescape
Hand-Painted Pumpkin Place Cards:

 Personalize each place setting by hand-painting small pumpkins with your guests' names. Choose colors that complement your overall theme and let your artistic flair shine.

Leafy Napkin Rings:

 Craft napkin rings by attaching faux autumn leaves to simple napkin rings. Use a variety of leaf shapes and colors for a vibrant and nature-inspired addition to your table.

Cinnamon Stick Candle Holders:

 Wrap cinnamon sticks around the base of candles and secure them with twine or ribbon. Not only does this add a warm and spicy aroma, but it also creates a visually appealing and fragrant centerpiece.
Budget-Friendly Ideas for Handmade Fall Decor Elements
Twine-Wrapped Utensils:

 Upgrade disposable utensils by wrapping the handles with twine. This simple and cost-effective touch adds a rustic charm to each place setting.

Fabric Scrap Table Runner:

 Create a unique table runner by sewing scraps of fall-colored fabric together. This budget-friendly DIY project adds texture and warmth to the table.

Upcycled Glass Jar Vases:

 Collect empty glass jars, paint them in fall colors, and use them as vases for seasonal flowers. Place them down the center of the table for an eco-friendly and charming centerpiece.
Final Touches for Perfection
Paying Attention to Details that Elevate the Tablescape
Folded Napkin Designs:

 Take a moment to fold napkins in creative designs or shapes. This small detail can make a big difference, whether a simple bow or an intricate fold.

Place Setting Accents:

 Add small accents like sprigs of herbs, mini pumpkins, or personalized name cards to each place setting. These details create a sense of thoughtfulness and make each guest feel special.

Coordinated Drinkware:

 Ensure that your choice of drinkware complements the overall theme. The proper drinkware enhances the visual appeal, whether crystal clear for a touch of elegance or rustic mason jars for a casual setting.
Checklists for Ensuring a Flawless and Captivating Fall Tablescape
Tableware Checklist:

 Confirm that you have all the necessary tableware, including plates, utensils, glasses, and napkins. Double-check for any cracks, stains, or missing items.

Decor Elements Checklist:

 Ensure that all DIY decor elements are in place and that you've considered the overall balance of the tablescape. Check for any overcrowded areas or spaces that could use additional embellishments.

Lighting and Ambiance Checklist:

 Verify that your chosen lighting elements, whether candles or fairy lights, are in working order. Adjust their placement for optimal illumination and ambiance.

Safety Checklist:

 If incorporating candles, review safety precautions to prevent accidents. Make sure candles are secure in holders and away from flammable materials.

Guest Comfort Checklist:

 Consider the comfort of your guests. Ensure that seating is arranged for easy conversation and ample space for dishes on the table.
Cheers to the art of creating memories that last a lifetime!