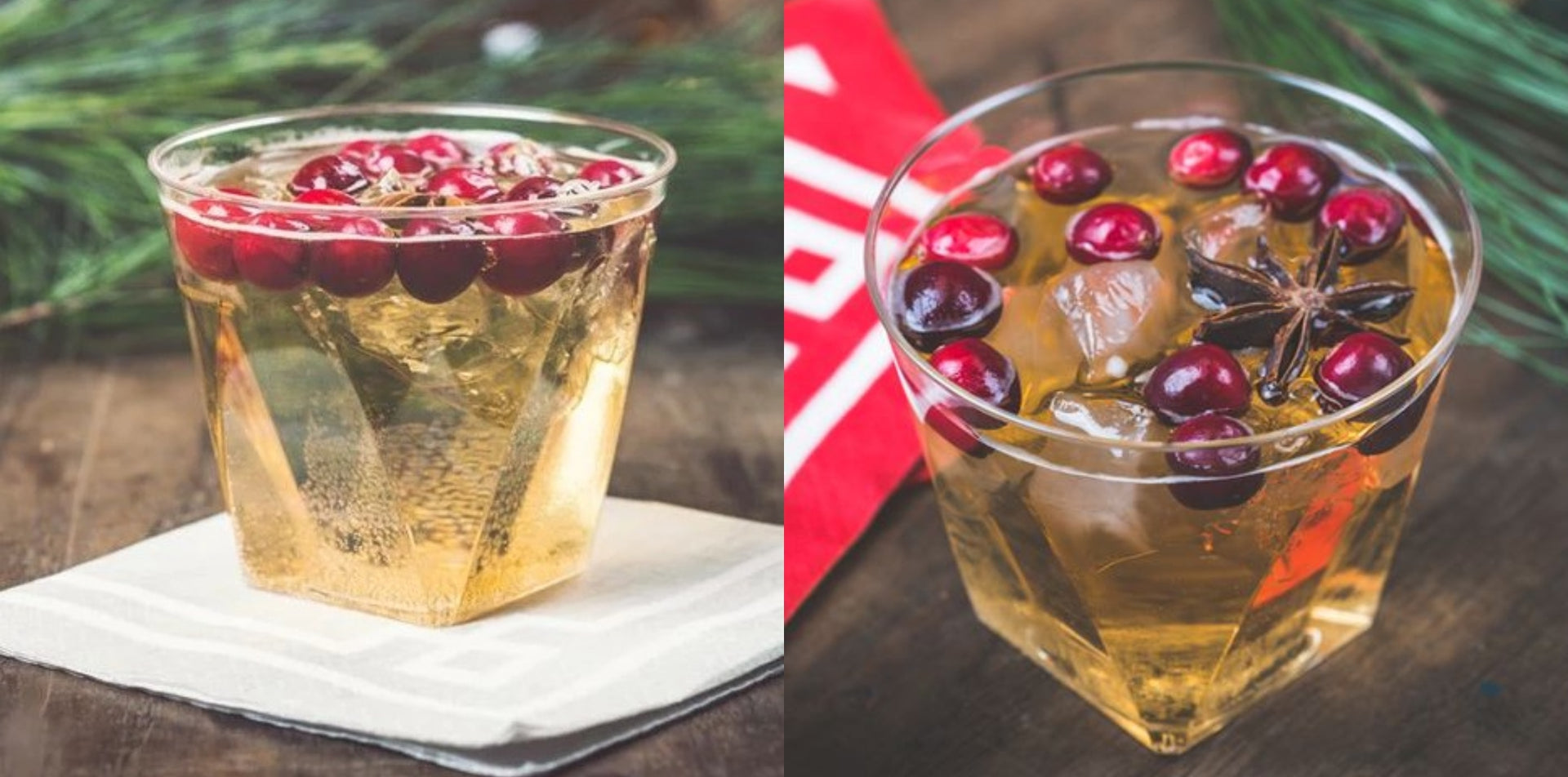 Autumn in a Glass: The Ultimate Cranberry Bourbon Fizz Recipe
Welcome to autumn! As the leaves fall and the air cools, let's celebrate with the perfect seasonal drink: the Cranberry Bourbon Fizz. This recipe combines the rich bourbon notes with the cranberries' tart and sweet flavor. It's the ideal way to enjoy the warmth and vibrancy of fall in a single glass.
Bourbon Brilliance: Unveiling the Cranberry Fizz Elixir
Whether hosting a gathering with friends, planning a cozy night by the fireplace, or simply seeking a beverage to elevate your fall evenings, Cranberry Bourbon Fizz will become your go-to drink. So, prepare to raise your glass to festivity and savor the magic of Cranberry Bourbon Fizz!
The Cranberry Bourbon Fizz Elixir
Ingredients Overview
Bourbon:

 2 oz. (Choose a quality bourbon for a rich flavor profile.)

Cranberry Juice:

 4 oz (Opt for 100% pure cranberry juice for an authentic taste.)

Simple Syrup:

 1 oz (Adjust based on your sweetness preference.)

Fresh Lemon Juice:

 1 oz. (Lemon adds a citrusy zing to balance the sweetness.)

Soda Water:

 2 oz (For the perfect effervescence.)

Fresh Cranberries and Rosemary Sprigs:

 For garnish and a festive touch.

Ice Cubes:

 To chill and enhance the refreshing quality.
Step-by-Step Crafting Process
Prepare Your Glassware: 

Choose an elegant glass to enhance the visual appeal. Fill the glass with ice cubes for a vital base.

Add the Bourbon: 

Pour 2 oz of your selected bourbon into the glass.

Introduce the Cranberry Goodness: 

Follow with 4 oz of pure cranberry juice, imparting the drink with the essence of fall berries.

Sweeten the Mix: 

Incorporate 1 oz of simple syrup, adjusting to taste for your desired sweetness level.

Citrusy Balance: 

Squeeze in 1 oz of fresh lemon juice to bring a bright and citrusy dimension.

Top it Off: 

Pour 2 oz of soda water into the mix, creating a delightful fizz.

Give it a Gentle Stir: 

Combine the ingredients gently to marry the flavors without losing the effervescence.

Garnish with Fall Finesse: 

Drop in a handful of fresh cranberries and a sprig of rosemary for a visually stunning and aromatic presentation.
Flavor Notes: Balancing the Sweet and Bold
The beauty of the Cranberry Bourbon Fizz lies in its ability to balance the bold, robust notes of bourbon with the sweet and tart flavors of cranberry. The simple syrup and fresh lemon juice play a crucial role in achieving this harmony, creating a drink that is not only refreshing but also indulgently autumnal.
Raise a Glass to Festivity
Autumn is not just a season; it's a mood. As we delve into the creation of the Cranberry Bourbon Fizz, let's not overlook the importance of presentation and the art of setting the right atmosphere. Elevating your drink game isn't just about the flavors but the entire experience. So, let's talk about raising a glass to festivity!
Serving in Style: Fancy Plastic Drinkware
Why Fancy Plastic?
Elegance Without the Worry:

 

Fancy plastic drinkware

 offers the sophistication of glass without the risk of breakage. It's perfect for outdoor gatherings and worry-free celebrations.

Ease of Handling:

 Lightweight and easy to handle, these glasses add a touch of class to your drink without compromising convenience.
Effortless Cleanup for Effortless Hosting: Disposable Tumblers
Time-Saving Solution:

 

Disposable tumblers

 are a host's best friend. After the last toast, simply gather and dispose of them—no need to spend precious moments washing glassware.

Perfect for Large Gatherings:

 Ideal for parties and gatherings, disposable tumblers ensure everyone can enjoy the Cranberry Bourbon Fizz without creating a mountain of dirty dishes.
Adding a Touch of Class: Paper Beverage Cocktail Napkins
Functional Elegance:

 

Paper beverage cocktail napkins

 serve a practical purpose and contribute to the overall aesthetic. Choose napkins that complement the colors of your drink, or add a seasonal touch with autumn-themed designs.

Convenience Meets Style:

 Offering functionality and style, these napkins enhance the drinking experience, whether you're hosting a formal dinner or a laid-back gathering.
Why Disposable Partyware?
The Convenience Factor
Effortless Hosting:
Hosting a gathering should be a joyous occasion, not a logistical challenge. Disposable partyware streamlines the process, allowing you to focus on the festivities rather than the cleanup.

After the clinking of glasses and the laughter of guests, the simplicity of gathering disposable items for disposal is a host's dream come true.
Perfect for Large Gatherings:
Imagine a holiday soirée or a Friendsgiving feast – the sheer number of guests can be overwhelming. Disposable partyware ensures everyone can enjoy the Cranberry Bourbon Fizz without creating many dirty dishes.
The Variety of Options
Eco-Friendly Materials:
Concerned about the environmental impact? Many disposable partyware options now come in eco-friendly materials. Biodegradable, recyclable, and compostable alternatives allow you to celebrate without compromising the planet.

From plates to cups to utensils, eco-conscious choices ensure that your festivities leave a positive mark on both your guests and the environment.
Versatility in Design:
The days of bland, uninspired disposable partyware are long gone. Today, you can find a vast array of designs, colors, and patterns that complement the theme of your gathering.

Whether you're aiming for a rustic autumn vibe or a sleek and modern look, there's disposable partyware to match your aesthetic.
Style Meets Convenience
Sophistication in Simplicity:
Fancy plastic drinkware, chic disposable tumblers, and stylish paper beverage cocktail napkins contribute to the visual appeal of your event.

Choosing disposable doesn't mean sacrificing style. It's an opportunity to curate an elegant and cohesive look for your gathering.
Timeless Elegance:
The Cranberry Bourbon Fizz deserves a fitting stage. By opting for disposable partyware, you're embracing modern convenience and allowing your drink's timeless elegance to shine.
Smarty Had A Party: Your Go-To for Disposable Partyware
Let's take a moment to discover the perfect partner for your disposable partyware needs – Smarty Had A Party. This online store is a treasure trove for those who appreciate the fusion of convenience and style when elevating the presentation of your favorite beverages.
A Haven for Hosts
Smarty Had A Party is not just an online store; it's a haven for hosts and hostesses looking to simplify their event planning without compromising elegance.

With a user-friendly interface and a comprehensive range of options, Smarty Had A Party takes the hassle out of finding the perfect disposable partyware.
Quality and Service Excellence
Backed by a commitment to quality and service excellence, Smarty Had A Party has established itself as a reliable source for all your partyware needs.

From weddings to casual get-togethers, Smarty Had A Party caters to various occasions with an extensive inventory of disposable items.
Uncompromising Quality
When you choose Smarty Had A Party, you're choosing quality. The materials used in Smarty's disposable partyware are durable and reliable, ensuring that your event unfolds seamlessly.

From the clarity of their drinkware to the softness of their napkins, Smarty Had A Party brings a quality that resonates with hosts who demand the best.
Endless Style Options
Style is a personal expression, and Smarty Had A Party recognizes this. Our inventory reflects diverse styles, allowing you to curate an aesthetic that aligns with your event theme.

Whether aiming for a rustic, autumnal vibe or a sleek and modern look, Smarty Had A Party has the disposable partyware to match your vision.
Until next time, may your glasses be filled with the warmth of autumn and the joy of shared celebrations. Cheers to you, to Smarty Had A Party, and to the unforgettable moments created with the Cranberry Bourbon Fizz!