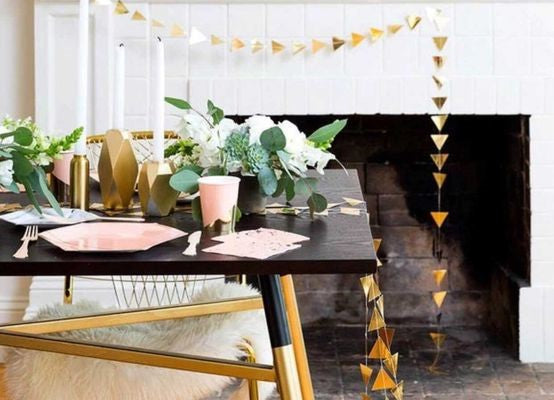 A Must-Have Supplies for a Birthday Party
We know by experience that party planning does not come easy. Planning a birthday party may get on your nerves at times, and rightfully so. But having made a list of everything you need on the day of the event can make things easy to handle. Our event planning experts here at Smarty Had a Party have made a list of birthday party must-haves for your upcoming events you can turn to when needing help. 
First, choose a theme for your birthday party. We advise you do this before a month or so. After you have decided that, make a list of all the people you are going to invite. Then, you can think about, 
Invitation Cards
Sending cards is a traditional yet pure form of inviting someone to your place. You can choose to write a personalized note for everyone you're going to invite to your party. Let them know about any information you want them to have regarding your event's theme. An invitation should include the date, the time, the venue, and the dress code. You can also include an R.S.V.P. (répondez s'il vous plaît, which translates to please reply) note at the bottom of your card to get your guests to confirm their presence at your event. 
You can send virtual invitations as well. What's a virtual invitation? Any digital invitation that can be sent through Whatsapp, Facebook, email, and other social media platforms is a virtual invitation. You can browse the internet and use available templates on different websites to customize according to your event. You can also create invitations using platforms such as canvas. We love sending digital invitations as they save time, money, and paper waste! 
Invitations were sent out. What do you need next? 
A Birthday Cake
What is a birthday party without a cake, right? You can whip up a yummy cake yourself or buy it from a shop. When planning for the cake, keep in mind the preferences of the person for whom you are planning the cake. If they don't like a big cake, you can bring in cupcakes! They are smaller, cuter versions of cakes, after all. Don't forget the candles, people! 
Cake Decorations
Cake decorations should be appropriate so that they look cute on the cake. For example, you can order the cake with the face of their favorite movie character. You can also write fun things on the cake and give them a reason to laugh. And don't forget elegant party supplies to serve your cake in style, such as cake stands and a disposable plastic cake cutter/lifter.
Food Ideas
Sausage rolls, chicken empanadas, quesadilla, jalapeño poppers, Mac N cheese, fritters, pizza, chicken bites, burgers, hot dogs, Mozzarella sticks, chips, and pretzels, are some food items you can prepare. But, again, it would be best to choose the food you serve at the birthday party based on the birthday girl's or boy's favorite foods. 
Dessert Ideas
Cake pops, brownies, ice cream, S'mores, Cheesecake, donuts, and chocolate mousse are a few of our suggestions. 
Drink Ideas 
Pink lemonade, lemonade, strawberry lemonade, pink milk or Falooda, vanilla milkshake, hot chocolate, and slushies are some drinks you can serve. 
As for alcoholic drinks, here are some suggestions. Raspberry champagne float, Bellini, Blue Lagoon, Mimosa, grasshopper cocktail, Beach Blossom Cocktail, birthday cake martini, and Rose Wine Spritzer.
Decorations
Birthday parties are all about decorating the place with confetti, balloons, glitter, and candles. You must purchase some decorations for your birthday party, including candles, balloons, ribbons, party poppers, cutouts, snow sprays, party hats, banners, streamers, confetti, table decoration, and wall hangings. You can also decorate the table with flower vases.
However, the thing with the snow sprays is that they should not be sprayed on open flames like candles as they can catch fire. So, keep that in mind to throw your loved ones a safe party.
You can also make centerpieces from candles, flowers, ribbons, or anything easily available or simply lying around the house, and create a cute decor by yourself. We love D.I.Y. because it allows us to add our personal touch. 
D.I.Y. Garland
You can use paper flowers to make gorgeous garlands or wall hangings. You can use different types of paper and cut them out differently to create themes like vintage themes, vibrant and bold themes, tropical themes, or a very minimal look.
You can also write text on the paper that says "Happy Birthday" or the name of the person whose birthday you are planning and hang them on the wall.
Disposable Tableware
After speaking about the decorations, how can we forget the tableware that plays an integral part in decorating the table? Serve your guests with high-quality disposable serving platters so that their quality simply amazes your guests.
Our entire serving ware, from disposable plastic trays to disposable serving flatware, is made with the sturdiest and most durable material to ensure your party goes smoothly from start to end.
Other than that, our premium plastic serving bowls are the cutest bowls you will find on the market. Visit our website, look for the different designs and shapes, and get the ones that match your theme perfectly. 
How can we forget that we have a range of disposable plastic cutlery you can choose from? In addition, knives, forks, and spoons in different colors to suit your events are waiting to be picked up. 
Our tablecloths and napkins give your birthday party tables an even more chic look.
And lastly, you will need party favors to give your guests a little something from your party. 
Party Favors 
Depending on your party theme and kid's age, you can give small things like candy, candles, self-care products, toys, or bead bracelets. 
Garbage Cans
For cleaning, you should have paper towels and garbage cans for a free mess celebration. And as all our products can are recyclable, you should recycle the used disposable tableware later.