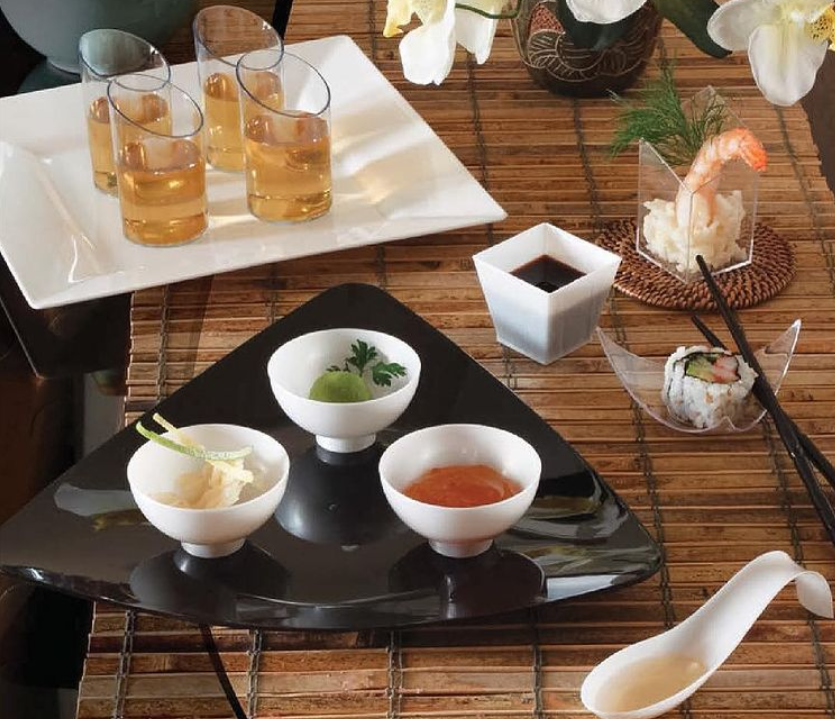 A Guide to Host an Amazing Sushi Party
Sushi is one of the most famous foods in America recently. Sushi food is an excellent choice if you want to eat something healthier. Sushi is a food that can help you make your guests or friends wow you.
If you want to feel relaxed, order sushi food from your nearest sushi restaurant or make it at your home. You don't need any unique ingredients to make sushi. Instead, you can easily make your sushi with the right ingredients, such as rice, fish, and vegetables.
Types of Sushi
There are two types of sushi. One that is prepared in advance and you just have to cook it a few minutes before the party starts, and the second is; sushi prepared by the guests.
Sushi prepared in advance is most likely because you can carry it anywhere you like, such as you can take it to your friend's Thanksgiving party or even birthday party.
Sushi food prepared by the guests is also a fun experience if they enjoy making it and teaching other friends.
Sushi Prepared in Advance 
When you are throwing a sushi party and inviting a long list of guests, it's always better to go with the prepared sushi as it would make things easier for you.
A large crowd at your place might make sushi-making stressful for you. You can order sushi from your nearest restaurant or shop to avoid such hassle.
Usually, 3 to 4 sushi recipes and 2-finger food are ideal for a sushi party as it would be much easier for you to serve a large crowd.
Before your guests arrive, clean up your table and set up the sushi station that includes the cutting board for each station, plus the sharp knives and a container filled with water so you can soak your hand when preparing the sushi.
Prepare all the sushi ingredients before your guests ring your doorbell and also cut the fish into pieces so your guests can put it together with the sushi roll.
Sushi Recipe
If you still decide to try to make sushi at home and surprise your guests with your skill, here's a little help!
Our sushi, although casual, retains the Japanese atmosphere. We gathered the necessary accessories. The most important is a sharp knife because the fish should not have jagged edges.
Sushi is not hard to make and making it can be a job for all guests. However, remember that sushi should be eaten no later than 20 minutes after making it.
Ingredients:
2 cups round japonica rice

1/2 cup water

1/4 cup rice vinegar

tablespoon sugar

2 tablespoons salt
Instructions:
Choose a particular type of rice for sushi and cook it together with rice vinegar and sugar
Prepare raw or smoked fish and vegetables.
The rice needs to be thoroughly washed under running water for about 20 minutes to wash the starch out.
Cook the rice over low heat with salt for five minutes.
Leave to stand for 10 minutes in a closed pot, which must not be opened.
In a pan, cook the rice vinegar with the sugar.
Stir thoroughly for at least three minutes until the sugar has dissolved.
Slowly add the rice.
Sushi Tips and Tricks
Sushi can have different shapes. Learn about its types if you want to make delicious sushi at home.
Rice nigiri formed into oval sticks, with a piece of fish or seafood on top.
Poppy seeds result from wrapping rice, fish (not necessarily), Cucumber, or other vegetable additives in algae wrappers.
Sashimi is the same fish without rice and other ingredients served in several pieces.
If we add raw fish to sushi, we must make sure it is super fresh. To make sushi at home, we can also use smoked e.g., Salmon and even unconventional canned tuna. In addition, we buy nori - these are pressed algae sold in leaves. Wrap the rice with the additives in seaweed wrappers. A necessary addition to sushi is wasabi, ie. Powder, spicy (really spicy), Japanese horseradish. Mix with a bit of water, and add rice and soy sauce. We can also buy it in the form of a paste in a tube. Soy sushi sauce is served in a separate dish. It is used to lift sushi before meals. We eat the whole piece at once and have a bite through the sour ginger.
The same activities are repeated at a sushi party, slightly changing the toppings. Therefore, we suggest you how make different types of sushi.
How to Make Maki Sushi Rolls?
Ingredients:
Salmon fillets
Tuna
Shrimp
Caviar
Nori
Wasabi
Cucumber
Celery
Curly lettuce
White cheese.
Instructions:
Expand the bamboo rug on which you should lay a piece of dried seaweed.
Moisten the edges of the sheet metal so that they stick together.
Spread the prepared rice evenly on the burrow, leaving a distance of 1 cm from the bottom and 4 cm from the top.
Before applying, we advise you to soak your hands in boiled water with the addition of sugar and rice vinegar. The point is that rice doesn't stick to your fingers.
Next, sprinkle a layer of wasabi on the rice.
We put consecutive layers, e.g., Cucumber and salmon, into thin strips. Instead of salmon, you can use tuna or shrimp. Add celery and salad.
Then roll out the whole and cut into slices 2, 5 to 3 cm wide.
Take fishless caviar without fish.
Sushi Party Decor
Without an appropriate decor for the party, your party won't be appealing to your guests. So to give it a life, dress up your house so your guests will feel special.
For a sushi party, it's always good to showcase the rich culture of Japan in your decor. There are tons of decor ideas you can search on the internet and implement in your party setup.
Moreover, while dressing up your house for the party, pay attention to the table where your guests would sit. Finally, elevate your serving style with some fancy dinner plates, so your representation stands out in the overall setup.
If you are looking for disposable mini party supplies, we have covered you with disposable plastic mini soup spoons and more that you require while throwing the sushi party.
Disposable soup bowls are elegant-looking and come with multiple practical benefits, such as you won't need them to clean after your sushi party is over. In addition, you can dispose of them after a single-use.
Get these fancy mini plastic plates and serve your sushi guests with style and honor.