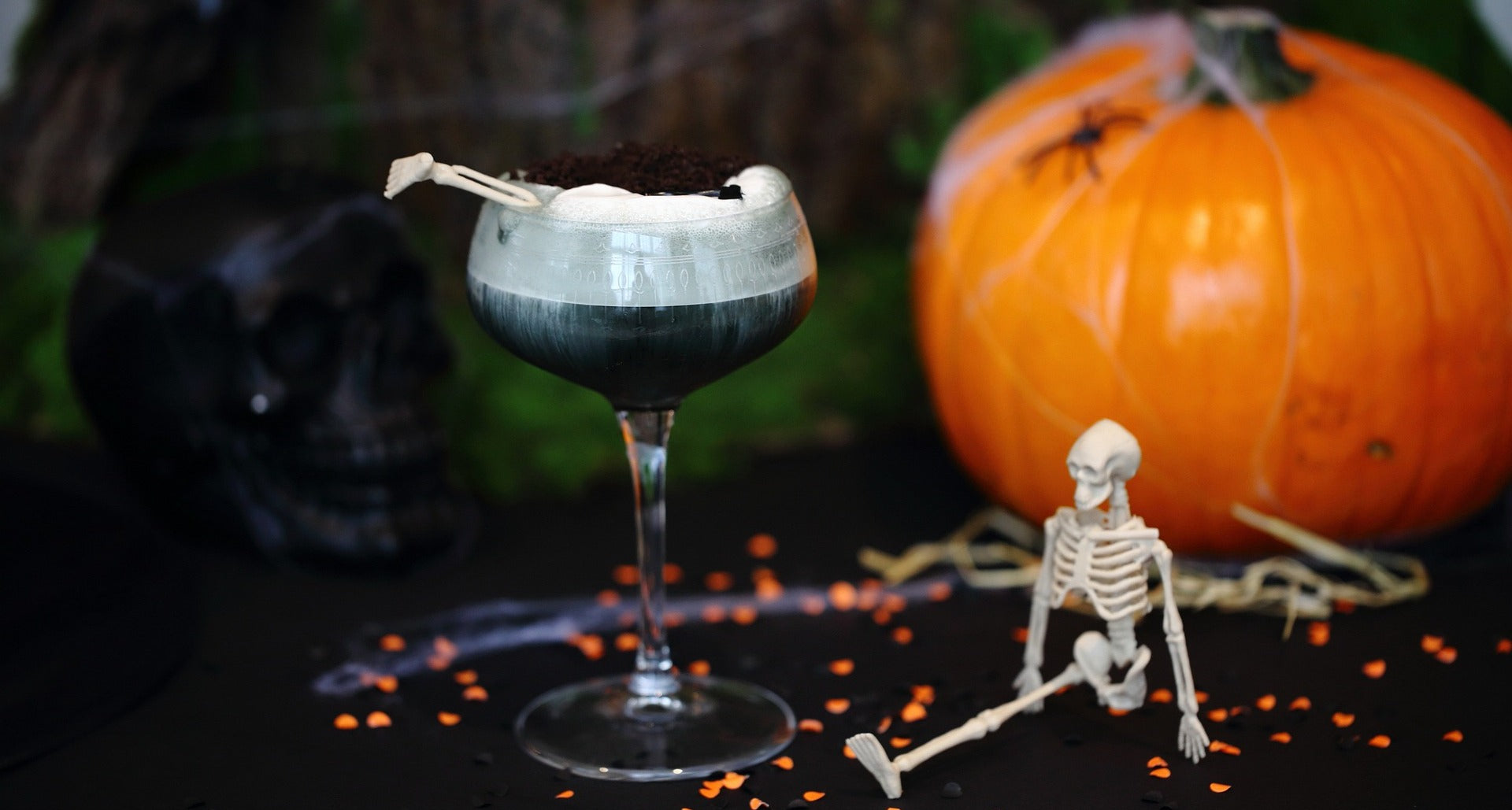 10 Halloween Cocktails That Are Spookier Than Your Costume
Halloween is right around the corner, meaning it's time to start your party. You can throw a spooky bash or a fabulous costume party and even have fun with your food and drink choices by making Halloween cocktails! 
Have You Ever Noticed That Halloween Is Mainly About the Kids?
There are trick-or-treating and Halloween parties for children, but after that, it's time for adults to party it up. To make things easier, we've compiled a list of 10 Halloween cocktails that are spookier than your costume. 
These recipes are fun, easy to make, look great when served in disposable drinkware and come together quickly—perfect for throwing together last minute before guests arrive at your door.
1. The Black Cat
Ingredients: 
3/4 oz dry vermouth

1/2 oz gin

1/4 oz maraschino liqueur (or cherry brandy)
This drink has a bit of history. It was the first to use dry vermouth in place of sweet, and it was created by Harry Johnson 1882, who wrote The American Bartender's Guide. The Black Cat was originally called "Old Tom Gin Cocktail" or "Black Cat Cocktail."
2. Bloody Mary
Ingredients: 
Vodka

Tomato juice

Lemon juice

Worcestershire sauce
The drink is popular for brunch, and it's also a popular drink for parties. Some people use vodka in their Bloody Marys, while others prefer to use tequila instead of vodka. If you like spicy food, then you should try this cocktail because it has some spice to it as well!
3. Black Magic Martini
Ingredients: 
Ice

Gin

Lemon juice

Blue Curacao

Egg white

Martini glass

Orange twist for garnishing
Instructions:
Fill a cocktail shaker with ice. Add the gin, lemon juice, blue curacao, and egg white to the shaker and stir vigorously for 20 seconds until the ingredients are well-mixed and chilled. Strain into a martini glass and garnish with an orange twist if desired.
4. Pumpkin Spice White Russian
The Pumpkin Spice White Russian is a twist on the classic Moscow Mule, usually made with vodka, lime juice, and ginger beer. This drink adds vanilla extract to the mix and uses pumpkin puree instead of lime juice or lemonade. The result is a creamy cocktail that can be served hot or cold, depending on your preference!
Ingredients: 
2 oz vodka

2 oz Kahlua (or another coffee-flavored liqueur)

1/2 oz pumpkin puree
Instructions: 
Mix all ingredients in a shaker with ice; strain into a cocktail glass; garnish with whipped cream and cinnamon if desired.
5. Worms in Dirt
Ingredients: 
1 oz gin

1/2 oz lime juice

3/4 oz simple syrup

1/2 oz orgeat (almond syrup)

2 dashes of Angostura bitters
Instructions: 
Shake all ingredients with crushed ice and strain into a cocktail glass. Garnish with a lemon twist and serve.
You can make this drink in larger batches by adjusting the recipe as needed, but remember that you should never shake or stir more than 8 ounces of liquid at once! Also, don't forget to enjoy some Halloween candy when you're finished—it'll help keep your stomach full until dinner time!
6. Witches Brew
This is another extremely simple cocktail to make. All you need are some ingredients you probably already have in your pantry or fridge: vodka, ginger ale (or 7UP), lemon juice, and cranberry juice. Then add a bit of orange juice for sweetness and some sparkling cider for fizz. Finally, splash in some lime juice for acidity, and add a splash of pomegranate juice for color!
7. Charred Potion Punch
Ingredients:
1/2 cup black sesame seeds, toasted and finely ground

1/4 cup ground turmeric

2 tablespoons honey (optional)
Instructions: 
For a stronger punch, use 2 cups of each ingredient. Let the mixture sit in the fridge for at least 7 hours before serving. It may keep for up to 3 days. To serve, stir with ice or shake well with ice and strain into 4 glasses filled with crushed ice. The amount of ginger beer will depend on how much punch you want to make; just add enough to fill each glass about three-quarters full (you can also just use more soda if you don't like as much fizz). Add more booze if your taste buds need some help waking up!
8. Zombie Cocktail
The Zombie cocktail is an excellent option for those who want to get their drink on but don't want to be overly spiced. This drink is a good choice for any Halloween party, whether at home or at a bar.
Ingredients:
1 oz. vodka

1 oz. rum

1 oz tequila (you can also use whiskey)

1 oz triple sec (you can also use Cointreau liqueur) * lime juice * simple syrup * orange juice 
Instructions: 
To make this drink, mix each ingredient in its own shaker with ice and then pour it into a glass with more ice cubes poured over it before serving!
9. Vampire Sangria
Ingredients:
1/2 cup cranberry juice

1/2 cup apple juice

1/2 cup red wine (be careful not to use anything too expensive as this will affect the flavor)
Instructions: 
Mix ingredients together and serve chilled.
10. Caramel Apple Sangria
This is an excellent cocktail for anyone who loves fall and caramel apples. This drink is made with apple cider, caramel syrup, brandy, and orange juice. You can make this cocktail at home with some simple ingredients that you probably already have on hand. The best part is that it's easy to make and delicious! You can use any apple juice on hand; just be sure to get one with no added sugars or flavors because they will conflict with the flavors in this recipe.
If you're looking for something different than your typical Halloween drinks (and don't mind a little effort), give this one a shot!
These Cocktails Will Have Your Guests Feeling Spooky!
These cocktails are fun, easy to make, and look great with disposable drinkware. You can use wine glasses or plastic glasses for your party guests to enjoy these spooky drinks.
Halloween is the perfect time to have a party, but it can also be expensive. The trick to hosting an affordable Halloween party is to keep it simple and use disposable drinkware as much as possible. Your guests will thank you for not having to worry about taking home a bunch of dishes and glasses!
Disposable plastic wine glasses are great because they come in many colors and designs that match any theme. You could even use them as decorations if you wanted! Disposable plastic cocktail glasses are another fun idea since they come in various shapes, sizes, and colors, making your cocktails look even spookier than they already do! Last but not least, disposable martini glasses are a surefire way to keep all those monsters from escaping their drinks before consuming them properly ;)