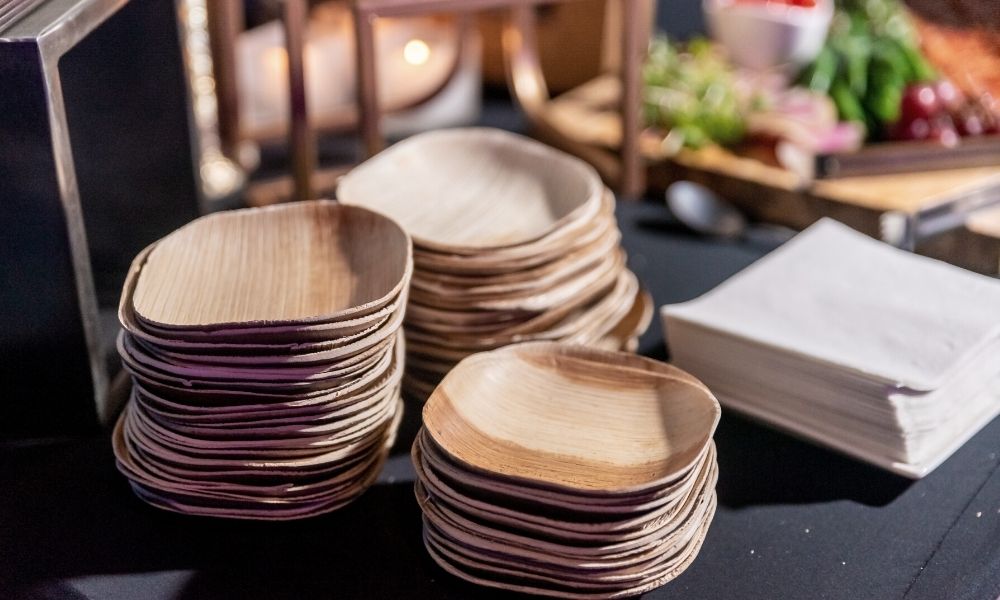 Tips for Choosing Eco-Friendly Disposable Dinnerware
Sustainability is proving itself to be the watchword of the 2020s. As we confront the finiteness of our natural resources and the importance of preserving them, we're all looking to cut down on waste as much as possible. One of the ways we can do this is at the dinner table, where excessive food goes to waste usually, energy and water are wasted to clean up the dirty dishes, and disposables used are sometimes harmful to the environment. For example, the detergents and heat we use to clean our dinnerware slowly mix with nature, contaminating water bodies and much more. 
We can eliminate half of these issues by opting for a green table setting. In addition, a green table setting—not in color but in character—can allow us to celebrate occasions with a clearer conscience. Here are some of our tips for choosing eco-friendly disposable dinnerware.
Be Careful with Paper
Paper plates usually come to mind when we think about disposable dinnerware. Paper plates are found in homes, small food stalls, etc. Simple, plentiful, inexpensive, and unpretentious, paper plates make life easier on work and school nights when running the dishwasher is one extra task you just don't want to do—to say nothing of the water your dishwasher uses each cycle and the time you have to spend putting the soiled dishes in the dishwasher and the energy it uses. You would rather spend that time with your loved ones. But paper plates are unpretentious, the product of a renewable resource. Even harder, printed paper plates still don't feel fit for a special occasion. If you're trying to impress, skip the paper plates. Also, although paper plates are not very harmful to the environment, they contribute to landfills. This is because stained paper plates aren't usually recycled or reused. Plus, the manufacturing process of paper plates uses chemicals, which threaten the environment and us, as the toxins can seep into the soil and contaminate underground water sources.
But folks, paper napkins, on the other hand, remain a viable option to use at parties.
You Can Do Better Than Plastic
Much like paper plates, one of the key advantages plastic plates hold over their porcelain or ceramic counterparts is that they don't require the heat, water, detergent, and greywater runoff of a dishwasher cycle—which, time after time, add up to a significant environmental impact. Plastic dinnerware is easy to handle, lightweight, easy to clean, and easy to dispose of. They are better than paper plates in durability. The plastic disposables can handle warm, cool, and wet food. You can also choose to wash them and put them to use again, unlike paper plates. However, bear in mind that plastic is still a petroleum product. They largely contribute to landfills. It will not decompose for a long time. Plastic dinnerware is not for you if you're conscious of reducing your carbon footprint. However, suppose you are willing to spend a few extra bucks. In that case, you can find compostable Bioplastics that are, just as the name suggests, compostable and are not hazardous to the environment or humans. But they have raised concerns regarding the appropriation of food resources. 
The Future Is in Palm Leaf
If you've had the pleasure of living in or even visiting the far southern reaches of the United States, where palm trees are plentiful, you've surely noticed those hard brown palm fronds along the streets where palm trees grow. They fall to the ground like maple leaves fall to the north. But if you've taken a closer look, you've noticed that these spent leaves are much sturdier than paper-like deciduous leaves. Dinnerware manufacturers have noticed the same thing and have pursued the promise of palm leaves as the ideal sustainable dinnerware. Not only is this a strong material, but one whose natural origins give it an attractive wood-grain appearance. Our eco-friendly dinnerware selections feature palm-leaf plates, bowls, and cutlery, all of which are up to the same tasks as less sustainable materials. And to break up the monotony of palm leaves at your table in choosing eco-friendly disposable dinnerware, we also feature other sustainable complementary products.
We use sugarcane fiber and birchwood to produce these complementary products. All these knives, spoons, forks, plates, and trays are sustainable because they are made using 100% natural materials. Even when collecting these materials, the trees or branches are cut down, and the materials that have fallen down are used. They are given a thorough clean before using them to produce this dinnerware, cutlery, and trays, so you don't have to worry about cleanliness. The sources for these products are renewable, too. No chemicals or artificial dyes are added even in the manufacturing stage. Even in production, only a tiny amount of energy is used compared to plastic disposables. No laminating is done too. The end products have a wooden look and a smooth finish. Because of all those factors, this tableware is biodegradable and compostable.
We have noticed that sustainable dinnerware at a party is a great conversation starter. No one can tell the difference between these wooden plates at first glance. These products are durable and can handle hot, cool, and wet food. Palm leaf and sugarcane fiber dinnerware can be used in a microwave too. Sugarcane fiber tableware, also known as bagasse tableware, is grease resistant. This tableware has just the right weight to be comfortable to hold on to and enjoy your food. Our birchwood, sugarcane fiber, palm leaf dinnerware, and flatware do not chip or flip off. So, go ahead and dig into the steak with your knife with enough force.
Other Types of Sustainable Dinnerware 
There are dinnerware sets made from stone that is used for special occasions. This is because stone dinnerware is a bit heavy, unlike other dinnerware. These products are long-lasting and free of toxins. 
There is tableware made from clay. No, we are not talking about porcelain dinnerware. This tableware has a natural earthen color and is fragile like porcelain. But they are very aesthetic and suitable for a rustic party.
There is tableware that is made using recycled glass and corn too.