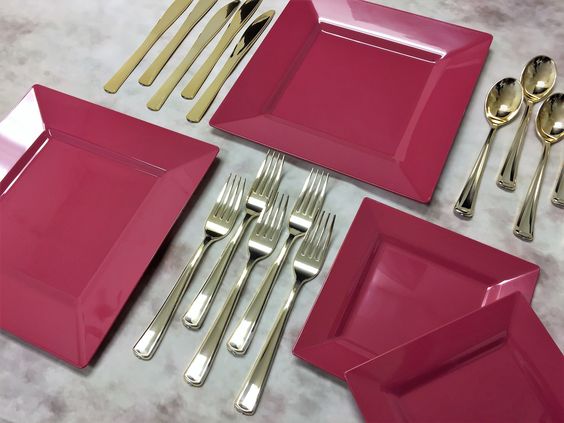 The Best Disposable Catering Tableware Buying Guide
Whether you own a business or want to throw a party for your friends, buying a catering disposable dinnerware can be a big thing for you. Well, there is no need to worry when Smarty is here to cover your events. We can simplify this overwhelming process of selecting the right disposable dinnerware by giving you an insight of what are the advantages and disadvantages of using the different types of dinnerware and how they are related to each other.
Comparing the Different Types of Catering Dinnerware
Paper Dinnerware
Paper disposable dinnerware is microwave-free and does not take much space during storage. It is also oil-resistant. But since it is made from paper, it is likely to take up grease and color from the food items and can bend due to the weight of the food.
Foam Dinnerware
While dinnerware is lightweight and cheap, it is not microwave-safe.
Disposable Plastic Dinnerware
The disposable plastic dinnerware is the most suitable option for all your events due to its colors and textures. It is neither heavy-weight nor does it bend with the weight of the food. It does not break or mold easily and is quite compact and durable. It is available in all forms of textures and all shades of colors to match your parties and themes.
However, one thing that most people are concerned about is the health issues plastic dinnerware can cause. But since you are at Smarty, we have solved this problem for you. Our plastic serving ware is made of recyclable, BPA-free plastic, meaning there are no harmful chemicals involved in the making of our disposable serving party supplies. Get our affordable serving partyware at a reasonable price, grace your party tables and recycle it - it's that simple!
You may now have an idea as to where to get the best disposable catering dinnerware for your events. Let us tell you more about what you should look for in a suitable disposable catering dinnerware.
Color and Texture Variations
An ideal catering dinnerware should look elegant in the first place. For that, it should have color and textural variations to match all your party celebrations' requirements. 
Material Used in the Making
You must know what material is used in making the type of dinnerware you are buying. If it is some toxic chemical, consider it a no. Our disposable catering dinnerware is 100% health-friendly and does not use a single toxic chemical in the manufacturing process.
Recyclability
Your catering dinnerware should be recyclable so that you can contribute to the environment. Smarty's plastic serving ware is recyclable, which helps in maintaining the ecosystem.
Convenient to Use
Convenience is another factor to consider before buying ideal disposable catering tableware. We don't want dinnerware that's not handy and does not dispose of easily. It is easy to dispose of our serving partyware and get rid of it in a matter of minutes.