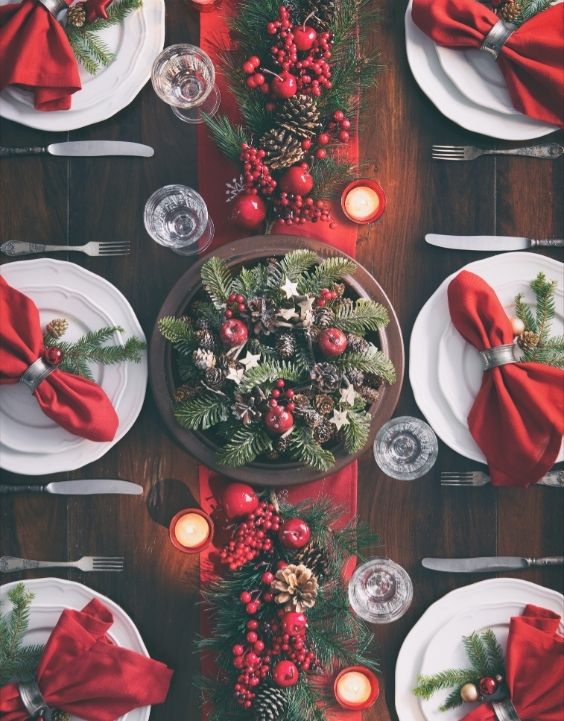 The Best Christmas Table Setting Ideas
Christmas is about tearing open presents, enjoying cookies and eggnog for breakfast, playing with your new toys, and then eating more cookies when you're a kid. For grown-ups, Christmas isn't exactly child's play anymore. Hosting and planning a holiday meal is hard work, but disposable supplies can give you much less to worry about. Here are some of the best Christmas table setting ideas for your big dinner.
Christmas table decorations should be done in joyful, sunny shades. Original and tastefully decorated, such that it will create a certain aura, we can say that it is the main accent, which should be given maximum attention. Everything must be mysterious, unusual, and incredible in the New Year. No traditions dominate here, and the craziest fantasies can be used. Of course, serving, like any other festive event, will generally remain unchanged, but you can make your original and bright corrections to it. So next year, all shades of festive gold, delicate sand, and soft beige will become relevant.
Specify the Color
The Christmas table is the main personification of the holiday, and it is necessary to devote more time to its decoration. Behind celebration is most of the party that stretches, parting with the last year, exchanging gifts, and going to meet the new year. Ideas for the Christmas table are now presented in large quantities on the Internet, and by choosing a specific basis, you can successfully implement any of them. And for that, decide on the color of the main canvas, on which the whole future bright picture will depend. Naturally, the most practical choice for tablecloths will be the rich red version. However, it is excellent with all shades of green, gold, and white, especially relevant in the coming year.
However, the main shade of the main decor can be chosen according to your taste, it can be in harmony with the main items of clothing and Christmas decorations, but it is necessary to contrast with the general tone of the tablecloth.
Green and Red
Snow white, red, and rich forest green are the traditional colors of Christmas. There's centuries-old religious symbolism behind this, but for most people, green and red mean boughs of holly, Christmas trees, and Santa suits. Either way, it fits. The color theory behind the Christmas palette is sound. Red and green are complementary colors; one primary color is paired with a mix of the other.
Furthermore, the shade of green that we think of as "Christmas green"—one that evokes the evergreens we use as our Christmas trees—is a dark green, contrasting nicely with the vibrant red. Even without the cultural association, these colors make sense together. They'll make sense on your table, too. Match spruce green placemats and napkins with red plates, adding gold-colored flatware for a touch of distinction that accents your base colors. For a slightly calmer presentation, go with a green-dominant arrangement and let a little red go a long way, with clear glasses playing the role of white.
White and Gold
If you're one of those Christmas super-decorators and your home is already bedecked in green and red, you may want to rest those colors at dinner. However, for a big party with a serious meal, sometimes you can't beat the gravity and grace classic white and gold confers on your dinner's presentation. With white or ivory plates, you don't have to worry about how the color of your plate may clash with the color of the foods on it. Instead, neutral base color with understated warm-color accents will allow your food to be the star of the setting without your plates being an afterthought. If this is the approach you want to take, you can begin to dream of a white Christmas dinner.
Natural
One of the most famous scenes in the Christmas imagination is Santa's workshop, where his elves work 'round the clock to craft children's toys. Plates and spoons may not be as fun as dolls and wagons, but you can evoke the handmade craftsmanship of the North Pole with disposable palm-leaf partyware. The leaves simulate the unmistakable wood grain pattern but only need to be used once and are eco-friendly. That's a Christmas gift you can give the planet.
For the Undecided
This is the most brilliant reflection of the general idea of ​​the holiday. If you want a noisy party, make the decor bright and rich, and create an atmosphere of omnipresent brilliance with silver candlesticks and shiny Christmas balls. If you wish to comfort and romance and the holiday promises to be purely domestic and warm, setting the Christmas table can include a minimum of details. Take fresh spruce sprigs, tie them with beautiful gold satin ribbons and place them on the table in a chaotic manner. You can add cones, and be sure to light candles. Such a pleasant atmosphere with golden highlights of candles will not leave anyone indifferent.
Decorating the Christmas table includes taking care of the chairs. Tied with ribbons to match the decor, they look very festive. Such a task does not take much time. It is enough to paint the arches with a certain amount of the desired color and bright details for their decoration. Here, the same twigs and cones of spruce will.
For the Determined - Eco Style
When choosing the design of Christmas tables, always give preference to eco-style. He's trending now. Is a beautiful habit of eating, wearing comfortable clothes, and using natural cosmetics. This style is often expressed in beige, green, and brown natural shades and fits perfectly with the sand-gold scale of the coming year. Place a vase with deer branches, hips, fruit, and sweets in the middle of the table. Complement such a simple and elegant decor, the standard white candles. And they should be decorated with vague colorful prints, for example, with a fresh sprig of spruce wrapped around the base of the candle and attached with a green or beige ribbon.