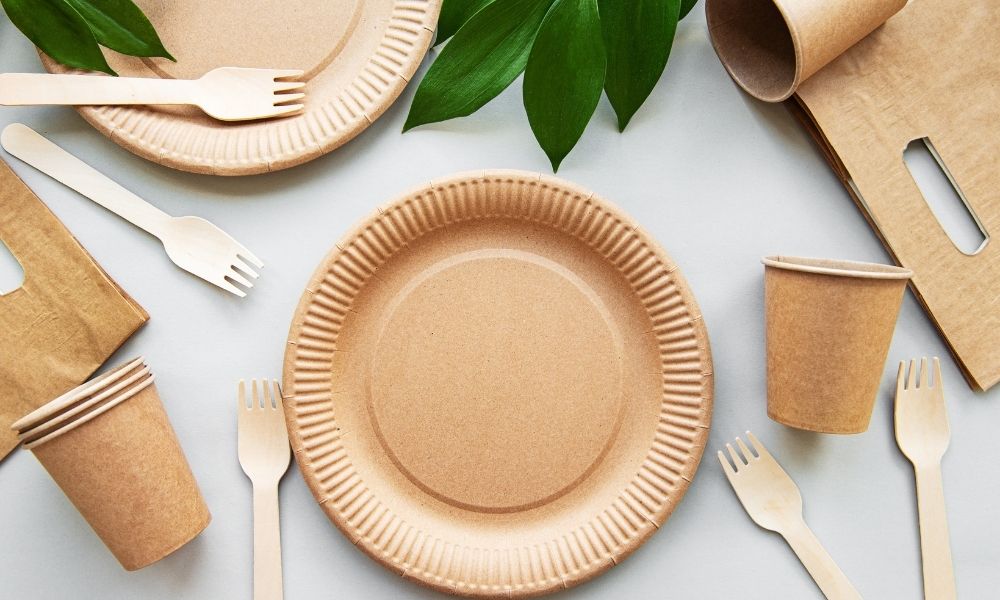 The Advantages of Disposable Dinnerware
Christmas and New Year's are finally upon us, and we still intend to celebrate the holidays as best we can. Even with smaller groups and a little more distance, you can still throw parties that bring some much-needed joy to a challenging year. Things will be more demanding, for sure, so why not make things easier in the kitchen? Adding Smarty's disposable plate and utensil options to this year's table settings will make holiday dinners cleaner, easier, and a lot more stylish. Here are just a few more advantages of disposable dinnerware, which you can enjoy with any of our colorful and elegant collections.
Better for the Environment
This may seem counterintuitive at first. After all, you're throwing away plates! So you're making more waste! But consider the dishwasher. Think of how much hot water and detergent it takes to get your dinner set clean again. And the detergents in your dishwasher pods don't just disappear when your dishes are clean—they must be filtered out of wastewater. So the more loads of dishes people wash, the more energy water reclamation plants have to consume. If this issue gives you pause, consider not just disposable dinnerware but eco-friendly dinnerware that will gracefully biodegrade after use. If you are keen on going green, palm-leaf plates can be added to your compost!
Travel Light
Maybe every big meal you plan isn't going to be a home game for you. You could be hosting an event at a neutral site or a friend's house. Lighter, disposable dinnerware means less to lug around. You won't have to worry about shattering plates as you carry them in and out, nor will you have to take up so much space in your car. Disposable dinnerware isn't just light and resilient. It also keeps a low profile in transit, which could even mean more room for more food. If you're catering an event, you'll come out ahead with disposable options rather than renting tableware from the facility.
Benefits of Disposable Dinnerware
Vacations in nature, as well as spontaneous parties and children's name days outside the home - all this is a reason to use disposable dishes. Don't worry that plastic plates and cups will kill the whole atmosphere of the celebration. Today, unique disposable dishes are produced for the holiday, which is entirely suitable for their purpose.
Doubters can simply list the pros and cons of such dishes. First, it is hygienic if you open it before the banquet. And this is important if there will be picky guests on vacation. Second, you don't have to wash it - you used it and threw it away. Finally, dishes can also be placed in a sorting container - they will be recycled.
If you are celebrating a child's birthday, the fear of breaking dishes will haunt you throughout the holiday, and this is impossible with a disposable set.
It is essential that such festive dishes can be thematic: not only for a birthday but also dedicated to your favorite cartoons and fairy tales, performed in the sea style (pirate), in the kind of the jungle, circus, Barbie, etc.
Of course, even details such as dishes are essential when setting the table - they also set the mood for a holiday.
Today there is a large selection. For example, you can buy disposable dishes for hot and cold dishes, for desserts of different shapes, sizes, configurations, etc.
Don't worry that the paper buffet trays are glued, so the glue particles can get into the food. Modern production uses glue-free technologies - lunch boxes, glasses, plates, bowls, and bags are produced as safely as possible.
Just Right for the Occasion
Face it: you could never have sets of fine Christmas plates, Thanksgiving plates, Valentine's Day plates, and Easter plates that each get used once and only once a year. Where would you store them even if you spent money on all those sets? One of the most significant advantages of disposable dinnerware is that you can creatively embrace the ephemerality of the holidays through your dinnerware. Because most people can't fit industrial-scale china cabinets in their homes, choosing disposable options allows you to pick out a set of plates and utensils that are perfectly color-coordinated for any situation, making the meal extra memorable. But, of course, even the most gorgeous presentation requires delicious food on the plates!
A Design That Leaves You Breathless
The beauty of disposable tableware today is that it can be presented in various designs. Unusual drawings, vivid pictures, creative inscriptions, stylization - you may not find such real ceramic utensils (besides, the whole set will be expensive), but plastic is so cute that it asks for a party table.
You can see that it's food-grade plastic when you get up close. Many people will like folk-style dishes because of their brightness and elegance.
The Appearance of Porcelain
In the photo, such plates cannot be distinguished from genuine porcelain. An exquisite and unusual disposable option.
In the Style of a Popular Fast Food Restaurant
Sometimes you want to make a gastronomical "mistake" and eat something harmful but tasty in a word, the same fast food. Even one pack seems to whet your appetite in these restaurants and cafes. So who prevents you from buying disposable tableware in the style of these brands? Just fill it with homemade goodies. Both adults and children will like this option.
Harmonious Style
An excellent option for the little ones' birthdays. Such celebrations, of course, are more convenient to hold buffet style. It's hard to sit at the table with a baby, but make candy for children and a tasty buffet for adults - why not? Banging glass and ceramic plates and walking with fragile wine glasses around the house where there are children is not very convenient and even dangerous. And colored disposables look like a treat for the eyes and are completely safe.
Finally, it will not be a revelation that a rare holiday today passes without a photographer. And you always want everything in the frame to be harmonious and not cause aesthetic complaints. Few people dare to buy ceramic dishes for a single photo shoot, but a one-time option is optimal.