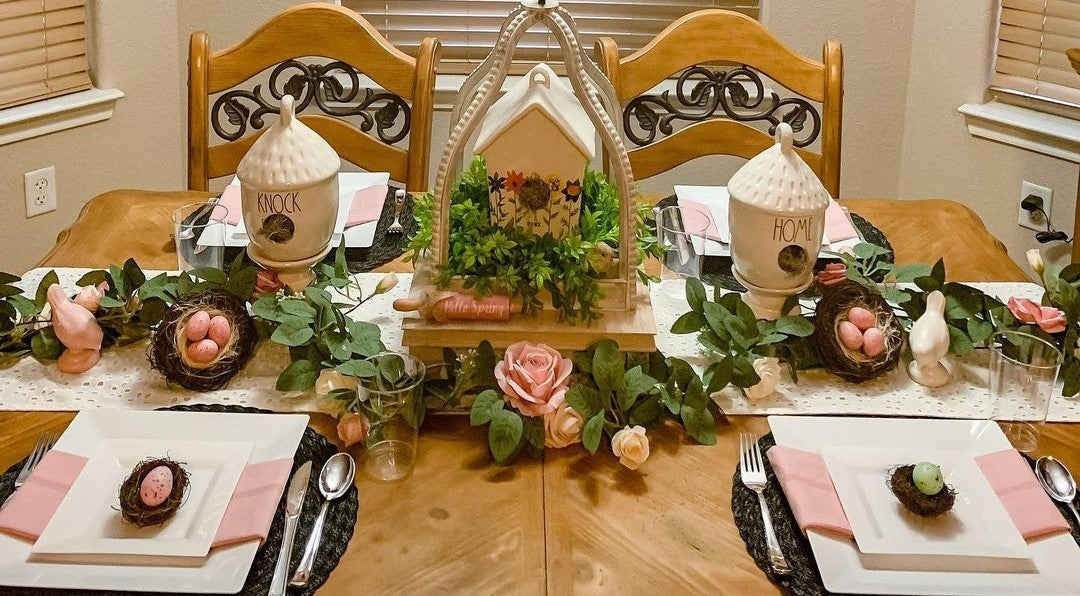 Springtime Charm: Craft the Perfect Tablescape for Any Occasion
Spring is a season that effortlessly brings beauty and charm to our surroundings, and what better way to celebrate its arrival than by crafting the perfect tablescape for any occasion? Whether hosting a spring brunch, Easter gathering, or a delightful Mother's Day celebration, a well-designed tablescape can set the stage for an unforgettable event. With delicate pastel hues, fresh blooms, and whimsical elements, you can create a captivating ambiance that embodies the essence of spring. 
In this blog post, we will explore the art of tablescaping and guide you through designing a charming and elegant tablescape that will leave your guests in awe. So let's dive in and unlock the secrets to crafting the perfect tablescape that will infuse any occasion with springtime charm.
Centerpiece Ideas
A beautifully crafted centerpiece is the focal point of your tablescape, captivating guests with its elegance and charm. Let's explore some delightful centerpiece ideas that will infuse your table with the essence of spring.
Lace Table Runners for an Elegant Touch
The ethereal beauty of white lace table runners brings a touch of sophistication and grace to any tablescape. Draped delicately across the table, the intricate patterns of lace create a visual feast for the eyes. The soft and romantic appeal of lace sets the stage for an enchanting dining experience, evoking the spirit of spring in a subtle yet captivating manner.
Delicate Pastel Roses and Greenery Add a Natural Element
No springtime tablescape is complete without the inclusion of fresh blooms and lush greenery. Delicate pastel roses in shades of blush pink, creamy white, or soft lavender instantly infuse the table with natural beauty. Combine them with sprigs of greenery like eucalyptus or ferns to create a visually appealing contrast and a touch of organic freshness. Arrange these floral elements in a low vase or scatter them artfully across the table for a charming, inviting centerpiece.
Porcelain Birds and Nests with Quail Eggs for a Whimsical Twist
Consider incorporating porcelain birds and nests with quail eggs to add a touch of whimsy and playfulness to your tablescape. These delightful accents evoke the imagery of a bird's nest nestled amidst blooming flowers, perfectly symbolizing spring's rebirth and renewal. The delicate details of porcelain birds, whether perched atop the centerpiece or nestled within the greenery, create an eye-catching focal point that sparks joy and curiosity among your guests.
Place Setting Essentials
Creating a visually appealing tablescape goes beyond just the centerpiece. Paying attention to the place settings is crucial in crafting the perfect table for any occasion. So let's explore some essential elements that will elevate your place settings and add a touch of springtime charm.
White Plastic Dinnerware Sets for a Clean and Sophisticated Look
When selecting dinnerware, opt for white plastic dinnerware sets that mimic the elegance of traditional porcelain. These sets offer a clean and polished appearance while being practical for outdoor gatherings or events where delicate dishes may not be suitable. In addition, the crisp white color serves as a versatile canvas for showcasing your culinary creations and complements the springtime theme with its fresh and airy aesthetic.
Plastic Tumblers that Mimic the Elegance of Glassware
While glassware adds an undeniable elegance to a table, using plastic tumblers can be a practical alternative without sacrificing style. Look for tumblers with intricate designs or a textured finish that mimics the look of delicate glassware. This choice allows for worry-free celebrations, especially outdoors, while maintaining a refined and sophisticated atmosphere.
Opting for Disposable Silverware for Convenience Without Compromising Style 
Disposable silverware has come a long way in terms of design and quality. Choose disposable silverware sets with a sleek and metallic finish, giving them the appearance of real silverware. These sets offer the convenience of easy cleanup while still exuding an air of elegance. Your guests will appreciate the attention to detail and the hassle-free experience.
Adding a Pop of Color with Pink Napkins 
Adding a pop of color to your place settings can enliven the overall look of the tablescape. Incorporate pink napkins, a quintessential springtime hue, to infuse a vibrant and cheerful touch. Fold the napkins in a creative design or tie them with a ribbon in a bow or a simple knot for an added decorative element. The paper napkins are both a practical tool and a decorative accent, bringing a delightful burst of color to the table.
Bringing it All Together
Now that you have curated a stunning centerpiece and set up the essential place settings, it's time to bring all the elements together to create a cohesive and captivating tablescape. Paying attention to the arrangement and balance of the various components will ensure a harmonious and visually appealing table for any occasion. So let's explore some key steps in bringing it all together.
Arranging the Centerpiece as the Focal Point of the Table 
The centerpiece should take center stage and become the focal point of your tablescape. Place it in the middle of the table, aligning it with the length or width, depending on the shape of your table. Consider the height and proportions of the centerpiece to ensure it doesn't obstruct the view or conversations across the table. Arrange the delicate pastel roses, greenery, and porcelain birds and nests with quail eggs artfully, creating a visually pleasing composition that draws the eye.
Placing the Place Settings in a Coordinated Manner
Arrange the place settings around the centerpiece in a coordinated and symmetrical manner. Ensure each set is evenly spaced and aligned, creating a sense of order and balance. Pay attention to the placement of the plastic dinnerware sets, plastic tumblers, and disposable silverware, ensuring they are easily accessible to guests. Aim for a consistent and visually appealing arrangement that complements the overall aesthetic of the tablescape.
Incorporating Additional Decorative Elements
Consider incorporating additional decorative elements to add depth and dimension to your tablescape. Tea lights placed strategically around the centerpiece create a warm and inviting ambiance, especially for evening events. Small vases with fresh flowers or sprigs of greenery scattered along the table can enhance the natural and organic feel of the springtime theme. These additional accents contribute to the overall charm of the table and create a multi-layered visual experience for your guests.
Balancing the Color Scheme and Ensuring a Harmonious Look 
As you bring together the centerpiece, place settings, and decorative elements, it's essential to consider the color scheme and ensure a harmonious look. For example, consider the colors of delicate pastel roses, greenery, disposable dinnerware sets, and napkins. Aim for a balanced distribution of colors throughout the tablescape, avoiding overwhelming or clashing combinations. Create a sense of cohesion by repeating specific colors or elements, allowing them to flow seamlessly from the centerpiece to the place settings and another decor.
Occasion-specific Tips
Spring Brunch
Incorporate fresh fruit displays for a delightful spring brunch as a decorative and delicious treat. Arrange platters filled with colorful seasonal fruits such as berries, melons, and citrus. The vibrant hues will complement the overall springtime theme. Consider creating a captivating fruit centerpiece or stylishly arranging fruit skewers. Additionally, set up a mimosa bar with various fruit juices and sparkling wine, allowing guests to create refreshing and celebratory brunch cocktails.
Easter Gathering
An Easter gathering calls for playful and festive tabletop elements. Incorporate decorative eggs as a nod to the traditional Easter egg hunt. Use beautifully painted eggs in pastel colors, or even consider displaying a decorative ceramic or wooden egg collection. These can be arranged around the centerpiece or scattered throughout the table. Additionally, consider incorporating bunny-shaped placeholders for a whimsical touch. These can be created using paper or fabric and double as charming keepsakes for your guests.
Mother's Day Celebration 
A Mother's Day celebration is perfect for adding sentimental and personal touches to your tablescape. Consider placing unique photo frames at each table setting, displaying cherished moments with your mother or loved ones. You can also write handwritten notes or letters expressing gratitude and love, placing them under the napkins or next to the dinnerware. 
Crafting the perfect springtime tablescape for any occasion is all about embracing the charm and beauty of the season. So, let your creativity bloom and embrace the magic of spring as you craft the perfect tablescape for your next occasion.