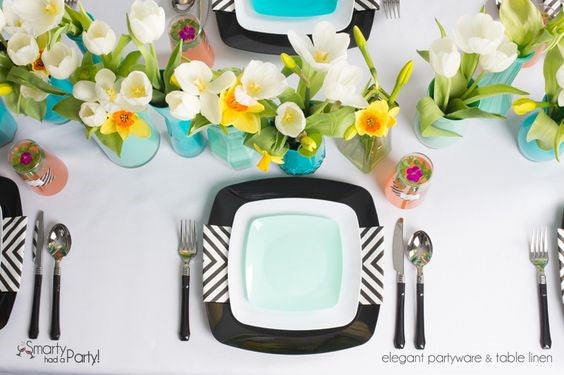 Setting the Stage: Inspiring Mother's Day Tablescape Ideas
Mother's Day is a special occasion that calls for heartfelt celebrations and expressions of love and gratitude. It's a time to honor and cherish the incredible women who have nurtured, supported, and loved us unconditionally. And what better way to show our appreciation than by creating a beautiful tablescape that sets the stage for a memorable and inspiring gathering?
Whether you're hosting an intimate brunch or a cozy family dinner, this blog post will provide the inspiration and ideas needed to create a tablescape that truly celebrates the extraordinary women in your life. So, let's dive in and discover the art of setting the stage for a Mother's Day celebration that will be remembered for years.
Incorporating Spring Blooms
Adding Elegance and Freshness
Incorporating spring blooms is an absolute must when creating a stunning Mother's Day tablescape. Flowers' vibrant colors and delicate fragrances breathe life into the space, creating an atmosphere of joy and beauty. To showcase these natural wonders, consider using various vases that hold the blooms and add elegance and sophistication to the table.
Clear Glass Vases:

 Classic and versatile, clear glass vases are timeless. They allow the flowers to take center stage, creating a seamless blend between the blooms and the tablescape. Experiment with different shapes and sizes to create visual interest and dimension.

Vintage-Inspired Vases: 

For a touch of nostalgia and charm, consider using vintage-inspired vases. These can range from delicate porcelain vases with intricate patterns to rustic mason jars with a rustic and whimsical vibe. Mixing and matching different vintage pieces adds character and a touch of personal style to your tablescape.

Modern and Minimalist Vessels: 

If you prefer a contemporary and sleek aesthetic, opt for modern vases with clean lines and minimalist designs. These vases can be made of ceramic, metal, or unconventional materials like concrete or marble. Their simplicity allows the focus to remain on the blooms while adding a sophisticated touch to the overall decor.
Choosing a Variety of Spring Flowers for a Vibrant Tablescape
When choosing the perfect spring flowers for your Mother's Day tablescape, think of blooms that evoke joy, beauty, and femininity. Consider incorporating a variety of flowers to create a visually stunning and vibrant arrangement. Here are a few popular spring flowers to consider:
Roses:

 Symbolizing love and gratitude, roses are a timeless choice for any occasion. Opt for soft pastel shades like blush pink, creamy white, or delicate peach to evoke a sense of elegance and femininity.

Tulips: 

Known for their graceful shape and vibrant colors, tulips bring a burst of energy and freshness to the table. Explore a range of hues, from bright and bold to soft and romantic, and mix them for a dynamic and eye-catching display.

Peonies: 

With their lush and full blooms, peonies are the epitome of beauty and grace. Available in various shades, from soft pinks to rich magentas, they add a touch of romance and luxury to your tablescape.

Ranunculus:

 Delicate and charming, ranunculus flowers feature layers of delicate petals in vibrant shades. Their intricate textures and vibrant colors make them a captivating choice for creating visually appealing arrangements.
Stylish and Convenient Dinnerware Options
Choosing dinnerware plays a significant role when setting a beautiful tablescape for Mother's Day. While traditional ceramic or porcelain tableware is undeniably elegant, plastic dinnerware offers a versatile and practical alternative that doesn't compromise style. Here's why plastic plates, disposable drinkware, and elegant disposable silverware sets are worth considering:
Lightweight and Durable:

 Plastic dinnerware sets are lightweight, making them easy to handle and transport. They are also highly durable, which means they can withstand accidental drops or bumps without the fear of breakage. This makes them ideal for outdoor gatherings or celebrations with children, where durability is critical.

Variety of Designs:

 Plastic dinnerware is available in various designs, colors, and patterns. From sophisticated and contemporary styles to fun and whimsical motifs, there is something to suit every aesthetic and theme. Mix and match different pieces to create a unique and personalized tablescape that reflects your taste and style.

Easy Cleanup: 

One of the significant advantages of plastic dinnerware sets is their convenience during cleanup. Unlike traditional dinnerware, which requires handwashing and careful handling, plastic dinnerware can be easily cleaned in the dishwasher or disposed of. This lets you enjoy the celebration with your loved ones more than worrying about post-meal cleanup.
Elevating the Look with Decorative Touches
Adding a Touch of Elegance with Plastic Tablecloths in Complementary Colors
Consider incorporating plastic tablecloths in complementary colors to create a cohesive and polished look for your Mother's Day tablescape. Plastic tablecloths protect your table from spills and stains and provide a beautiful foundation for the rest of the decor. Here's how you can add a touch of elegance with plastic tablecloths:
Choose Complementary Colors: 

Select tablecloths in colors that harmonize with your chosen floral arrangements and overall color scheme. Opt for neutral tones like ivory, white, or soft gray for a classic and sophisticated look. If you want to infuse the table with a vibrant and festive feel, consider using bold and contrasting colors that complement your floral centerpiece.

Layering and Textures: 

Create visual interest by layering different tablecloths or using table runners in contrasting textures. For example, you can place a sheer organza overlay over a solid-colored tablecloth or a lace table runner to add a touch of elegance. These subtle details can elevate the look of your tablescape and add depth to the overall design.

Wrinkle-Free Options:

 Look for wrinkle-free plastic tablecloths that look smooth and polished. Wrinkles can detract from the overall aesthetic, so choosing high-quality tablecloths will ensure a crisp and clean look for your Mother's Day celebration.
Enhancing the Tablescape with Patterned Paper Napkins and Creative Folding Techniques
Patterned paper napkins are a simple yet effective way to enhance the visual appeal of your Mother's Day tablescape. With various designs available, you can choose patterns that match your desired theme or add a pop of color to the table. Additionally, incorporating creative folding techniques adds an extra touch of sophistication. Here's how you can enhance your tablescape with patterned paper napkins:
Coordinating Patterns:

 Select paper napkins with patterns that complement your tablescape's overall color scheme and aesthetic. Floral designs, delicate prints, or even solid-colored napkins can all work well, depending on your desired look. Ensure that the patterns coordinate with the rest of the table decor for a cohesive and harmonious appearance.

Creative Folding Techniques:

 Experiment with different folding techniques to showcase the beauty of paper napkins. Explore options like the fan fold, pocket fold, or intricate origami-inspired folds. These techniques add visual interest and provide functional pockets for utensils or small decorative elements like fresh herbs or personalized place cards.

Mix and Match:

 Mix and match different napkin patterns and colors to create an eclectic and visually captivating tablescape. Combine complementary patterns or alternate between solid-colored napkins and patterned ones to create a dynamic and lively table design.
Showcasing Stemless Plastic Wine Glasses for Mimosas with Personalized Stickers
No Mother's Day celebration is complete without a toast to the incredible moms in our lives. Elevate the experience by showcasing stemless plastic wine glasses for mimosas with personalized stickers. These glasses add a touch of elegance and serve as a sentimental reminder of your love and appreciation. Here's how you can incorporate them into your tablescape:
Stemless Elegance:

 Stemless wine glasses are a modern and chic alternative to traditional stemmed glasses. They are practical and less likely to tip over, making them ideal for a relaxed and enjoyable brunch or dinner. Opt for clear plastic glasses to mimic the look of real glassware and allow the vibrant colors of the mimosas to shine through.

Personalized Stickers:

 Add a heartfelt touch by applying customized stickers to the stemless wine glasses. For example, you could write ''If Mom Were Flowers, I'd Pick You''. This short phrase expresses your admiration and adds a sentimental touch to the table setting.
May your Mother's Day celebration be filled with laughter, love, and cherished memories around a beautifully arranged table. Cheers to all the incredible mothers who inspire and nurture us every day!