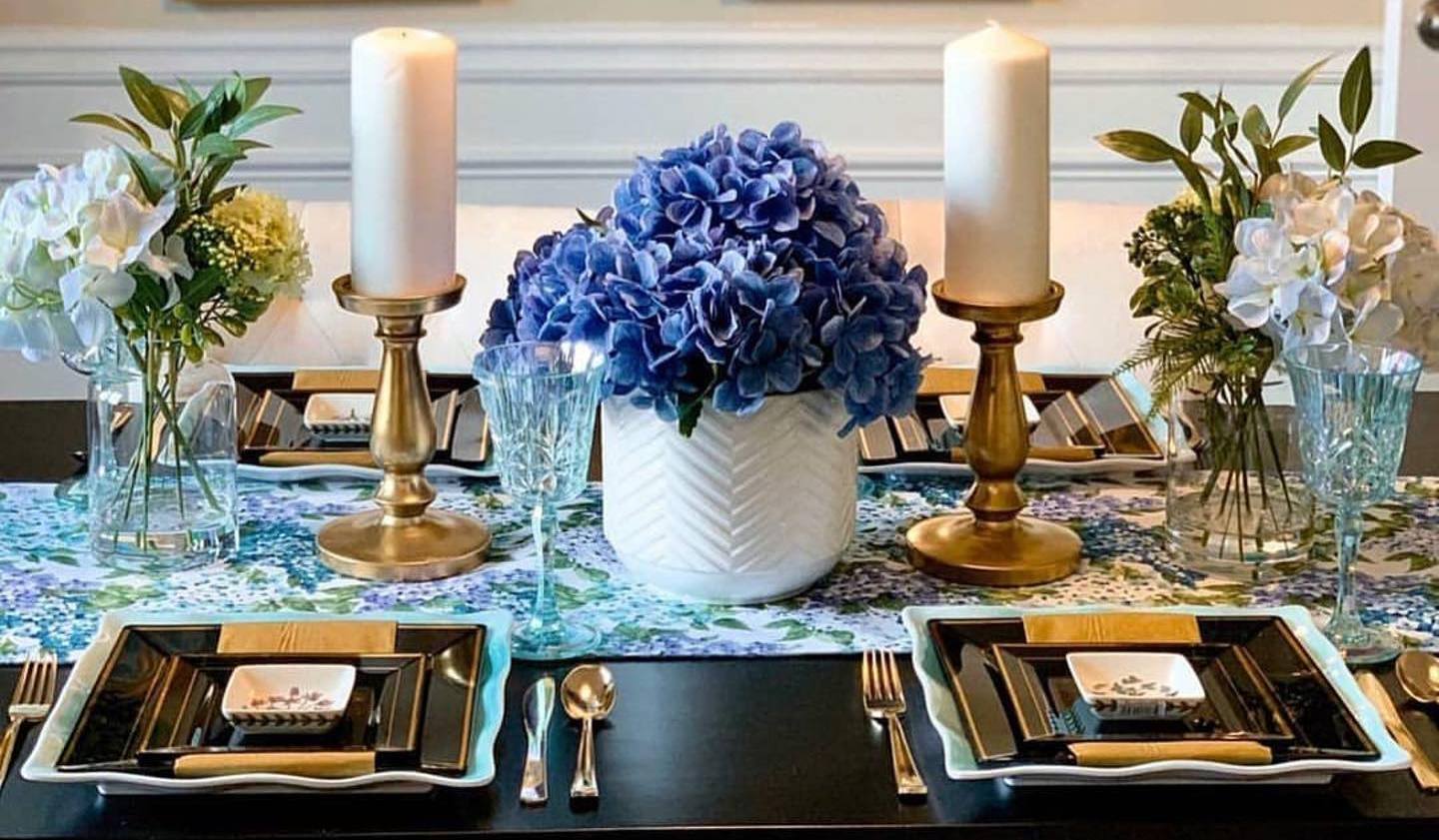 How to Set a Spring Floral Tablescape?
Spring is in the air, and what better way to welcome the new season than with a beautiful and inviting tablescape? A tablescape is more than just a simple table setting; it's a creative arrangement of tableware, decorations, and centerpieces that adds style and personality to any dining experience. And what better way to set a tablescape for spring than with a gorgeous floral theme? With an abundance of colorful blooms and natural textures, a spring floral tablescape can add warmth, freshness, and a touch of elegance to any meal. In this post, we'll show you how to create a stunning spring floral tablescape, from choosing the suitable color scheme and flowers to selecting the perfect tableware and decorations. So let's get started and bring the beauty of spring indoors with a gorgeous tablescape that will impress your guests and make your meals even more special.
Choosing a Color Scheme 
Choosing a suitable color scheme is vital when setting a spring floral tablescape. Spring is all about freshness, vibrancy, and new beginnings, so your color choices should reflect these themes. Here are some tips for selecting a color scheme that will set the perfect tone for your tablescape:
Look to nature for inspiration: 

Take a cue from the natural world and choose colors that reflect the season's blooms. Soft pinks, yellows, and greens are classic choices, while bolder shades like coral, lavender, and turquoise can add a modern twist.

Consider your room's decor: 

When choosing your color scheme, think about how it will work with the rest of your room's decor. If your space has a neutral palette, you can add pops of color to your tablescape. If you have bold colors in your room, consider using more muted tones in your tablescape to balance things out.

Feel free to mix and match: 

A successful tablescape often involves layering different colors and textures. Mix and match patterns, textures, and shades to create a visually exciting tablescape. Just make sure that your choices work well together and don't clash.

Choose a focal point:

 If you're having trouble deciding on a color scheme, consider choosing a focal point for your tablescape. This could be a floral statement arrangement, a brightly colored table runner, or bold napkins. Once you've chosen your focal point, you can build your color scheme.
Some popular color schemes for a spring floral tablescape include:
Soft pastels:

 Think pale pink, baby blue, and mint green. This color scheme works well with delicate floral arrangements and vintage-inspired tableware.

Bold and bright:

 For a more modern spring tablescape, consider using bold shades like coral, fuchsia, and tangerine. This color scheme pairs well with contemporary tableware and minimalist decor.

Natural and earthy:

 If you prefer a more organic look, consider using natural tones like beige, taupe, and olive green. This color scheme works well with the rustic or bohemian-inspired decor.
Choosing the Right Flowers 
Choosing the right flowers is essential to creating a beautiful and cohesive spring floral tablescape. Here are some tips to help you choose the perfect blooms for your tablescape:
Consider popular spring flowers:

 Spring is the season of blooming flowers, and plenty of options exist. Some popular spring flowers to use in a tablescape include tulips, daffodils, cherry blossoms, hyacinths, and lilacs.

Match the flowers to the color scheme:

 When selecting flowers for your tablescape, consider how they complement your chosen color scheme. If you've opted for a pastel color scheme, consider using light pink and white tulips or yellow daffodils. Try using vibrant orange and pink ranunculus or blue delphinium for a bold and bright color scheme.

Mix and match textures: 

Feel free to mix and match different types of flowers and foliage to create visual interest. Consider using a variety of textures, such as fluffy peonies, spiky thistles, and delicate baby breath.

Keep the scale in mind:

 When selecting flowers, consider the size and the scale of your table elements. A large, elaborate floral arrangement might overwhelm a small table, while a small bouquet might get lost on a large table. Consider using a mix of different-sized arrangements to add depth and interest.

Arrange the flowers carefully:

 Once you've chosen them, it's time to arrange them. Start with a focal point, such as a large centerpiece or a bouquet of flowers in the center of the table. Then, add smaller arrangements or single blooms in vases throughout the table. Aim for a balanced look, with flowers arranged at different heights and angles.
Selecting the Right Tableware and Decorations 
Once you have your color scheme and floral arrangements in mind, it's time to choose the right tableware and decorations to complete the look of your spring floral tablescape. Here are some tips to help you select the perfect dinnerware and decorations:
Choose tableware that complements the floral theme:

 If you opt for 

disposable plastic tableware

, look for 

plastic plates, disposable cups

, and 

utensils 

that feature floral designs or pastel colors that complement your color scheme. Alternatively, you could choose 

clear plastic tableware

 to let the floral arrangements take center stage.

Incorporate spring decorations:

 Spring is a time of renewal, so consider incorporating decorations that reflect that theme. You could add a vase of fresh herbs or greenery to the table or scatter small flower petals around the centerpieces. Bird nests, birdhouses, and butterflies are popular spring decorations that add a whimsical touch to your tablescape.

Play with textures and patterns:

 Consider using different textures and patterns to add interest to your tablescape. For example, you could use a burlap table runner to add a rustic touch or a lace tablecloth to add a delicate touch. Likewise, mix and match different patterns, such as 

floral plastic plates

 and 

striped paper napkins

, to add visual interest.

Keep it balanced: 

Aim for a balanced look when choosing tableware and decorations. Avoid overcrowding the table with too many decorations or using tableware that clashes with the color scheme. Instead, choose a few key pieces that complement the floral arrangements and add to the overall ambiance of the tablescape.
Setting the Table 
Setting the table is the final step in creating your spring floral tablescape. Here are some tips to help you create a beautiful and cohesive look:
Step-by-step instructions: 

Start by laying down your 

disposable tablecloth

 or table runner. Place your centerpiece in the center of the table, and add smaller arrangements or single blooms in vases throughout the table. Next, place your tableware, including plates, utensils, and glasses, in its proper places. Add decorations like place cards or candles to complete the look.

Create a cohesive look:

 Aim for symmetry and balance to create a coherent look. Place your centerpiece in the center of the table, and use smaller arrangements or decorations to create a balanced look on either side. Use the same color scheme and floral arrangements throughout the table to create a cohesive look.

Incorporate special touches:

 To add a personal touch to your tablescape, consider incorporating special touches such as place cards or candles. For example, use a calligraphy pen to write your guests' names on decorative cards or create DIY candles using flower petals and essential oils.

Remember the lighting:

 Lighting can play a significant role in creating the ambiance of your spring floral tablescape. Consider using string lights or candles to create a warm and inviting atmosphere. Avoid using bright overhead lighting, which can detract from the beauty of your floral arrangements.
Setting a spring floral tablescape is a beautiful way to bring the season's beauty to your dining table. With a little bit of creativity and attention to detail, you can create a stunning spring floral tablescape that will be the highlight of any spring gathering. So why not give it a try and create your own beautiful spring floral tablescape? Your guests will appreciate the effort and love the lovely and welcoming atmosphere you've made. Happy table setting!