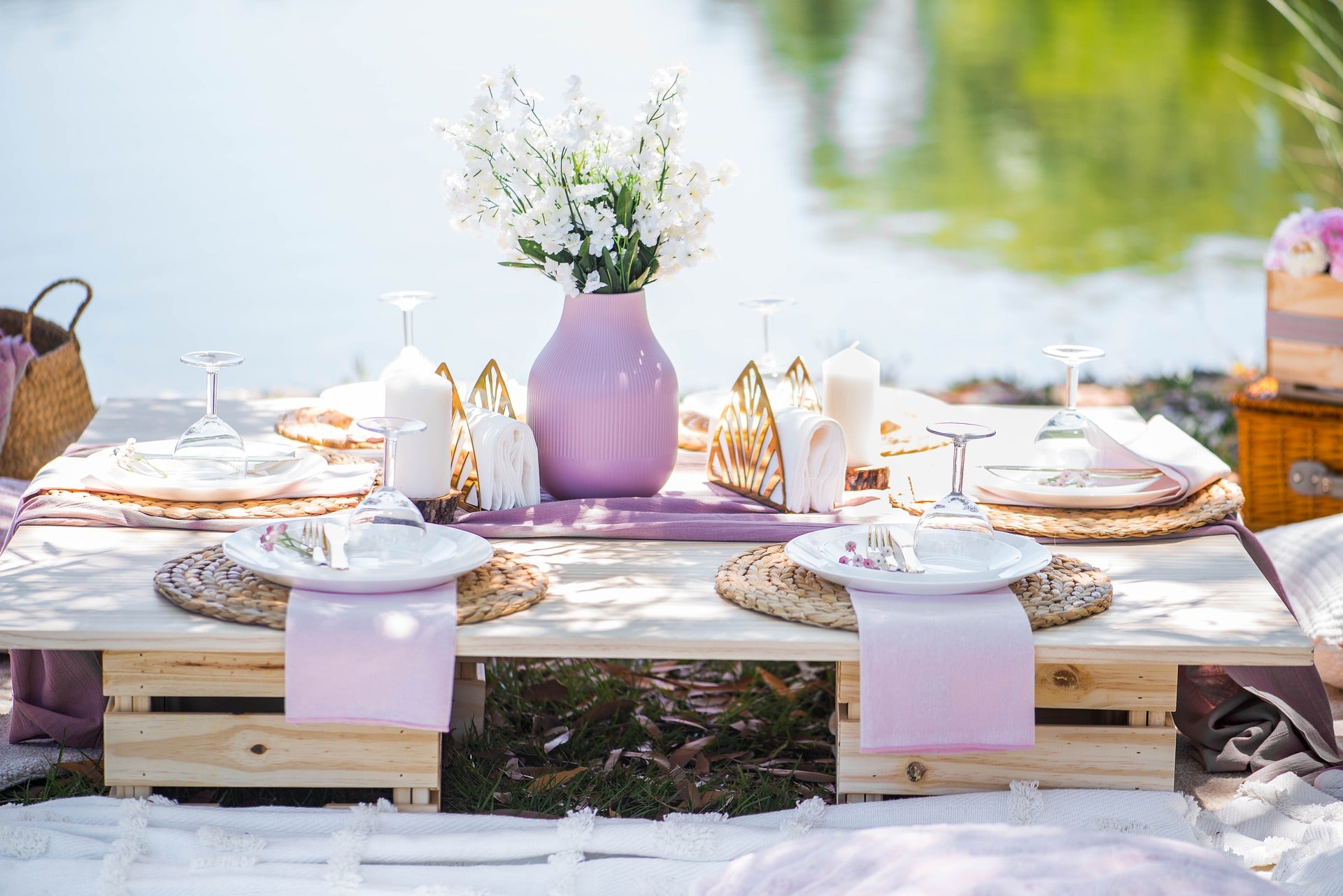 From Blanket to Basket: Creating a Dreamy Spring Picnic Setup
As the weather warms up and the flowers bloom, it's the perfect time to head outdoors for a spring picnic. With the proper setup, a picnic can be an idyllic experience, offering a chance to relax, connect with loved ones, and enjoy delicious food outdoors. In this blog post, we'll discuss how to create a dreamy spring picnic setup that will make you feel like you're in a scene straight out of a movie. In addition, we'll cover essential supplies, tips for choosing the perfect picnic spot, and ideas for decorating your picnic area. So, whether planning a romantic date, a family outing, or a fun gathering with friends, keep reading to learn how to take your spring picnic to the next level.
Choose the Perfect Picnic Spot 
When choosing the perfect picnic spot, there are several factors to consider to ensure a comfortable and enjoyable experience. Here are some tips to keep in mind:
Accessibility: 

Choose a location that is easily accessible, especially if you're planning on bringing a lot of supplies. Consider the distance you'll need to walk from your car to the picnic area and whether the terrain is suitable for carrying items like picnic baskets and coolers.

Weather Conditions:

 Keep an eye on the weather forecast and choose a location that is suitable for the conditions. If it is a hot day, look for a spot with shade; if there's a chance of rain, consider a location with shelter or bring an umbrella.

Amenities:

 Check if the location has restrooms, picnic tables, grills, or trash cans. Having these facilities nearby can make your picnic experience more convenient and enjoyable.

Scenery:

 The setting of your picnic can be just as important as the food and company. Choose a spot with beautiful scenery, such as a park with a lake or a hilltop with a scenic view. This will create a dreamy atmosphere and provide a stunning backdrop for photos.

Noise Level:

 Consider the noise level of the location. Look for a peaceful and quiet spot away from busy roads or noisy crowds.
Choosing the perfect picnic spot is the first step to creating a dreamy picnic setup. Remember these tips, and you'll find a comfortable and picturesque location to make your picnic successful.
Essential Picnic Supplies 
Having the right supplies is essential to create a dreamy spring picnic setup. Here's a list of some essential picnic supplies:
Picnic blanket or mat:

 A comfortable and sturdy picnic blanket or mat is necessary for a successful setup.

Picnic basket or cooler: 

Depending on the type of food and drinks you're bringing, you'll need a suitable picnic basket or cooler to keep everything fresh and organized.

Disposable bowls and plates: 

Disposable bowls

 and 

plastic plates

 are an excellent option for picnics because they are lightweight, easy to transport, and require minimal cleanup.

Plastic serving ware: 

Plastic serving ware

, such as 

trays, serving utensils

, and 

serving bowls

, are lightweight and durable, making them perfect for outdoor picnics.

Plastic cups: 

Disposable plastic cups

 are an excellent option for serving drinks as they are lightweight, won't break easily, and can be recycled.

Disposable flatware:

 

Disposable flatware

 is a convenient option for picnics, as it eliminates the need to wash and dry traditional silverware.
Having the right supplies is essential for creating a dreamy spring picnic setup. And using disposable party supplies is an excellent option for a picnic. They are easy to transport, require minimal cleanup, and allow you to focus on enjoying your picnic rather than worrying about washing up. Plus, they come in various fun and colorful designs that can add to the overall picnic setup.
Picnic Blanket or Mat 
A picnic blanket or mat is an essential part of any picnic setup. It provides a comfortable seating area and serves as a base for your picnic setup. Here are some tips for choosing the right picnic blanket or mat:
Size:

 Consider the size of the blanket or mat you need based on the number of people attending the picnic. A larger group will require a bigger blanket or mat.

Material:

 Choose a sturdy, water-resistant material, and easy to clean. Cotton or wool blankets are great options as they are comfortable and durable.

Design:

 Look for a design that fits your aesthetic and adds to the overall ambiance of your picnic setup. Choose from a variety of colors and patterns to match your style.

Portability

: Choose a blanket or mat that is easy to carry and transport. A lightweight and foldable option is ideal for a picnic.

Durability:

 Consider the durability of the blanket or mat. Choose a material that can withstand the wear and tear of outdoor use.
When selecting a picnic blanket or mat, consider the factors listed above to ensure you choose a suitable option. A comfortable and sturdy seating area is essential for a successful picnic setup, so don't overlook the importance of choosing the right blanket or mat.
Creating a Dreamy Picnic Setup 
Now that you have selected the perfect picnic spot gathered essential supplies, and chosen the right blanket or mat, it's time to create a dreamy picnic setup. Here are some steps to follow:
Set up your picnic blanket or mat in a picturesque location with a scenic backdrop.

Arrange your supplies and food items in an aesthetically pleasing manner. For example, use disposable bowls, plates, cups, and flatware to create a beautiful table setting.

Add some decorative touches to your picnic area. Consider bringing a vase of fresh flowers, hanging lanterns, or using colorful tablecloths or napkins.

Personalize your picnic setup by adding some personal touches. For example, bring a playlist of your favorite songs, games, or activities you enjoy, or incorporate some personal mementos or decorations.
By following these steps and adding personal touches to your picnic setup, you can create a dreamy and memorable picnic experience.
A spring picnic is a perfect way to enjoy the beautiful weather, spend quality time with loved ones, and create unforgettable memories. With the right location, essential supplies, and a dreamy picnic setup, you can elevate your outdoor experience and make it truly special. So, grab your blanket, pack your basket, and head out for a dreamy spring picnic. With creativity and preparation, you can make your picnic setup one you'll never forget. Enjoy the beauty of nature, savor delicious food and drinks, and make lasting memories with those who matter most to you.