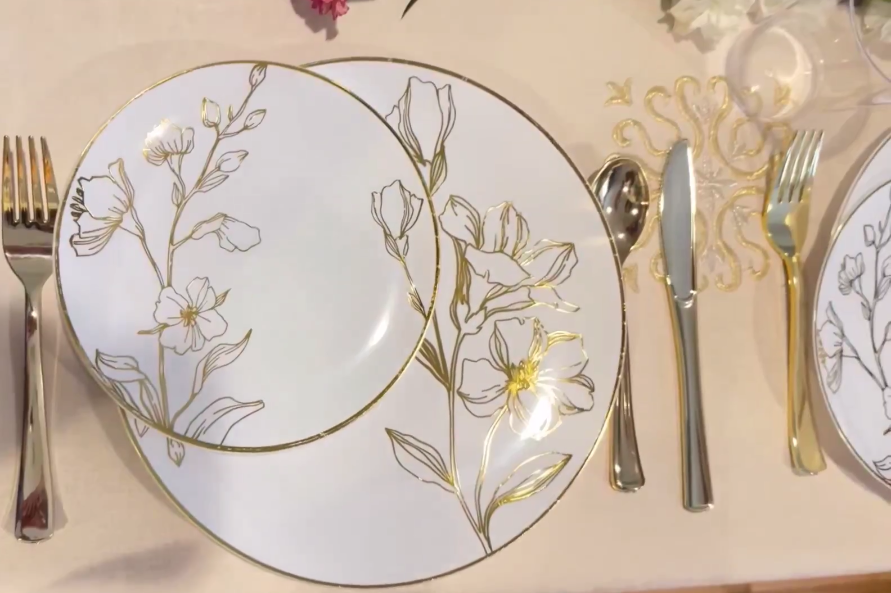 Chic and Unique: Elevate Your Dining Experience with Gorgeous Table Decor
Welcome to the world of elevated dining, where every meal becomes a masterpiece, and every gathering is a celebration of style. In our latest blog post, we invite you on a journey to transform your dining space into a haven of sophistication and charm. Gone are mundane table settings; it's time to embrace the extraordinary.
Tablescapes that Sparkle: A Guide to Dining in Glamorous Style
Create a unique dining experience with our guide to aesthetics and ambiance. Discover how to curate a setting that reflects your style and elevates the atmosphere of your home. Our tips on chic and distinctive table decor will inspire you to add personality to every detail. Join us as we unlock the potential of your dining space, turning it into a canvas for culinary delights and visual splendor. Welcome to a world where dining becomes an art.
Elegant Essentials
Luxurious Tablecloths: Choosing the Perfect Fabric and Color
Elevating your dining experience begins with the foundation – the party tablecloth. Opting for a luxurious tablecloth can instantly transform the ambiance of your dining space. When selecting the perfect fabric, consider the mood you want to create. Satin and silk exude opulence, making a sense of formality and sophistication. For a more relaxed yet elegant atmosphere, linen or plastic tablecloths can provide a textured and inviting feel.
Color plays a crucial role in setting the tone for your dining experience. Neutral tones like ivory and champagne offer timeless elegance, while bold colors such as deep navy or burgundy can make a striking statement. Don't shy away from experimenting with patterns or opting for a subtle sheen to add a touch of glamour. The key is to harmonize the tablecloth with the overall theme and color scheme to create a cohesive and visually appealing tableau.
Fresh Flowers as Centerpiece: Nature's Touch to Glamour
Bring the beauty of the outdoors to your dining table by incorporating fresh flowers as a centerpiece. Nothing adds a touch of glamour quite like the natural vibrancy of blooms. Consider the season when selecting your flowers – tulips and daffodils for spring, sunflowers for summer, rich-hued dahlias for fall, and elegant amaryllis for winter.
To create a stunning centerpiece, play with varying heights and textures. Place flowers in a mix of vases or go for a single, grand arrangement. Consider incorporating foliage for added depth and visual interest. Fresh flowers not only bring nature's touch to your table but also infuse a delightful fragrance into the air, enhancing the overall dining experience.
Place Setting Perfection
Fancy Plastic Dinnerware Set: Beauty in Simplicity
Transform your dining experience with the ideal fusion of beauty and simplicity - a fancy plastic dinnerware set by Smarty Had A Party that seamlessly blends convenience with elegance. This set is a testament to how disposable dinnerware can exude sophistication. You'll be transported to the realm of classy plastic dinnerware that rivals the beauty of traditional sets. From delightful plates to chic bowls, disposables can now redefine dining etiquette. A breathtaking table setting can be both practical and visually alluring, elevating your dining experience to a whole new level.
Shining Bright: Disposable Silverware for Effortless Elegance
The beauty of a table setting is incomplete without exquisite silverware that adds a touch of timeless elegance. But the process of polishing silverware can be a daunting task. Here is a solution to achieve the same brilliance without any hassle. Our collection of disposable silverware is designed to maintain the sophistication and glam factor you desire. The intricate detailing and exquisite design of our silverware make it a perfect choice for any occasion. Our silverware is not only practical but also a symbol of luxury. Say goodbye to the tedious task of polishing and embrace the convenience of disposable silverware that adds a touch of glam to your table setting.
Sipping in Style: Disposable Party Cups for Convenience and Class
Get ready to add a touch of sophistication to your next party or special occasion with Smarty Had A Party's collection of disposable party cups. These cups are designed to make your drinks stand out, offering a perfect blend of convenience and elegance. Choose from a wide range of options, including crystal-clear tumblers and cups with unique and stylish designs, to elevate your beverage service to the next level. Whether it's a wedding reception or a cozy family gathering, these cups will impress your guests and make every sip a moment of sheer refinement. Smarty Had A Party proves that disposable doesn't have to mean dull or lackluster. Try them out and see how they redefine the art of sipping in style.
Touch of Luxury: Disposable Linen Napkins for Easy Elegance
Imagine hosting a dinner party where every detail is thoughtfully planned out. The candles are lit, the silverware shines, and the plates are arranged. But something still feels missing. That's where the napkins come in. They may seem like a small detail, but they can truly make or break the overall aesthetic of your table setting. 
Enter disposable linen napkins - the perfect solution for those seeking luxury without the added hassle of laundry. With various styles and folds available, you can quickly achieve a refined and sophisticated look for your table. From classic and elegant to playful and whimsical, there's a style for every occasion. 
No more worrying about stains or washing piles of napkins after your dinner party. Disposable napkins offer an easy and stress-free solution that still achieves a high level of elegance. So say goodbye to laundry woes and hello to effortless elegance with disposable linen napkins.
Creating the Ultimate Tablescape
Harmonizing Elements: Coordinating Colors and Themes
When transforming your dining experience into a visual feast, harmonizing elements is the key to success. Begin by selecting a color palette that complements your existing décor and sets your desired mood. Earthy tones like rich browns and deep greens can create a cozy, intimate atmosphere, while vibrant blues and whites evoke a fresh, airy feel. Coordinate your tablecloth, napkins, and dinnerware to create a cohesive look that appeals to the senses.
Consider incorporating a theme into your tablescape to add a touch of personality. Whether it's a seasonal motif, a cultural celebration, or a nod to a favorite hobby, a well-chosen theme can elevate your dining experience. For example, a beach-themed table might feature seashell-shaped plates, turquoise accents, and a centerpiece of driftwood and candles. Remember, the key is to strike a balance – aim for a theme that enhances, rather than overwhelms, the overall aesthetic.
Lighting Magic: Candlelight and Ambiance
The proper lighting can transform an ordinary meal into a captivating dining experience. Embrace the magic of candlelight to create a warm and inviting atmosphere. Place candles of varying heights along the center of the table or arrange them in elegant candle holders. Consider scented candles to add an extra layer of sensory delight. The flickering flames will not only cast a soft, flattering glow but also infuse your dining space with a touch of romance.
To enhance the overall ambiance, incorporate string or fairy lights into your tablescape. Drape them along the edges or weave them through the centerpiece for a whimsical touch. The subtle illumination will add a magical quality to your dining area, making every meal a special occasion.
Personalization: Adding Your Unique Touch to the Table
Make your dining experience truly one-of-a-kind by infusing your personality into the table decor. Start with personalized place settings – consider custom name cards or small trinkets that reflect the interests of each guest. Add a personal touch to the centerpiece by incorporating elements that hold sentimental value, such as family heirlooms, cherished souvenirs, or handmade crafts.
Experiment with unconventional elements to make a bold statement. Instead of traditional vases, use vintage teacups or mason jars as charming containers for your floral arrangements. Integrate unexpected textures, like burlap or lace, into your table settings for a tactile and visually attractive effect.
Frequently Asked Questions (FAQ)
1. Are disposable dinnerware sets really as elegant as traditional ones?
Absolutely! New advancements in design and materials have revolutionized disposable dinnerware. High-quality plastic and eco-friendly materials mimic traditional dinnerware's elegance without compromising style. Look for sleek, patterned sets in various colors to suit any occasion. Refine your table's aesthetic appeal with chic, disposable dinnerware that makes cleanup a breeze.
2. What are some tips for arranging fresh flowers as a stunning centerpiece?
Arranging fresh flowers can enhance your table decor. Select flowers that complement your theme. Mix textures and heights, and use different vases or containers. Try seasonal blooms or a monochromatic arrangement. Experiment and trim stems to varying lengths for a natural look.
3. What makes Smarty Had A Party's plastic dinnerware stand out?
Smarty Had A Party offers high-quality disposable dinnerware with contemporary designs and patterns that rival traditional tableware. Their attention to detail and premium plastic material make their products both durable and stylish, making them an excellent choice for those who want both convenience and sophistication in their table decor.
4. Can disposable silverware match the quality of traditional silverware?
Nowadays, disposable silverware sets are crafted with precision to resemble the elegance of traditional silverware. Look for high-quality options made from heavy-weight plastic. They mimic the weight and feel of real silverware without requiring extensive cleanup. Find a wide range of styles and designs to enhance your dining experience.
Cheers to the art of dining, beautifully and uniquely yours!