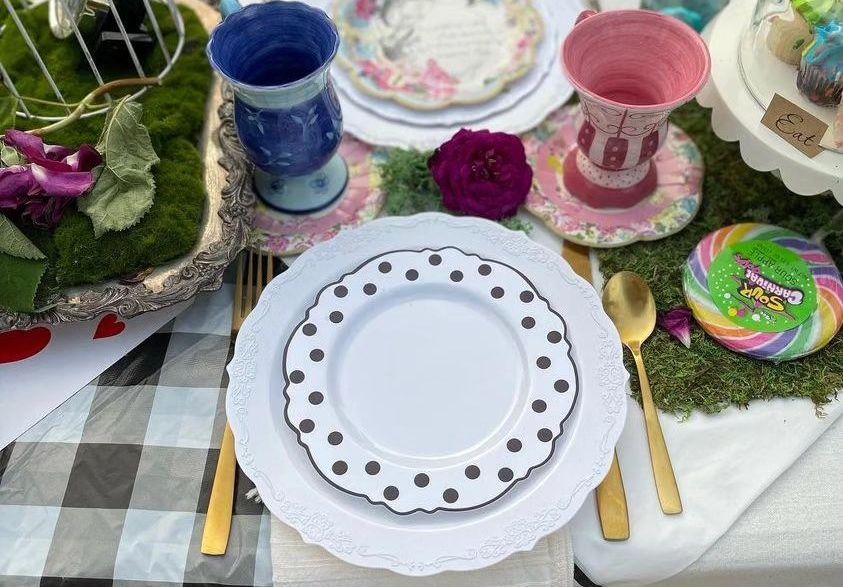 A Whimsical Wonderland: Hosting Alice in Wonderland Themed Party
Welcome to a world where curiosity reigns, and imagination knows no bounds – a world where tea parties are hosted by the Mad Hatter, rabbits wear waistcoats, and reality intertwines with whimsy. It's a place where playing cards come to life, and the impossible becomes a reality. Step into Wonderland's enchanting realm, which has captivated hearts for generations with its timeless charm and eccentric characters.
Stepping into Fantasy: How to Throw an Unforgettable Alice in Wonderland Party?
Are you ready to embark on an extraordinary journey? If you've ever dreamed of hosting a party that defies ordinary conventions and transports your guests to a fantasy world, you're in for a treat. In this blog post, we're diving headfirst into the enchanting world of "Alice in Wonderland" to guide you through hosting the perfect themed party.
So, gather your imagination, put on your most whimsical hat, and join us as we explore the intricate details and creative touches that will transform your ordinary gathering into an extraordinary adventure. Get ready to fall down the rabbit hole because the journey to hosting the most delightful and charming Alice in Wonderland-themed party is about to begin!
Invitations and Arrival
Designing Whimsical Invitations that Mirror the Wonder of Wonderland
The journey to your extraordinary Wonderland party starts with the invitations. These invitees offer the first peek into the whimsical world you're creating. Craft them to capture Lewis Carroll's enchanting tale. Incorporate illustrations like Tenniel's, featuring scenes from the Mad Hatter's tea party or Alice's meeting with the Cheshire Cat. Opt for a font resembling the story's original handwritten style. Let creativity run wild as you design invitations mirroring Wonderland's wonder and mystery. Remember to include party details: date, time, location, and dress code if needed.
Welcoming Guests with a "Down the Rabbit Hole" Entrance Experience
Create a memorable party entrance inspired by "Alice in Wonderland." Make a "Down the Rabbit Hole" tunnel with whimsical decorations to transport guests into your magical world. Consider an oversized rabbit hole entrance made from cardboard or fabric, with moss, fairy lights, and oversized playing cards for an immersive effect. Your guests will feel like anything is possible as they enter.
Incorporating Iconic Quotes from the Book to Set the Tone
Incorporate quotes from "Alice in Wonderland" into your party décor for a whimsical touch. Use iconic lines like "Curiouser and curiouser" or "Eat Me" to spark conversations and remind guests of the enchanting story. Choose quotes that resonate with different aspects of the tale, from the Cheshire Cat's wisdom to the White Rabbit's musings.
Decorations Straight from Wonderland
Transforming Your Space into a Whimsical Wonderland
Create a magical Wonderland with vibrant colors and imaginative decorations. Use rich blues, playful purples, and lively greens as your color palette for a whimsical atmosphere.
Key Props from the Story as Captivating Décor Elements
Oversized Playing Cards and Pocket Watches:

 Create a whimsical atmosphere with oversized playing cards and hanging pocket watches. It will be like stepping into the Queen of Hearts' garden.

Hanging Teacups and Saucers:

 Hang teacups and saucers from the ceiling at varying heights to create a whimsical atmosphere for Mad Hatter's tea party.

"Eat Me" and "Drink Me" Tags on Various Items:

 Make your table decorations more playful by adding "Eat Me" and "Drink Me" tags like Alice encounters in her journey. Attach them to cakes, treats, and beverages for a more inviting display.

Giant Mushrooms and Fantastical Flora:

 Incorporate oversized mushrooms and fantastical flora for a surreal and captivating venue decor and photo backdrop.
Creating an Illusion of Size with Oversized and Undersized Furniture
To create a "Wonderland" ambiance, add oversized and undersized furniture. Imagine your guests sitting in tiny chairs or around a large table. Set up a miniature tea table as a centerpiece for added whimsy. The mismatched proportions will capture the fantastical feel of the story.
Tablescapes and Accessories
Blending the Classic Wonderland Aesthetic with Modern Convenience
As you curate your table settings, you must balance the timeless charm of "Alice in Wonderland" and the modern convenience that ensures your guests are comfortable and at ease. By seamlessly blending these elements, you'll create a cohesive atmosphere that's both magical and enjoyable.
Fancy Plastic Plates to Emulate Fine China Without the Fragility
Traditionally, elegant parties call for fine china, but transporting delicate dishes into the realm of Wonderland can be a recipe for disaster. Enter fancy plastic plates – the perfect solution to maintaining an air of sophistication without worrying about breakage. These plates can be adorned with intricate designs that echo the story's whimsical illustrations, giving your table a touch of elegance.
Modern Disposable Silverware: Practicality with an Elegant Look
In Wonderland, practicality often takes a back seat to whimsy, but convenience is a priority in reality. Modern disposable silverware strikes the perfect balance between the two. Opt for disposable silverware with intricate patterns that resemble their traditional counterparts. This way, you provide the necessary functionality while upholding the party's theme.
Plastic Dinnerware: Balancing Traditional and Contemporary
The juxtaposition of old-world charm and contemporary practicality can be seen in your choice of plastic dinnerware. While maintaining the classic aesthetic, plastic dinnerware is lightweight and durable, making it perfect for a lively party environment. Choose designs that capture the essence of the story – perhaps with characters or motifs that pay homage to Wonderland's whimsical inhabitants.
The Charm of Using Plastic Drinkware to Enhance the Theme
Drinking vessels play a pivotal role in "Alice in Wonderland,," especially given the emphasis on tea parties and magical concoctions. Elevate the theme with plastic drinkware that mirrors the essence of the story. Delight your guests with whimsical plastic tea cups for sipping tea just like Alice. Introduce plastic wine glasses for toasting in Mad Hatter style, and provide plastic tumblers for other beverages that cater to all tastes.
Delectable Delights
Crafting a Menu Inspired by the Eccentric Characters and Moments in the Story
Begin your culinary journey by drawing inspiration from the curious cast of characters that populate Wonderland. Think of dishes that reflect the personalities and quirks of the White Rabbit, the Cheshire Cat, and the Mad Hatter. Consider flavors and presentations as unexpected and delightful as the story itself.
Serving "Alice in Wonderland" Treats and Desserts
Miniature "Eat Me" Cakes and Treats:

 Embrace the whimsy of Wonderland by serving up miniature treats adorned with "Eat Me" tags. These bite-sized delights can include mini cupcakes, petit fours, and other dainty confections that beckon your guests to indulge.

Colorful "Drink Me" Beverages and Mocktails:

 No Wonderland-themed party would be complete without an array of bright and intriguing beverages. Create a "Drink Me" station with flavored syrups and mixes, allowing guests to customize their drinks. Offer vibrant mocktails that capture the essence of Wonderland's magical concoctions.

Mad Hatter's Tea Party Selection: A Variety of Teas and Infusions:

 Pay homage to the iconic Mad Hatter's tea party by offering a diverse selection of teas and infusions. Beyond the traditional black and green teas, include herbal blends, fruit infusions, and aromatic teas that awaken the senses.
Using Thematic Cake Toppers and Dessert Decorations
Elevate your sweet creations by adorning them with thematic cake toppers and dessert decorations. Consider using figurines of your favorite Wonderland characters or elements like pocket watches, teapots, and playing cards. These small touches will infuse your desserts with magic and tie them directly to the story.
Party Favors and Keepsakes
Sending Guests Home with Whimsical Party Favors
A whimsical party deserves equally whimsical party favors. Consider gifting your guests small treats that echo the story's motifs and themes. Miniature keychains in the shape of pocket watches or teapots, sets of playing cards, or even tiny bags of colorful candies labeled "Eat Me" are all delightful choices that evoke the playful spirit of Wonderland.
Handing Out Themed Keepsakes that Tie Back to the Story
For a more substantial keepsake, opt for items that encapsulate the magic of "Alice in Wonderland." Offer beautifully designed bookmarks featuring memorable quotes from the book or intricate illustrations of crucial scenes. Alternatively, consider providing small notebooks adorned with iconic characters, letting your guests jot down their adventures and musings.
Personalized "Thank You" Cards Featuring Iconic Quotes from the Book
Extend the magic of your party's theme to the end by sending guests home with personalized "Thank You" cards. Decorate the cards with iconic quotes from the story – words that encapsulate the spirit of adventure, curiosity, and wonder that define "Alice in Wonderland." Your gratitude will take on a whimsical twist, and your guests will be reminded of their shared enchanting experiences.
"There is no magic in magic; it's all in the details" - Walt Disney.
So, until the next adventure unfolds, we raise our whimsical teacups and toast to the magic of storytelling, the joy of celebration, and the endless possibilities within our creative souls. Cheers to hosting extraordinary parties that awaken the childlike wonder in us all!