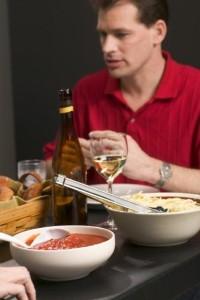 Entertainment Essentials
Entertainment Essentials
You've mailed out invitations, made phone calls and set aside half a day for cooking, when suddenly you realize you're out of pretty much everything. Buying groceries for a party can be a stressful experience, but with a solid list of essentials, you'll be in and out of the store in no time. Here are some items you should always have on-hand for when company shows up.
It's a good idea to keep a supply of cheese, crackers and cold cuts around. Guests will be grateful for something to munch on while they wait for the main course. If you've got a favorite wine, put a few bottles in storage and one in the fridge for entertaining emergencies. A few standard liquors and mixers will be appreciated as well.
You may want to put together a quick playlist on your iPod for these situations. This will only take a few minutes and will come in handy if you would rather not sit in silence. You can also provide instant music with a Pandora station, which will take you about five seconds to set up.