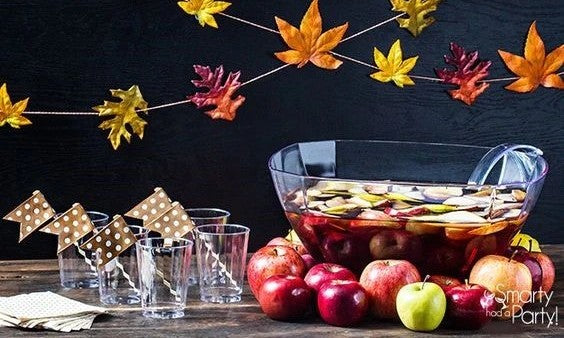 Delicious Autumn Punch Recipe
Autumn punch is an essential part of our party tables in the fall. With its perfect balance of tangy fruits, it complements any meal on the table. The spicy, fruity aroma will take you on an enlivening journey of refreshment. Everyone loves it and wants it on their tables at all events. Follow these simple steps to make an autumn punch mocktail at your fall parties and make your friends beg for more!
Methods:
There are mainly two methods of preparing an autumn punch. One serves it chilled while the other one tastes best when served warm. 
Let's have a look at both methods:
Chilled Autumn Punch Mocktail
Ingredients:
Apple cider: 2 cups

Ginger ale: 1 cup

Apple juice: 2 cups

Orange juice: ½ cup

Cinnamon stick: 1

Ice
Instructions:
To make a chilled autumn punch, take a pitcher and add all the ingredients. Give them a little stir and put them in a refrigerator to chill. It is always better not to put too much ice in the drink because it dilutes the drink, losing its taste.

Once it is done chilling in the freezer, take it out and serve in our fancy 

plastic drinkware

. Our beautiful 

disposable party cups

 are perfect for serving all your drinks elegantly.

Note: This recipe serves 4. You can double or triple the ingredients according to the number of guests.
Warm and Spicy Autumn Punch
This method is relatively longer and requires extra effort to make. This is because a few more ingredients are added, and the number of steps increases.
Ingredients:
Orange: 1

Cloves: 4

Nutmeg powder: ⅛ teaspoon

Apple juice: 3 cups

Honey: 1/8th cup

Cinnamon stick: 1

Pineapple juice: 1 ½ cup

Lemon juice: 3 tablespoons
Instructions:
Preheat the oven to 350°F and stud the orange with whole cloves. Bake this clove-studded orange for 30 minutes.

In a saucepan, add apple juice and cinnamon and bring them to a boil. After a boil, reduce the heat to medium-low and let it simmer for another 5 minutes. Turn off the flame, add honey, pineapple juice, lemon juice, and ground nutmeg, and give it a good mix.

Serve it in our disposable 

serving bowls

 with the help of our party 

plastic ladles

. On top of the drink, put the baked orange and let it give its lovely taste to the punch.
Orange Autumn Punch
The best way to achieve a good mood is a good punch. So we bring you just one such recipe and don't worry - you have enough time to prepare it until the beginning of the party! And if you like it (as we know it will), feel free to do it even when the holiday euphoria starts. We believe that you and your guests will be delighted with his taste!
For 4 cups, you need:
3-teaspoons of black tea in bulk

piece of ginger (about 3 cm)

200 ml of rum

200 ml of red wine

4-teaspoons honey

4-slices of orange

Orange juice

sugar for decoration
Preparation:
1. Pour 600 ml of boiling water over black tea and let it stand for about 3 minutes. Peel a squash, grate it and squeeze the juice.
2. Strain the tea into a deeper sherpa, then add rum, wine, a few drops of ginger juice, and honey. Stir everything well, then heat, but be careful not to boil!
3. Peel the oranges, cut them into thin rings, and then cut a star out of each.
4. Dip the edges of the cups in the orange juice and then in the sugar to stick to the rim. Then carefully pour the hot punch into them and decorate them with orange stars. Cheers!
Old-Fashioned Cocktail with Spicy Autumn
Festively spiced old-fashioned drink.
Good things come to those who wait. Fortunately, you only need to wait 24 hours to bring your spicy bourbon for this old-fashioned cocktail with spicy autumn! Star anise, cinnamon sticks, cloves, and vanilla bean give bourbon a sweet and spicy taste. Try to sit comfortably around the fireplace for intimate socializing with these cocktails.
Punches are a good choice for parties because you don't have to serve guests. You need to organize at the table and bring out these 3-punch dishes, ladles, and glasses. Don't forget the ice maker. He won't go wrong here.
Dragon Punch
You will need:
8 bags of black tea

1.5 liters of water

1/3 cup of sugar

1 cup of rum, 950 ml of brandy

1/2 cup of peach brandy

1 cup of fresh lemon juice (you will need 6 lemons)
Tip: (To turn this punch into a "housewife," you can use quality homemade brandy and apricot instead of brandy).
Instructions:
Put tea bags in boiling water and leave covered for 5 to 8 minutes.

Remove the bags, add sugar to the hot tea and stir until melted.

Add rum, brandy, peach brandy, and lemon juice. 

Allow to cool, then place in the refrigerator. 

Serve with ice.

 
Nutritional Benefits of Autumn Punch
You can tell from the ingredients how good this drink is. The goodness of these fruits provides you with loads of vitamin C, which comes with multiple health benefits. In addition, the citrus fruit juices act as immunity boosters and help keep your skin smooth and clear.
One serving of a warm autumn punch contains:
91 calories

5.1 mg sodium

23 g carbohydrates

0.4 g proteins
The fat content of this drink is very low, which makes it health-friendly. Also, its caloric count is much lower than an alcoholic autumn punch. 
This drink can be with or without alcohol, hot and cold. Instead of water, you can use tea (which makes it similar to grog), milk, or coffee. The drink's strength is regulated by adding cognac, rum, champagne, or dry wine as a light version. This fantastic recipe assumes a high degree of not only alcohol but also the temperature of the drink.